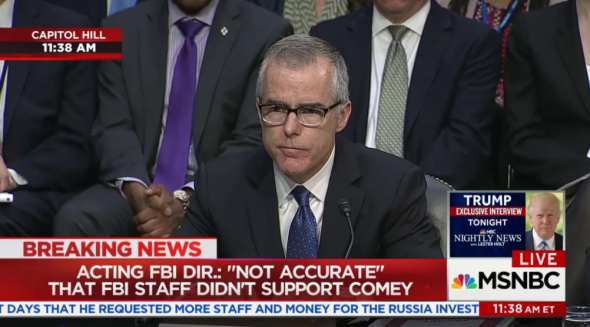 Two key premises of White House spokeswoman Sarah Huckabee Sanders' Wednesday press conference about the firing of FBI Director James Comey were:
That Comey had lost the respect of the FBI's "rank-and-file" agents by mishandling Hillary Clinton's email case.
and
That the FBI's investigation of connections between Russia and the Trump campaign is a minor matter—"probably one of the smallest things that they've got going on their plate."
Acting FBI director Andrew McCabe testified Thursday before a Senate Intelligence Committee hearing at which Comey had been scheduled to appear. Here's what he said about Comey's standing with the rank and file:
And here's what he said about the importance of the Russia investigation:
Expect the White House to point out soon that McCabe's wife once ran for office in Virginia as a Democrat. Also expect them to fire him!