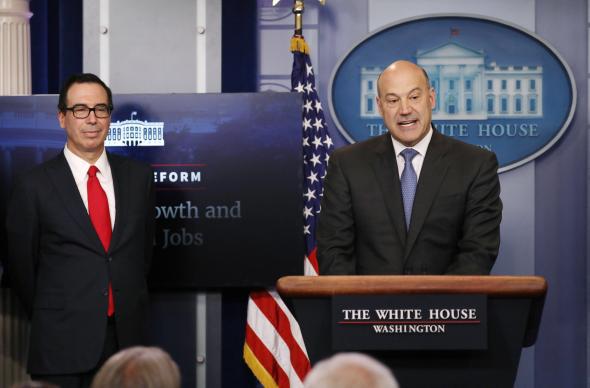 Donald Trump, who is very conscious that the 100th day of his presidency is approaching without his having signed any major legislation, promised last week that he was about to release a big-time tax reform plan. Treasury Secretary Steven Mnuchin and National Economic Council director Gary Cohn unveiled said plan today at the White House, and it turns out to consist of a bullet-pointed list of proposals that fit on one double-spaced page, are nowhere near being ready to present to Congress as actual legislation, and can't even really be debated yet because the administration hasn't run the numbers to see how they would affect individual taxpayers or the federal budget. Among the proposals:
The Q&A session which followed Mnuchin and Cohn's presentation was remarkable in its uselesness. Here, paraphrased, are some of the questions reporters asked, with Mnuchin/Cohn's verbatim answers:
What will the tax rate be on repatriated corporate profits? "We are working very diligently with the House and the Senate on coming up with final details of the bill."
What levels of income will the new tax brackets apply to? "Again, we are in constant dialogue with the House and the Senate. As the Secretary said, we're holding a bunch of listening groups right now. We have outlines. We have a broad-brush view of where they're going to be. We're running an enormous amount of data on the proposals right now. We will be back to you with very firm details."
Will the proposal address the marriage penalty? "We are working very diligently with the House and the Senate on coming up with final details of the bill."
How will you make up the lost tax revenue that such a massive cut to the corporate tax rate will create? "Again, today we're putting out the core principles which includes rates. We're working very closely with the House and the Senate to turn this into a bill that can be passed and the president can sign and there's lots and lots of details that are going into how that will pay for itself."
What is the overall size, in dollars, of the tax cut that this plan will create? "We're working on lots of details."
How will a median American family of four making $60,000 see their tax bill affected by this proposal? "We will let you know the details at the appropriate moment."
How will the president's own tax bill be affected by the plan? "I can't comment on the president's tax situation since I don't have access to that."
It's the "Hey, Does Anyone Here Know How to Write Tax Legislation?" Act of 2017!