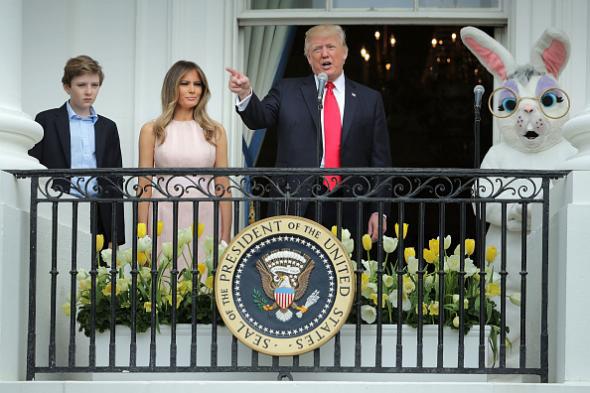 Here's how Donald Trump described the instructors who'd been hired to teach real estate and investment courses at "Trump University" in a 2005 promotional video:
We're going to have professors and adjunct professors that are absolutely terrific—terrific people, terrific brains, successful. We are going to have the best of the best. … These are all people that are hand-picked by me.
Here's what Trump told the Fox Business Channel's Maria Bartiromo last week in response to a question about the naval strike force—led by the U.S.S. Carl Vinson—that he'd reportedly sent "toward the Korean Peninsula" (Bartiromo's words) in a bold, intimidating departure from the Obama administration's cautious attitude towards military deployment:
We are sending an armada, very powerful. We have submarines, very powerful, far more powerful than the aircraft carrier.
Here's what the AP later reported about Trump University's "professors":
Half the 68 former faculty and staff identified by AP had personal bankruptcies, foreclosures, credit card defaults, tax liens or other indicators of significant money troubles prior to teaching Trump University courses … Many of those hired to teach did not have college degrees and were not licensed to broker real estate. At least four had felony convictions.
Here is what we learned Tuesday about where the U.S.S. Carl Vinson and its armada actually were last week, via Defense News:
A week after the U.S. announced the carrier and its escorts would leave Singapore, forego port calls in Australia and instead return to Korean waters, the carrier and its group had yet to head north.

Rather, the ships were actually operating several hundred miles south of Singapore, taking part in scheduled exercises with Australian forces in the Indian Ocean.

Apparently the damn thing was about 3,000 miles from the Korean Peninsula—in a different ocean altogether—when Trump was talking tough.
A Gallup poll published this week found that the percentage of Americans who believe Trump "keeps his promises" has fallen from 62 percent to 45 percent since his inauguration. The Tea Party learned its lesson when Trump threw in the towel on Affordable Care Act repeal after a short, tremendously unsuccessful effort in March; protectionists and isolationists have learned theirs in recent weeks, during which he's flip-flopped on NATO, NAFTA, Janet Yellen's job security, Syria interventionism, China trade policy, and the Ex-Im Bank. Tuesday, perhaps, is the day that supporters of a macho, USA LOVE IT OR LEAVE IT–inflected foreign policy will learn that you should never trust anything that comes out of this guy's mouth. We're a country of Trump U undergrads now.