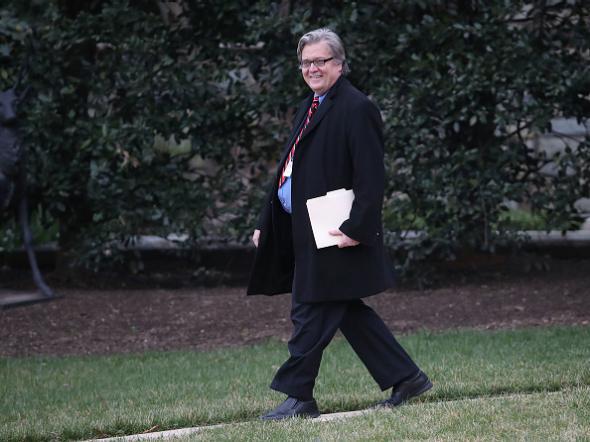 Donald Trump has removed Steve Bannon from his controversial position on the National Security Council, the White House has confirmed after Bloomberg broke the news.
Bannon, Trump's infamously racist "chief strategist," was appointed to the high-level presidential advisory group at the outset of Trump's term despite not having any relevant experience beyond an early-life stint in the Navy.
Politico reported in mid-March that Bannon and Trump son-in-law Jared Kushner had convinced Trump to overrule national security adviser H.R. McMaster when McMaster wanted to reassign a high-level NSC staffer named Ezra Cohen-Watnick. Cohen-Watnick was subsequently revealed as one of the sources of classified surveillance-related material shown under sketchy circumstances to House Intelligence Committee Chairman Devin Nunes in an incident that may have embarrassed McMaster, a well-respected Army officer who comes from outside the circle of paranoid right-wing ideologues from whom Trump typically takes national security advice.
The White House, as you might imagine, is pushing a "nothing to see here, move along" narrative, claiming that Bannon was only on the NSC in the first place to provide some sort of "check" on former national security adviser Michael Flynn, who makes a convenient scapegoat because he resigned in disgrace in February. As a bonus, administration officials are also claiming the Bannon move has something to do with Susan Rice, who's become the boogeyman of Trump's fake wiretapping theory:
Bannon has put out a statement to a similar effect. From the Wall Street Journal:
Mr. Bannon said in a statement: "Susan Rice operationalized the NSC during the last administration. I was put on to ensure that it was de-operationalized. General McMaster has returned the NSC to its proper function."
There are some obvious holes in this explanation, though:
Bannon and Flynn, far from having competing worldviews, are both known for seeing every geopolitical subject through the lens of conspiracy-oriented Islamophobia
If the Trump administration really knew all along that Flynn had "issues," it probably wouldn't have appointed him to the most important national security job in the United States in the first place
McMaster replaced Flynn six weeks ago, and this is just happening now
De-operationalize isn't a real word or concept
So, yeah.
Update, 2 p.m.: Lending further support to the idea that McMaster is being allowed to clean house is the report from a few days ago that K.T. McFarland, a wildly inexperienced Fox News commentator who Flynn had appointed as deputy national security adviser, has been offered a job as the ambassador to Singapore.