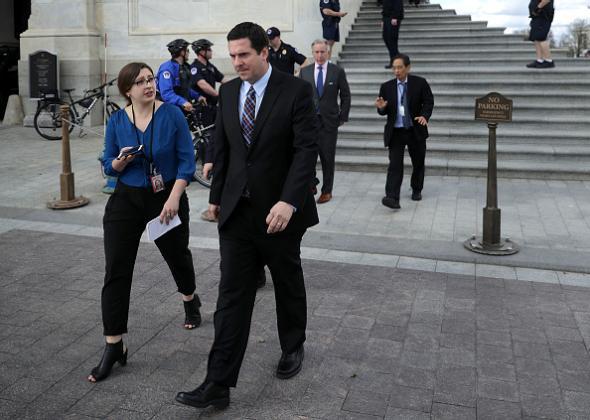 House Intelligence Committee Chairman Devin Nunes will cede leadership of the chamber's Russia/surveillance investigation because of ethics complaints against him, he announced in a statement Thursday morning: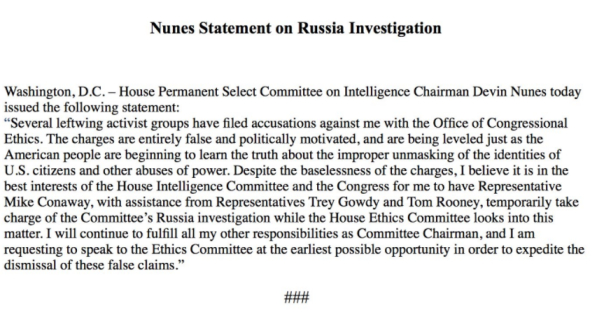 Nunes was recently caught lying and dissembling about how he had gained access to documents that he described in a press conference as evidence that the Obama administration may have improperly circulated the names of Trump advisers who'd been caught up in surveillance of foreign targets. Nunes first said the Trump administration was not aware of the documents he'd seen, then admitted he had seen them at the White House campus but claimed he had met there with an intelligence official rather than a White House staffer; subsequent reporting revealed that he'd in fact been shown the documents by an employee of the White House counsel's office.
National security reporter and Century Foundation fellow Barton Gellman has written that Nunes and the White House staffers involved in the scheme may have violated secrecy laws. As Nunes mentions in his statement, more than one ethics complaint has been filed against him, and the House Ethics Committee has confirmed the existence of an investigation into the matter. Contra Nunes' implication, though, the Daily Beast's Tim Mak notes that the committee's investigation was formally self-launched, not undertaken in response to complaints:
Over on the Intel Committee, it's of course unclear at this point whether Mike Conaway, who represents a district in Texas, will continue Nunes' strategy of prioritizing the Trump-friendly investigation of Obama officials' alleged illegal leaking over the investigation of Trump's Russia ties themselves. For what it's worth, Conaway is more popular in his district than Trump is: Conaway got 90 percent of the vote there in 2016, while Trump got only ("only") 78 percent, which would suggest Conaway has some leeway to be critical of the president. On the other hand, Conaway also made news in January for saying that the presence of Mexican entertainers at a Clinton campaign event in Nevada constituted foreign electoral interference that was just as serious as Russia's hacking-driven sabotage of the Clinton campaign.
This post has been updated with additional information.