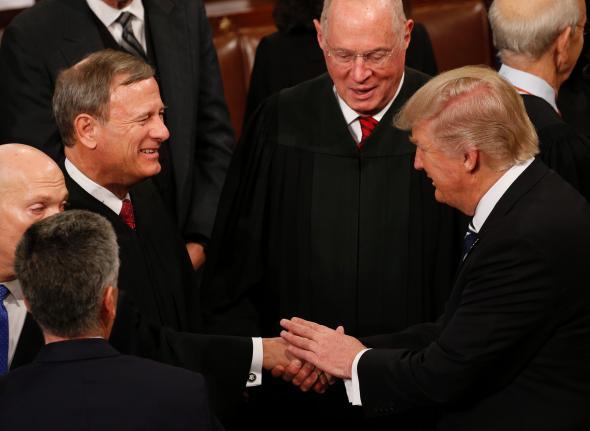 Multiple outlets are reporting that the Trump administration has decided to delay the implementation of a revised travel ban covering Muslim-majority countries because its original plan to sign the order Wednesday would distract from positive coverage of POTUS's Tuesday night address to Congress. "We want the (executive order) to have its own 'moment,' " CNN quotes one administration official as saying.
A problem: A major part of the administration's so-far unsuccessful defense of its original travel ban involved the claim that the order should not be subject to judicial review because of the president's prerogative to make decisions regarding matters of urgent national security. And as BuzzFeed legal reporter Chris Geidner observes, asserting publicly that you're delaying a national security initiative for PR reasons tends to undercut the argument that said initiative is particularly urgent.
Trump himself has repeatedly claimed that a ban should be an immediate priority because "bad" individuals are pouring into the country at every moment that a ban is not in place:
It's reminiscent of George W. Bush chief of staff Andy Card's explanation that the W. administration began making a public case for the invasion of Iraq, which was allegedly also urgently critical to national security, in September 2002 rather than August 2002 because "from a marketing point of view, you don't introduce new products in August."
Anyway, if "something happens" in the next few days, I guess blame the White House's news cycle management!