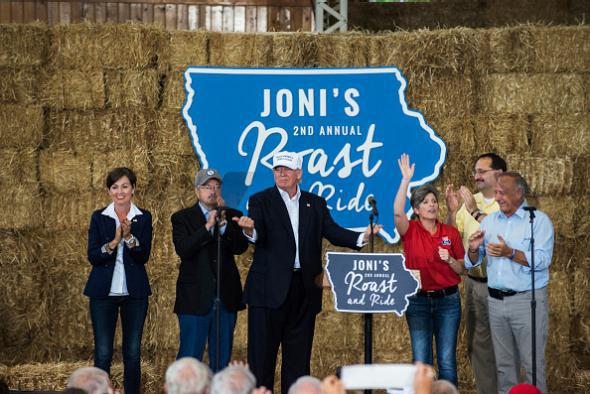 Republican Iowa Rep. Steve King got a lot of attention over the weekend by asserting, in an approving tweet about far-right anti-immigrant Dutch politician Geert Wilders, that Americans need to protect "our" civilization from the demographic threat of "somebody else's babies." On CNN Monday morning, King elaborated by stating that his ideal society would be "homogenous." Although King did not say Monday that his preferred "homogenous" society would be a white one, the broader eugenicist ring of his comments should be taken in context with his specific past disparagement of Mexican immigrants and other nonwhite "subgroups," not to mention his vocal support for an Austrian party literally founded by Nazis.
While King was once thought of as an extremist even in the Republican Party, his worldview is now more or less shared by that party's leader. Though King supported Ted Cruz in the 2016 Iowa primary, he's since become an ardent Donald Trump supporter, a defender of Trump voters, and a liaison from Trump's America to the European far right. To wit:
A few years ago, King was seen as a nuisance to the GOP establishment. He helped kill George W. Bush's efforts at immigration reform, and John Boehner once reportedly called King an "asshole" and denounced remarks he'd made about immigrants as "hateful." But the new Republican establishment just enacted an immigration ban crafted by an adviser who's obsessed with a novel about feces-eating, dark-skinned immigrants destroying white civilization. It's not hyperbole to say that Steve King's beliefs are closely aligned with the United States' ascendant ruling philosophy.
In 2014, Donald Trump—then a long-shot novelty presidential contender—endorsed King's congressional candidacy at an event in West Des Moines. Said Trump: "I'm here to support Steve King—a special guy, a smart person with, really, the right views on almost everything."