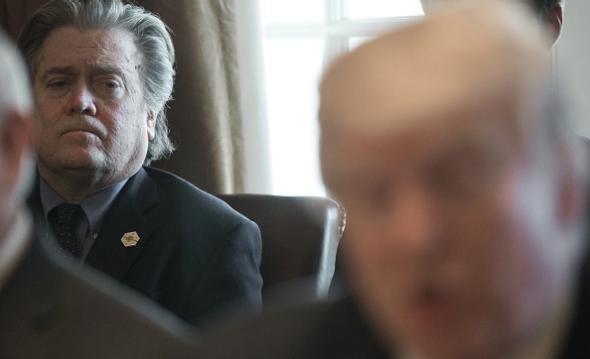 Earlier this week, we noted that an infamous American white supremacist named Jared Taylor had celebrated the return to prominence of an iconic 1970s white-pride novel called The Camp of the Saints—a book that has been in the news because it has been repeatedly praised in recent years by top Donald Trump adviser Steve Bannon. Among its other charming qualities, the French novel—which depicts white civilization being overrun by rape-crazed minority mobs—refers to black characters as "niggers" and "rats." Bannon apparently thinks it aptly predicted the current migrant crisis.
It would have been understandable if you had thought that was going to be the only Steve Bannon/French racist story of the week. But you would have been wrong! From a Politico piece on Bannon's views on Europe:
Bannon has also expressed admiration for the reactionary French philosopher Charles Maurras, according to French media reports confirmed by Politico. Maurras, like Bannon, was a Catholic nationalist, and he argued in the early 1900s that the Enlightenment had elevated the individual over the nation. (One person who knows Bannon said he has spoken of the coming end of the Enlightenment.)
And Mother Jones has more on Charles Maurras—namely that he was was a Nazi piece of crap:
Maurras spent years writing anti-Semitic articles. He referred to the French government, known as the Third Republic, as "the Jew State, the Masonic State, the immigrant State." In 1936, Maurras served eight months in prison for inciting the attempted assassination of Jewish politician Léon Blum and other French officials. According to Carmen Callil's Bad Faith: A Forgotten History of Family, Fatherland and Vichy France, Maurras penned numerous articles calling for Blum to be lynched and shot in the back and have his throat slit …
… Maurras' newspaper supported the Nazis and "named names, hunted down enemies, and called for hostages, resistants, Jews and Gaullists to be shot." In his political column during the war, Maurras wrote that "if the death penalty is not sufficient to put a stop to the Gaullists, members of their families should be seized as hostages and executed."
Maurras was eventually sentenced to life in prison for supporting Nazism. Steve Bannon is still one of the most powerful people in America.