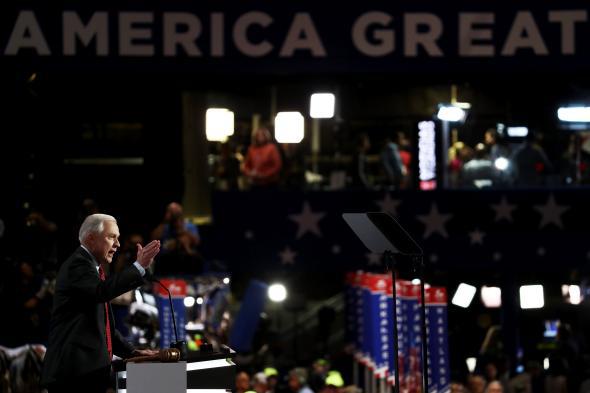 While still in the Senate, Jeff Sessions met with the Russian Ambassador at least twice—once at his Senate office in September and once at an event at the Republican National Convention in July. Now-Attorney General Sessions omitted both these meetings in his testimony during his confirmation hearings. Sessions and his Trump backers pushed back against the revelations saying that it was, essentially, a misunderstanding—Sessions conducted those meetings in his role as United States Senator, not a Trump campaign adviser, therefore he didn't perjure himself. It was convenient, if hurried logic and it spread quickly. "He was literally conducting himself as a United States Senator," Press Secretary Sean Spicer said Thursday. "This is what senators do in the course of conducting themselves in their jobs."
Was Jeff Sessions conducting himself as a United States Senator at the RNC? Not so much. The Wall Street Journal reported Thursday that Sessions paid for the trip to Cleveland for the convention out of his own political funds, not his official congressional funding, and discussed the Trump campaign, obviously, during his remarks at the Heritage Foundation event where he met with Russian Ambassador Sergei Kislyak. "One person at the Heritage event in Cleveland said Mr. Sessions left the impression he was there because of his role in the Trump campaign," the Journal reports. "This person said Mr. Sessions' remarks in part were focused on Mr. Trump's trade policy, saying the then-candidate would do away with multilateral trade deals." At the time, Sessions was the chairman of Trump's National Security Advisory Committee.
From the Journal:
Larry Noble, general counsel at the Campaign Legal Center, a nonpartisan advocacy group, said Mr. Sessions likely used his campaign account, rather than official Senate funds, because as a senior adviser to the Trump campaign it would have been difficult to argue that he wasn't attending the convention for any political purpose. "If he was truly there solely as a member of the Armed Services Committee, then he could've used his legislative account," Mr. Noble said.
So, in short, on one of the two occasions that Jeff Sessions met with the Russian Ambassador he technically was not, in fact, acting in his role as a U.S. Senator. What was he then?
---