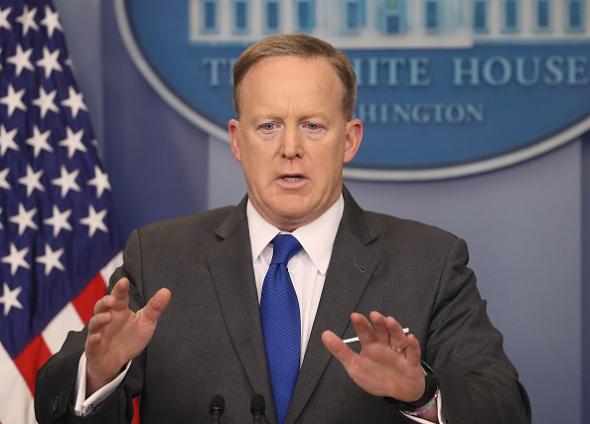 FBI Director James Comey, appearing before the House Intelligence Committee, testified Monday that there is an ongoing agency investigation into the connections between the Russian government and Donald Trump's campaign. Comey did not disclose the names of particular individuals being investigated, but one figure who's repeatedly come up in press reports about the Trump-Russia connection is Paul Manafort, who was the chairman of Trump's presidential campaign for several months. Manafort worked for years for Russia-backed Ukrainian leader Viktor Yanukovych, and he was named in a February New York Times story as one of the Trump operatives whose contacts with Russian figures were being scrutinized by federal investigators.
Well, over at the White House, press secretary Sean Spicer tried out a fun new way of disavowing Manafort (and disgraced ex–national security adviser Michael Flynn, whose Russia ties are also reportedly under investigation) in response to a question about Trump's "campaign associates." Said Spicer:
General Flynn was a volunteer [for] the campaign. Obviously there has been some discussion of Paul Manafort, who played a very limited role for a very limited amount of time.
LOL! Now, it is actually true that Paul Manafort, who was hired as a consultant to Trump in March 2016 and put in charge of the entire Trump 2016 operation in mid-June, did not spend as much time on the campaign as some others did. But that's because he resigned from it after his connections to Russia became a scandal. Flynn, meanwhile, was in fact a campaign volunteer … who then became Trump's national security adviser before resigning amid exposure of his own sketchy Russia-related activities.
In other words, Spicer is citing the short tenures of campaign/administration figures whose tenures were shortened by their connections to Russia to prove that the campaign/administration did not have significant connections to Russia, which is kind of like defending the Nixon administration by pointing out that the Watergate scandal really died down after he resigned because of the Watergate scandal.