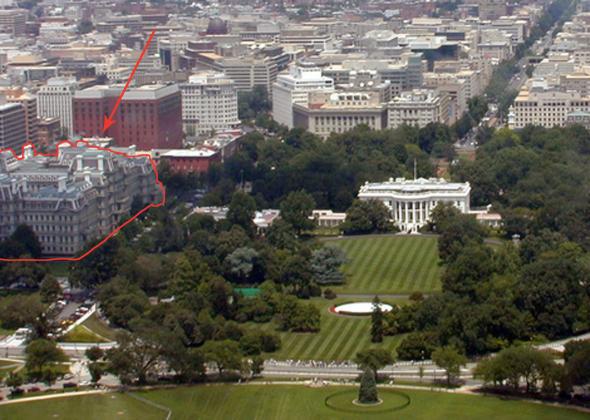 The most recent news in the dumb story of Republican House Intelligence Committee Chairman Devin Nunes' quest to legitimize Donald Trump's bogus "Obama wiretapped my apartment" claim is that Nunes met Tuesday night with an "intelligence official" on "White House grounds" to discuss evidence related to the question of whether the U.S. government surveilled Trump. Nunes, as you may know already if you are following this stupid story from Stupidville, then came back to the White House last Wednesday to brief Trump on what Nunes has described as evidence that the names of Trump associates who were incidentally caught up in U.S. surveillance of other targets may have been inappropriately included in intelligence reports.
Got that? Nunes goes to the White House, learns some stuff, and then returns to the White House the next day to have a meeting with the president about all the stuff he's discovered. It doesn't seem to make much sense, but in an interview with Bloomberg's Eli Lake published Monday, Nunes was careful to say he met Tuesday not with a "White House staffer" but with an "intelligence official," and that the meeting took place at the White House only for convenience:
In an interview Monday, Nunes told me that he ended up meeting his source on the White House grounds because it was the most convenient secure location with a computer connected to the system that included the reports, which are only distributed within the executive branch. "We don't have networked access to these kinds of reports in Congress," Nunes said. He added that his source was not a White House staffer and was an intelligence official.
CNN has reported, meanwhile, that Nunes was seen on the night in question at the National Security Council offices in the Eisenhower Executive Office Building, which is next to the White House and encompasses what the official White House site describes as "a majority of offices for White House staff."
White House press secretary Sean Spicer, meanwhile, is playing it coy/ignorant about Nunes' meeting. "Any questions regarding who he met with or why he was here should be referred to him," Spicer said at Monday's press conference, adding later that he was not personally aware whom Nunes had met with at the EOB. Spicer also told CBS's Major Garrett that he wasn't aware whether or not Nunes had been cleared by the White House to access a SCIF—an officially secure room—on its grounds. Meanwhile, the Trump White House has not yet begun releasing public online visitor logs as the Obama administration did.
So … a congressman just showed up and used a White House building, and a week later the White House's spokesman has no idea whom the congressman met with or who let them onto the property. I guess the White House is like the lobby of a hotel—anyone can walk in and use it to sit around and read a newspaper/hold a work meeting/learn some national security secrets. Who wants to meet me at the White House tomorrow? Do you think they'll give us the Wi-Fi password if we buy coffee?