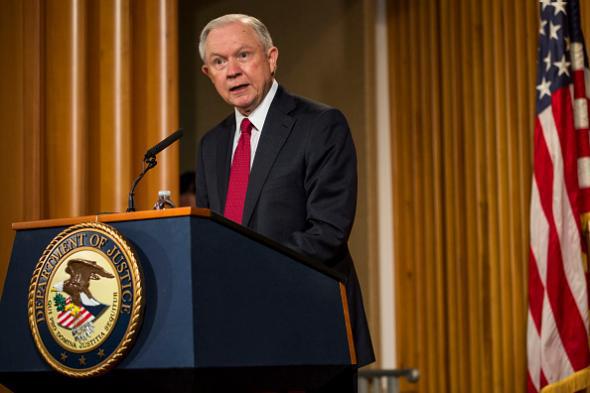 Attorney General Jeff Sessions is in the soup for seemingly lying during his confirmation hearing when he said he "did not have communications" with any Russian government figures during the 2016 campaign. Sessions in fact spoke with Russia's ambassador at July's Republican National Convention in Cleveland and met with the ambassador in his Senate office in September. Both events took place after he'd endorsed Trump and been named chairman of the candidate's national security advisory committee.
Sessions has now made two statements sort of denying that he did anything wrong. The first, issued Wednesday night:
I never met with any Russian officials to discuss issues of the campaign. I have no idea what this allegation is about. It is false.
The second, given to NBC in person this morning:
I have not met with any Russians at any time to discuss any political campaign and those remarks are unbelievable to me and are false.
Here's the problem. Sen. Al Franken's question to Sessions during the confirmation hearing wasn't about whether Trump advisers had discussed a "political campaign" or "issues of the campaign" with Russian figures. It was about whether they had been communicating with Russians in any way. This was the question:
If there is any evidence that anyone affiliated with the Trump campaign communicated with the Russian government in the course of this campaign, what will you do?
This was Sessions' response:
Sen. Franken, I'm not aware of any of those activities. I have been called a surrogate at a time or two in that campaign and I did not have communications with the Russians, and I'm unable to comment on it.
In his answer under oath, Sessions 1) admitted that he was a campaign surrogate and 2) said he "did not have communications with the Russians." He didn't include any caveats about what kind of issues he may or may not have talked about with Russian officials—he simply said he hadn't communicated with them.
Now, though, he's acknowledging that he did have "communications" with Russian ambassador Sergey Kislyak but that the two of them didn't discuss the 2016 campaign.
Let's assume that it's true that Sessions and Kislyak did not talk about horse-race aspects of the election. That still leaves a lot of unanswered questions: Did they discuss the United States' position on Ukraine? On NATO support for the Baltic countries? Did they talk about the U.S.-Russia relationship more generally, and did Sessions—Donald Trump's top campaign national security adviser—signal any personal desire to move toward a more Russia-friendly policy?
The overarching question of the Trump-Russia scandal is whether there was a quid pro quo by which Russia undermined Hillary Clinton's campaign in the expectation that the Trump administration would treat it more favorably. The content of the Sessions-Kislyak meeting is crucial to understanding whether such a quid pro quo took place, regardless of whether the two individuals involved used the word campaign.