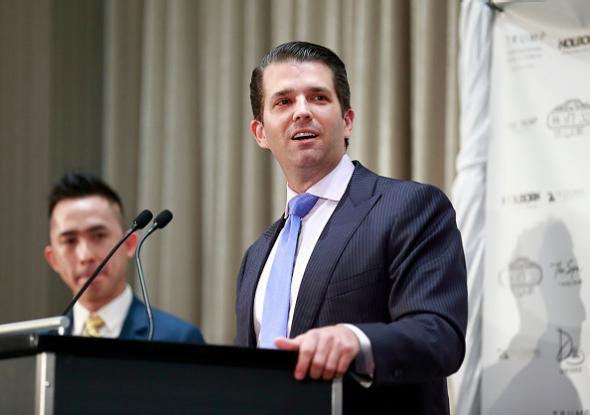 Donald Trump Jr. was "likely" paid at least $50,000 in October by a French foreign-policy group whose president nominated Vladimir Putin for the Nobel Peace Prize and whose president's wife "regularly visits Moscow to coordinate policy with Russia's Foreign Ministry" on behalf of a different group that she leads, the Wall Street Journal reports.
Trump Jr., a prominent campaign surrogate for his father who is now running the Trump Organization with his brother Eric, gave a speech at a dinner held by the Center of Political and Foreign Affairs in Paris on Oct. 11. A speaking agency that represents Trump Jr. lists his fee for such events as $50,000, and the Trump Organization has not denied that he was paid by the CPFA.
The CPFA is run by an individual named Fabien Baussart, who along with his Syrian-born wife, Randa Kassis, has been publicly supportive of Russia's position regarding the civil war in Syria. Kassis apparently leads a Syrian party called the Movement for a Pluralistic Society and told the Journal she has traveled to Moscow on several occasions to meet with "Russian diplomats." Both Baussart and Kassis believe the United States could help end the Syria war by adopting a friendlier stance toward Russia. Baussart nominated Putin for a Nobel Prize in December, telling Russian state media that "[Putin] is the only one who is truly fighting terrorism."
Trump Jr. thus (apparently) joins former national security adviser Michael Flynn and former Trump campaign manager Paul Manafort as individuals in POTUS's inner circle who've been paid by Putin-affiliated entities. Trump advisers Roger Stone and Carter Page, along with Flynn and Manafort, are also reportedly being investigated for having had contact with Russian intelligence officials during the campaign, while attorney general and former Trump-campaign national security advisory committee chairman Jeff Sessions met in September with Russia's ambassador to the U.S. and then failed to disclose that meeting to the Judiciary Committee during his confirmation hearings.
---