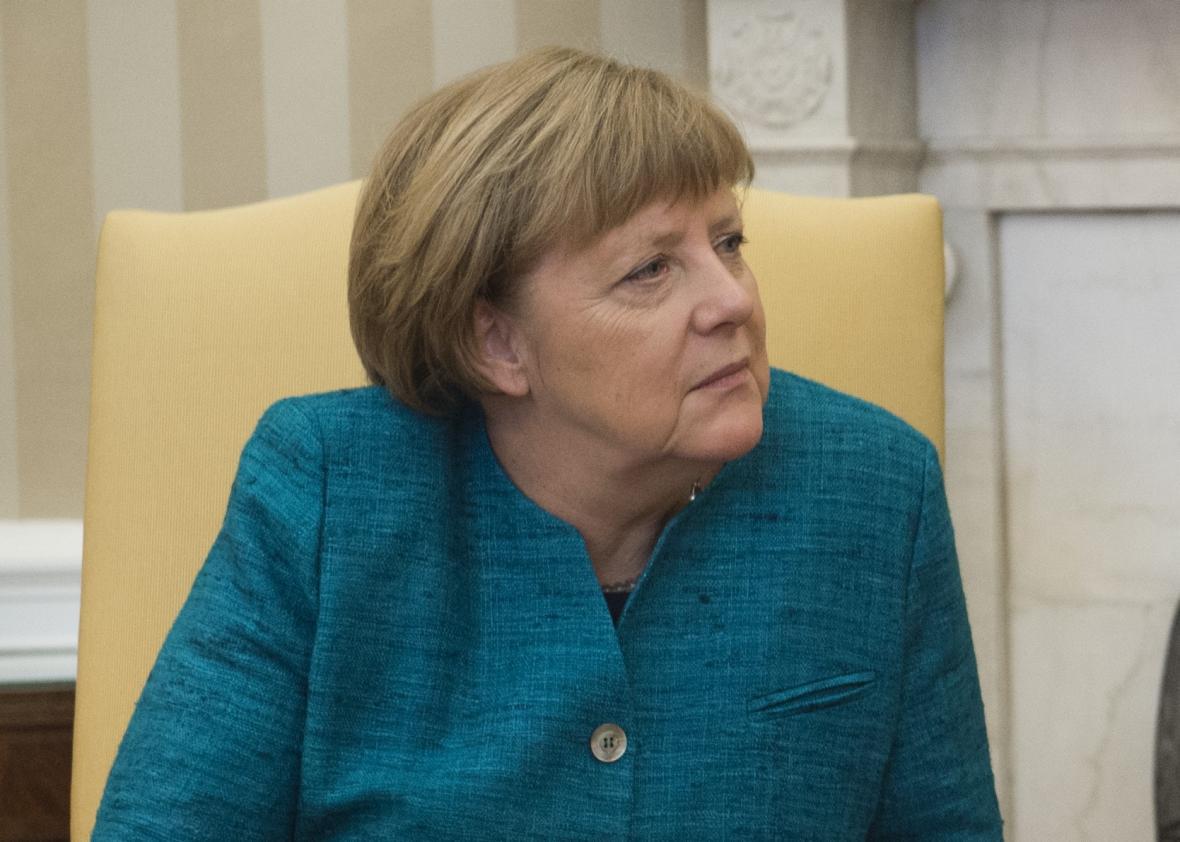 President Donald Trump's meeting with German Chancellor Angela Merkel was marked by several awkward moments. In their first joint appearance, Trump and Merkel sat silently next to each other as photographers snapped away. The two had shaken hands when Merkel arrived at the White House but in the Oval Office, the German leader frequently leaned into Trump, who continued to look straight ahead and ignore her clear body language. Near the end of the event, a photographer called out for the two to shake hands, and Merkel can be heard asking Trump, "Do you want to do the handshake?" Trump ignored the question, and a clearly perplexed Merkel smiled—and maybe even grimaced?—toward the cameras.
That seemed likely to be the awkward high point of the day but ended up being nothing compared with what would happen a little while later during a joint news conference. At one point Trump made what was apparently a joke, standing by his unproven claims that his predecessor's administration tapped his phones. "As far as wiretapping, I guess, by this past administration, at least we have something in common perhaps," Trump said to Merkel, whose government said in 2013 Washington may have been spying on her. Merkel was not amused.

The German chancellor's face said it all as she evidently couldn't hide her astonishment at what she had just heard. Needless to say, she didn't comment. But Twitter sure did as people took to social media to express solidarity with Merkel's bewilderment at the U.S. president, who suddenly dragged a key foreign ally into unproven claims about his predecessor.
On Saturday morning, Trump took to Twitter to dismiss reports that the meeting hadn't gone well before quickly blasting Germany for failing to pay its fair share of dues in NATO. "Despite what you have heard from the FAKE NEWS, I had a GREAT meeting with German Chancellor Angela Merkel," Trump wrote on Twitter before changing his tune. "Nevertheless," he added, "Germany owes vast sums of money to NATO & the United States must be paid more for the powerful, and very expensive, defense it provides to Germany!"
During the frosty Trump-Merkel meeting, Obama's White House photographer Pete Souza continued his grade-A trolling of Trump by posting photos on Instagram of several warm meetings between the former president and Merkel.
---