The winner of 2016's CPAC straw poll was Sen. Ted Cruz. Donald Trump came in third. The result likely came as no surprise to those who gathered to hear Cruz's speech to the convention last year. He opened with a comment on Trump's absence—his campaign said in a statement that he was skipping CPAC for a critical rally in Wichita ahead of Kansas' caucuses. He would lose Kansas by more than 20 points. Cruz won.
"I think somebody told him Megyn Kelly was going to be here," Cruz said in his opening. The crowd laughed and cheered. "Or even worse, he was told there were conservatives that were going to be here."
"It's easy to talk about making America great again," Cruz said at one point. "You can even print that on a baseball cap. But the question is: Do you understand the principles that made America great in the first place?"
Few hints remained at this year's conference that this had ever been an open question. Countless MAGA hats and the glowing reception that greeted the president himself and speakers from the White House—including Kellyanne Conway and Steve Bannon—suggested a thoroughly pro-Trump crowd.
"I would have come last year," Trump said in his speech. "But I was worried that I would be—at that time—too controversial."
What a difference a year and an electoral-college victory make. This time around, the American Conservative Union chair Matt Schlapp offered unending praise of Trump's first days in office. What could have changed? Had there been something amiss about Trump's personal conduct in March 2016? If so, this time around there were few leaders of the party's faith wing prominently featured to make a fuss about it. This year, nearly all of the speakers at CPAC did their best to make his transformation into the de facto leader of the conservative movement appear seamless—to make the uglier parts of Trumpism and the conservative rhetoric that helped bring it about disappear. They almost succeeded.
One level below the ballroom where Trump and other main-stage speakers made their appearances is the "CPAC Hub," an area where conservative groups and retailers set up booths to hawk their various causes and wares. There, beneath the rowdy applause and the cameras, signs of a scattered movement were obvious.
"It is a very different atmosphere," Tiffany Harding of AtheistVoter said of the difference between 2016 and 2017. "A lot of people dropped out because of Trump." She pointed in the direction of empty space at the other side of the hall and said that many of the Christian and faith groups her group would table beside had stayed away from the convention this year. "Yeah, they're gone. There are some but not as much as last time."
Brigham Young University, a major Mormon college, had a sizable presence at the Hub last year, she remembered. "They're not here. I just did a circuit, and I'm telling you, half of this space—I remember, I picked up a Trump hat in that corner over there. I don't know; people are bailing."
So who was there? Ken Bone, for one, posing for photos at a table for the political software company Victory Holdings.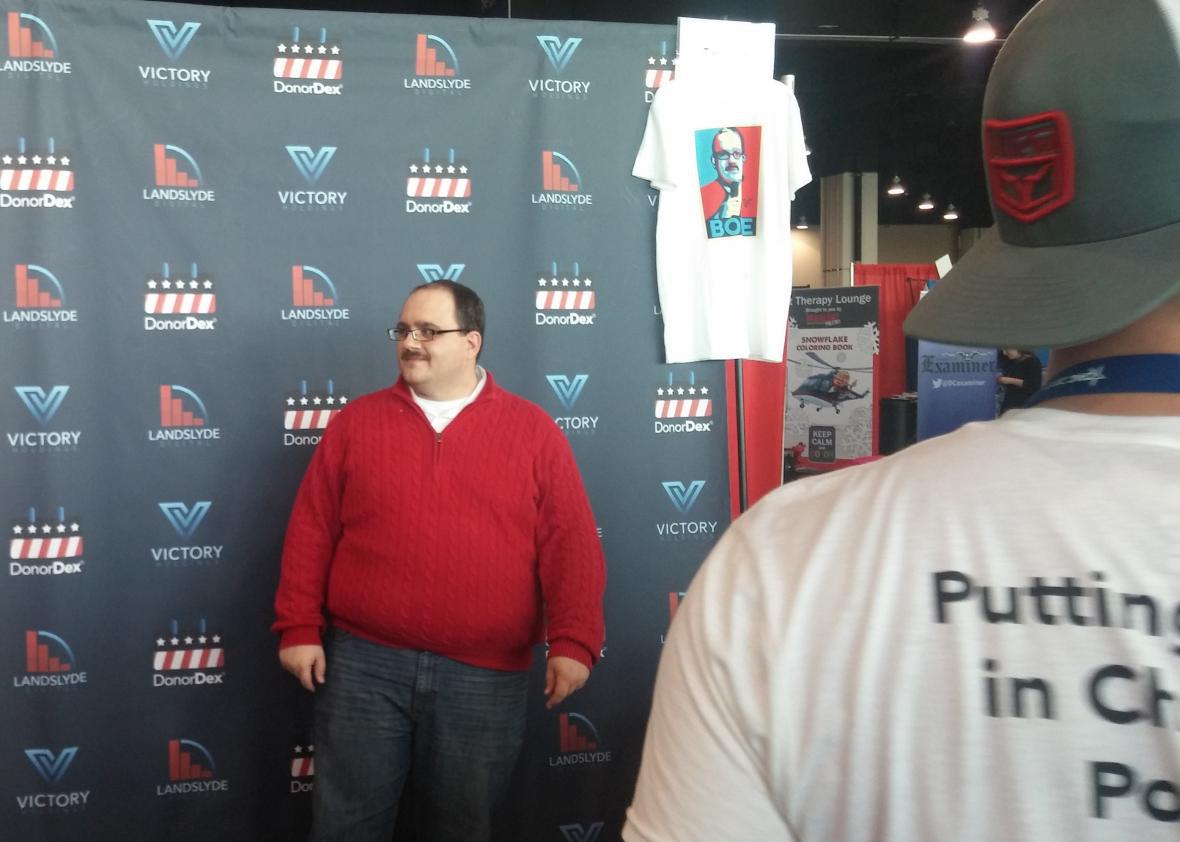 The NRA brought a massive structure featuring a portrait of National Rifle Association Executive Vice President Wayne LaPierre gazing down at passers by; at an actual booth elsewhere in the hall they offered digital target practice with replica guns.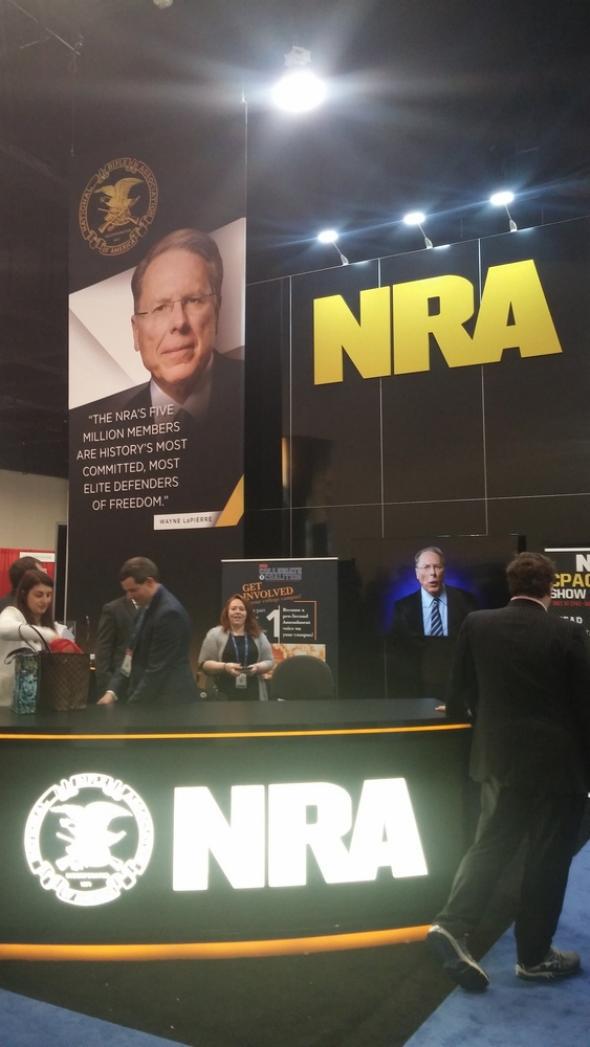 Other usual suspects were there, including the Young Americans for Freedom—not to be confused with the Young Americans for Liberty, who also had a booth. One "Art Therapy Lounge" set up by Red Alert Politics was designed to mock collegiate safe spaces and offered "snowflake" coloring books.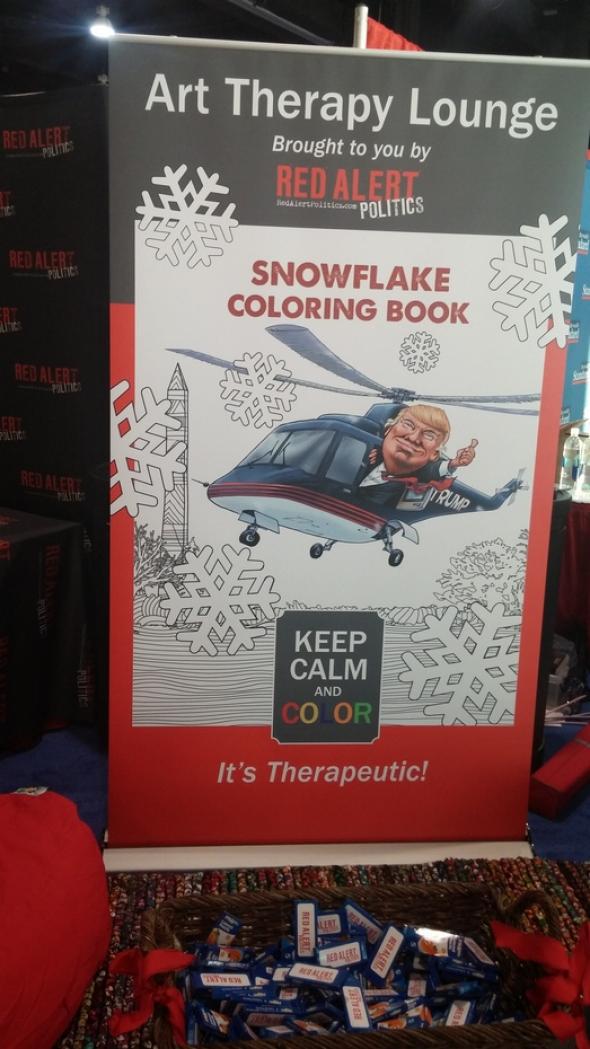 A booth offering pamphlets adorned with photos of plants seemed to belong to a lonely environmental group. Upon closer inspection, one learned that the group, called the CO2 Coalition, is aimed at advancing the Republican talking point that high CO2 emissions and climate change will be good for the planet.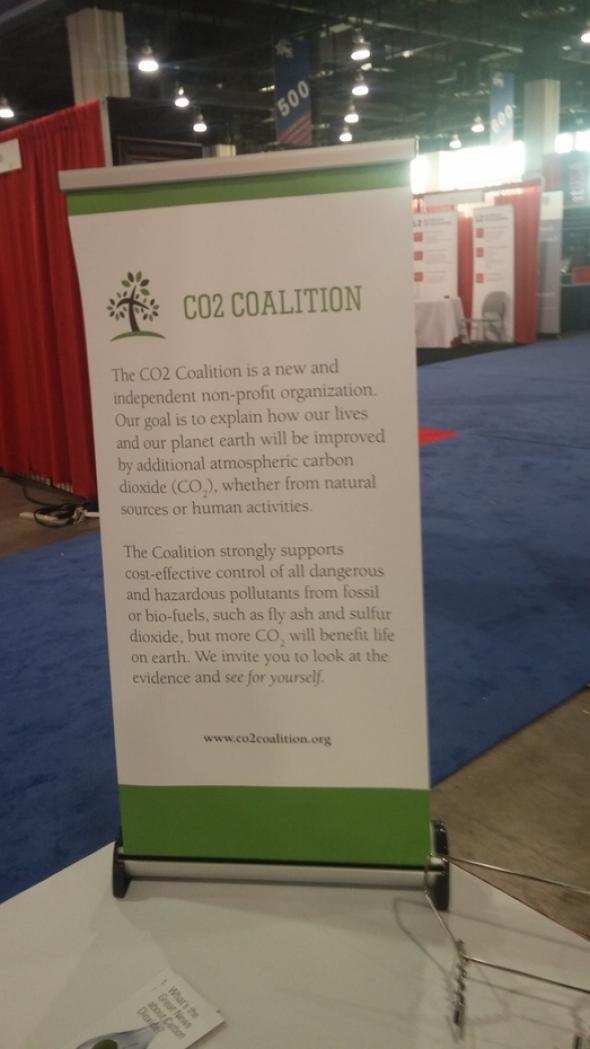 A couple of booths were dedicated to groups for criminal-justice reform, remnants of that brief period before Trump's rise when some pundits insisted that the future of the party belonged to moderate conservative wonks.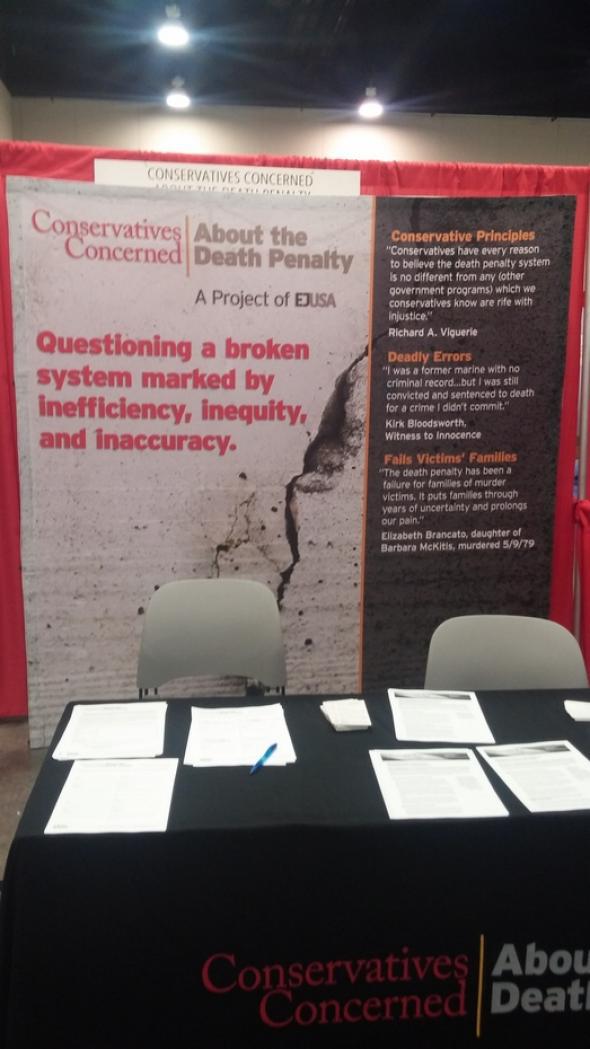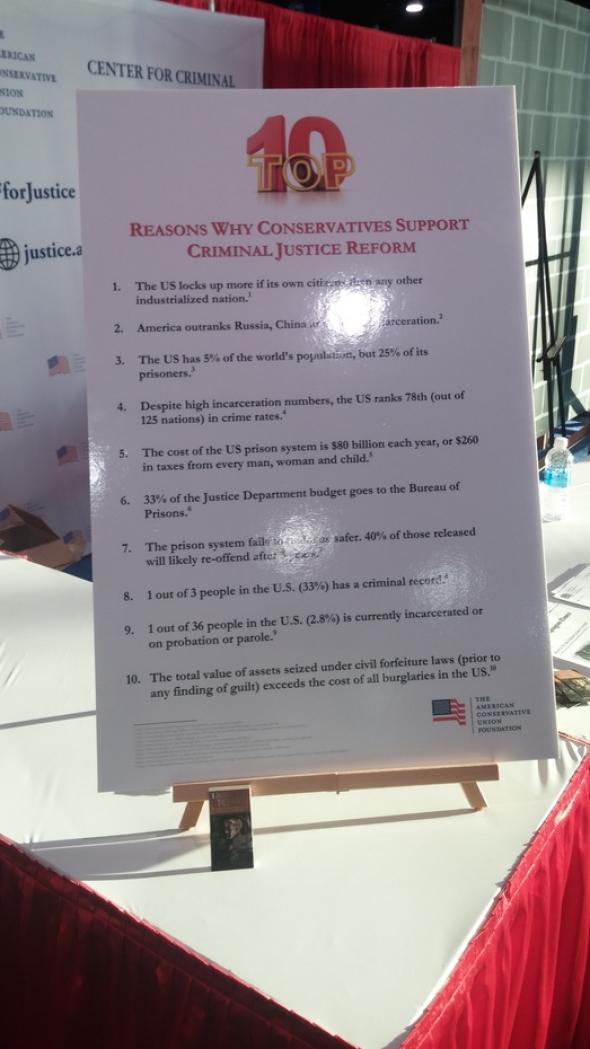 But one of the largest booths in the hub, naturally, was a merchandise display for Breitbart, one of the convention's sponsors. The convention's organizers may have booted Milo Yiannopoulos from the schedule, but they were happy to have the organization that employed him and others to slander minorities, Islam, and feminism and show off their gear.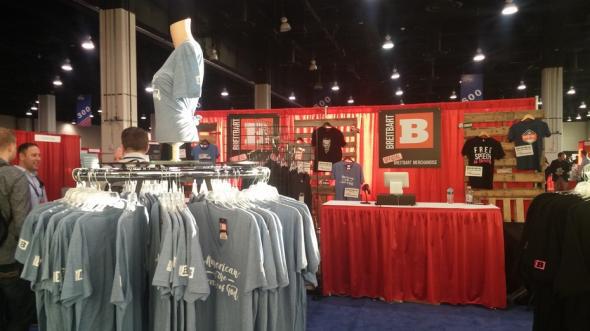 Breitbart, as has been conveniently forgotten by the conservative movement's bigwigs, was once called "the platform for the alt-right" by its then-head Steve Bannon. Some of the conference's program was aimed at erasing the ties between the ideas of that movement and the conservative establishment. The American Conservative movement's Dan Schneider denounced the alt-right early on Thursday with a bemused Richard Spencer sitting in the audience. Shortly afterward, conspiracy theorist Clare Lopez took the main stage to warn that the Muslim Brotherhood was working to recruit young people into radical Islam through Muslim Students Associations on college campuses. This is, of course, precisely the kind of Islamophobia that has constituted a key part of the white-nationalist case for severely restricting immigration; the Muslims are among those seeking to change American society through multiculturalism, they say, and true Americans ought not to let them.
Interestingly enough, pushback against this line of thinking came by way of a panel on international threats featuring Zuhdi Jasser of the American Islamic Forum for Democracy and White House adviser Sebastian Gorka, whose views on Islam have been closely scrutinized by the press. "There are Muslims across the world who share our values," Jasser, himself a Muslim said. "We're a diverse global population with ideas that span from fundamentalist, to orthodox, to liberal, to secular." Gorka, citing the example of a Muslim Jordanian pilot who had been burned to death in a cage by ISIS a few years ago, agreed. "This idea that we're at war with Islam is really fallacious," he said. "Because what's the religion of the guy in a cage who was burnt alive. He's not a Baptist. He's not a Hindu. He's not an Episcopalian."
Yet there was abundant evidence below in the Hub that this view is still contested among many in the conservative movement. One group had a sign on their table asking passers by, "What's wrong with a Muslim ban?" and offered a flyer titled "The 'Muslim Ban' Unconstitutional, Really?"
"It's a fact that Islam wants all of humanity to be either Muslim or dead," it read. "This is not a discriminatory call to single out Muslims for some form of 'religious test,' but rather for an honest evaluation as to whether Islam conforms to the standard of civility required by our Founders before any 'religion' be considered worthy of constitutional protections."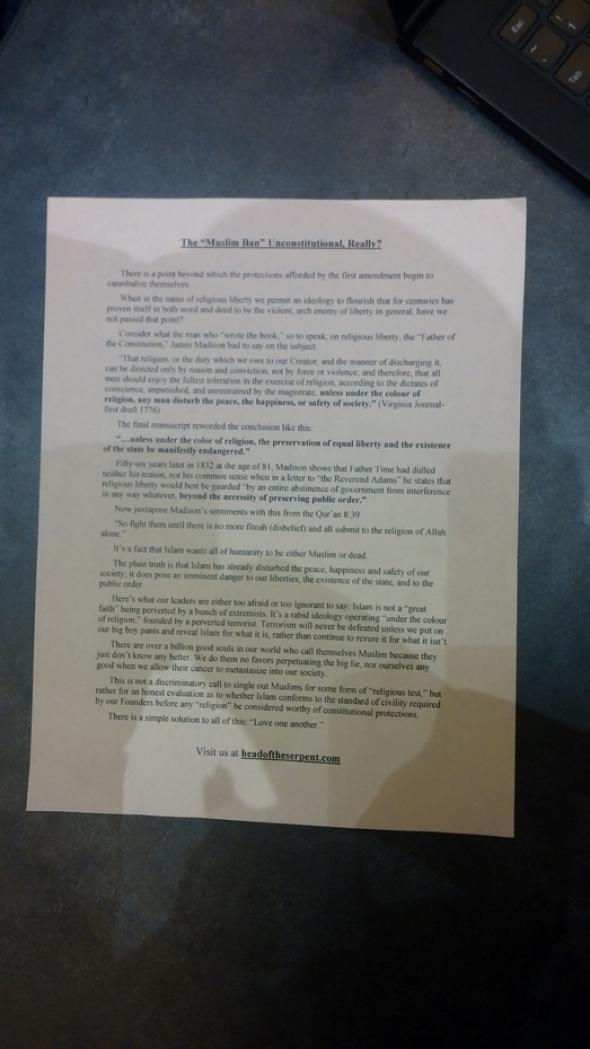 One visitor to the table who said he was a retired general approved. "Some people say you can be a good Muslim and a good American," he said. "I don't."
"Some of them are good people," the tabler replied. "But we need to be honest with them."
"Their founder was a murderer and a pedophile!"
"Right!"
There was much more in the hub for those with similar views. There was a group called the "American Freedom Alliance"—whose self-description as a "movement of concerned Americans advancing the values and ideals of Western Civilization"—that called the white nationalists of the alt-right immediately to mind. Its conferences have featured prominent Islamophobes like Geert Wilders, who has called Islam and freedom incompatible; Pamela Geller, who called Barack Obama "a third worlder and a coward" in the service of "Islamic overlords"; and Robert Spencer, who believes Islam cannot be seen as a religion of peace. "It has an inherently political character that is being brought to the West by immigrants and will cause more trouble in the future," he said in a 2007 interview. "The jihadists have not hijacked it."
Spencer's and Geller's books were actually offered for sale by at least two vendors in the hub, including in one display alongside a selection of children's books.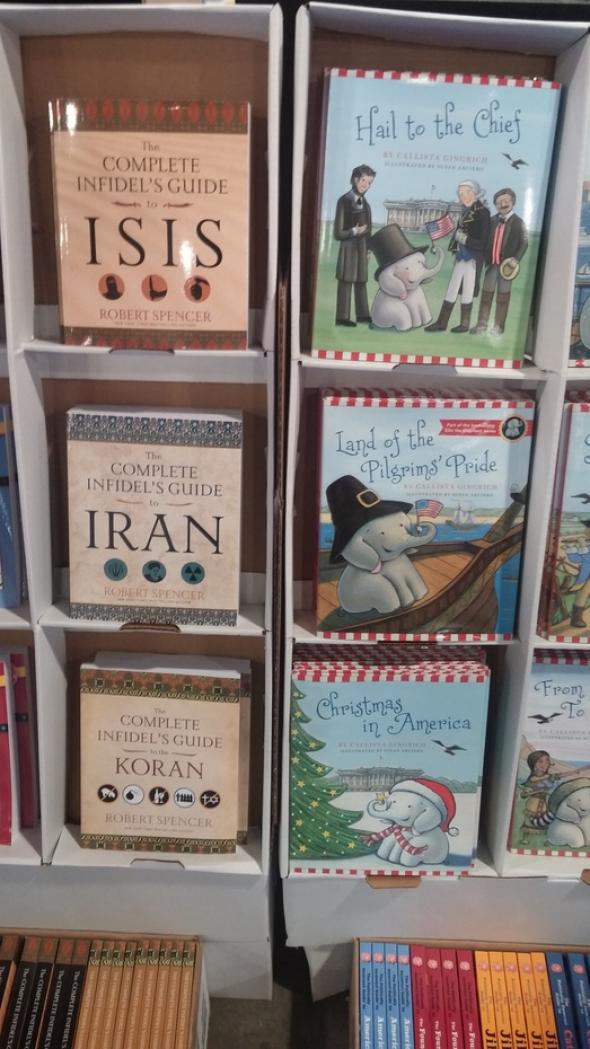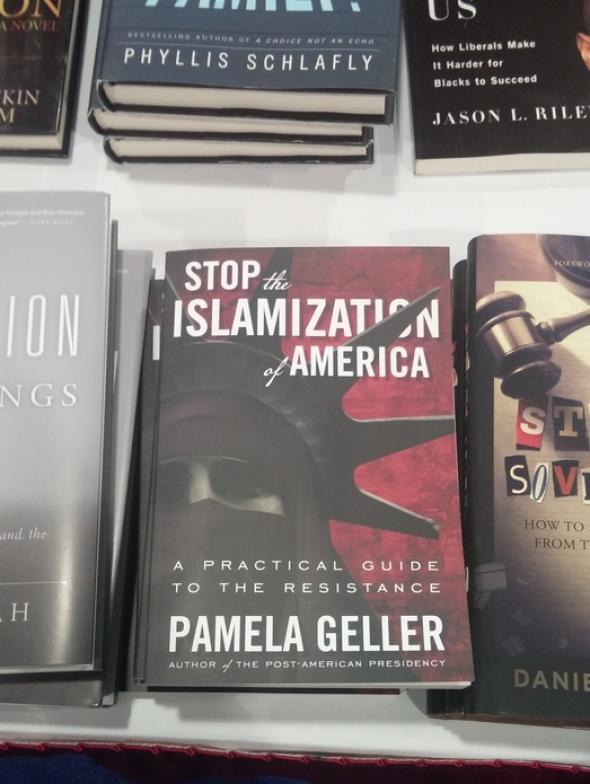 One of these vendors said that their selection of titles every year reflects both those invited to speak at the conference and books that have sold well at conferences past. Only the latter criteria can explain one book offered for purchase at this year's CPAC; sandwiched between Ann Coulter's anti-immigration screed Adios, America and a Glenn Beck title called It Is About Islam was an anthology of essays on immigration from the white-nationalist site VDare.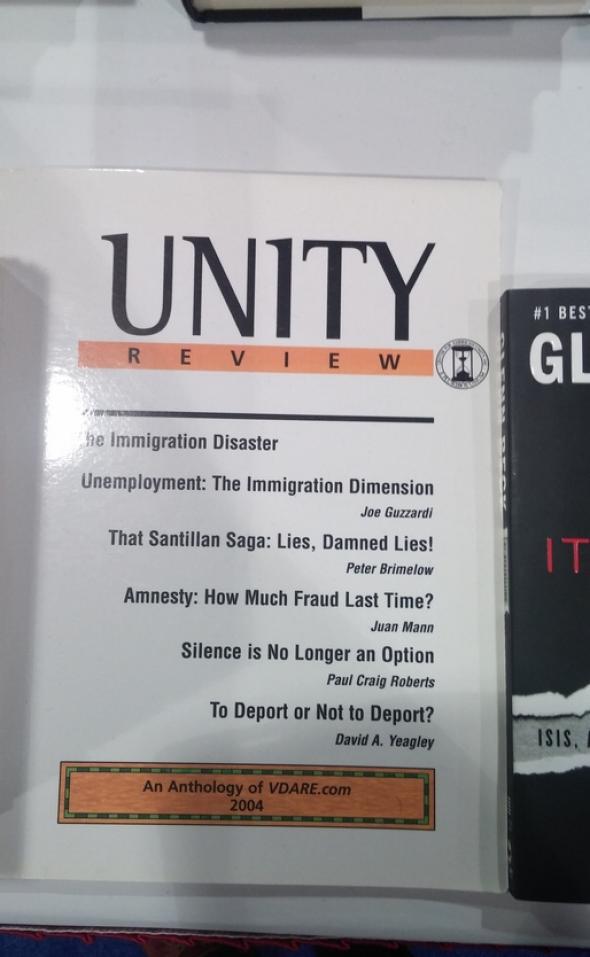 In a lot of ways, the Hub told you more about the state of conservatism under Donald Trump than any of CPAC's actual speakers.