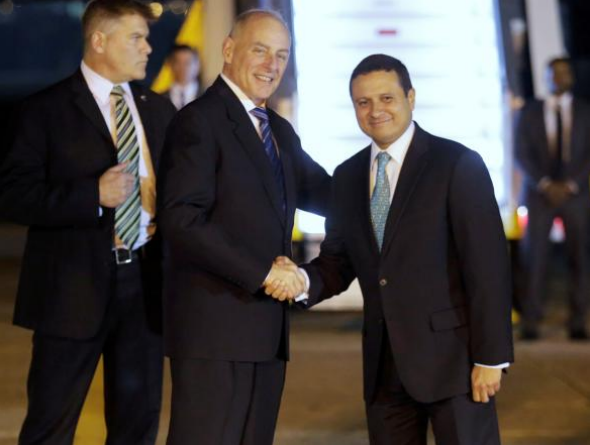 In both an executive order and in a Department of Homeland Security implementation memo issued by DHS chief John Kelly Tuesday, the Trump administration has made clear that it considers all undocumented immigrants in the U.S.—not just the recent arrivals and individuals convicted of serious crimes that the Obama administration targeted—to be fair game for deportation. From the Jan. 25 order:
In executing faithfully the immigration laws of the United States, the Secretary of Homeland Security (Secretary) shall prioritize for removal … removable aliens who:
(a)  Have been convicted of any criminal offense;
(b)  Have been charged with any criminal offense, where such charge has not been resolved;
(c)  Have committed acts that constitute a chargeable criminal offense;
(d)  Have engaged in fraud or willful misrepresentation in connection with any official matter or application before a governmental agency;
(e)  Have abused any program related to receipt of public benefits;
(f)  Are subject to a final order of removal, but who have not complied with their legal obligation to depart the United States; or
(g)  In the judgment of an immigration officer, otherwise pose a risk to public safety or national security.
Items C and G give immigration officers broad authority to prioritize the deportation not just of convicted criminals but of anyone they deem suspicious, while item D would seemingly cover almost all undocumented immigrants, most of whom have likely engaged in some sort of minor misrepresentation of their status in the course of living and working in the U.S. Language in other sections of both the executive order and Tuesday's memo makes clear, meanwhile, that all "removable aliens" should consider themselves subject to ejection from the U.S. And DHS says it is planning to hire thousands more agents and deputize thousands of other law enforcement officials to act as collaborators.
All this would seemingly add up to a drastic escalation in the pace and scope of deportations, right? Well, per the AP, here's what John Kelly told Guatemalan President Jimmy Morales about that on Wednesday (translation via Google Translate with my own tweaks):
In a joint statement with Kelly, foreign minister Carlos Raúl Morales stressed "a very important issue that unfortunately has been interpreted in different ways: [Kelly] has expressed to us that there will be no massive deportations. The United States is to focus on those migrants who have a criminal record."
So, maybe there will be large-scale deportations of generally law-abiding undocumented immigrants, or maybe there won't be! It will be fun, for those immigrants, to wait and see how it all plays out.
(I've inquired with DHS about the apparent contradiction and will update this post if I hear back.)