More than 100 people were suddenly out of work across the country this past week after they participated in Thursday's "Day Without Immigrants" protest. As numerous restaurants across the country closed their doors in solidarity with the cause, other employers were decidedly less understanding.
Eighteen of those who were fired worked at Bradley Coatings Inc., which had warned employees they would lose their jobs if they didn't come to work. "Regretfully, and consistent with its prior communication to all its employees, BCI had no choice but to terminate these individuals," the company said in a statement. "The reason these employees missed work—to engage in peaceful demonstrations—had nothing to do with BCI's decision to terminate them." Fired workers said they planned to make up the day on Sunday but the company didn't budge.
In Lexington, South Carolina, 21 workers were fired from Encore Boat Builders after they took part in the national protest. The company has declined to comment. And in Denver, at least 30 workers were fired from JVS Masonry after they missed work on Thursday. "I have no view on immigration laws or anything going on with that. All I know is I have a business to run," company owner Jim Serowski said. In Miami, four construction workers were fired—and 17 others subsequently quit in protest—from the Orange and Blue company.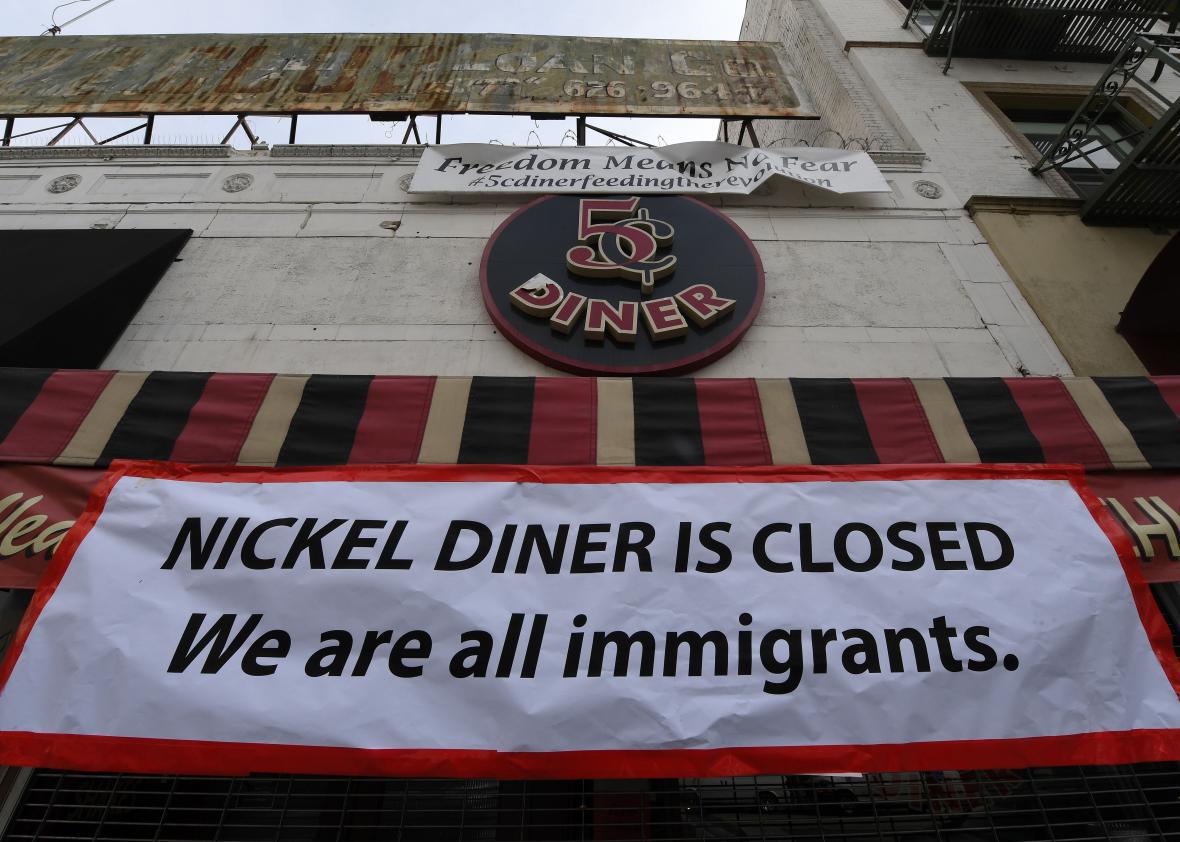 In New York, 25 workers were fired from Ben's Kosher Delicatessen Restaurant & Caterers in Long Island.* In Catoosa, Oklahoma, a dozen workers were fired from the I Don't Care Bar and Grill after they didn't show up for work. The owner fired at least some of them via a horrific text message: "You and your family are fired. I hope you enjoyed your day off, and you can enjoy many more. Love you." Restaurant owner Bill McNally justified the move, saying he has "zero tolerance policy" for people who skip work. The restaurant has already taken to Facebook to find new employees.
An immigration activist said that six employees at the Bahamas Breeze restaurant in King of Prussia, Pennsylvania, were fired after participating in the protest. The restaurant later reversed its decision after it was "bombarded" with calls. But the company that owns the restaurant disputes the allegation, saying nobody was fired. There were also confusing reports out of a day care in Bonita Springs, Florida, where workers said two were fired and four subsequently quit in protest. But the head of the day care disputed the allegation.
Some are now taking to social media to call for boycotts of the companies that fired workers.
*Update on Feb. 21 at 10:30 a.m.: Ben's Kosher Delicatessen & Caterers issued a statement on Facebook denying it had fired 25 employees. The company said it fired one employee who threatened "physical harm to colleagues choosing to work their shifts." Several employees then quit in solidarity with that fired worker. "Of the 21 of employees who participated in the 'Day Without Immigrants,'$2 8 employees have returned to work," the company said.