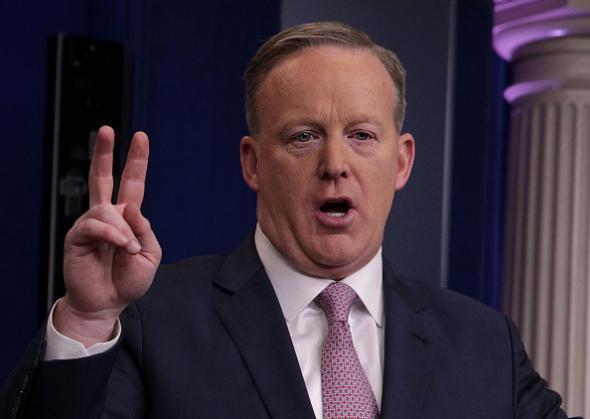 Trump press secretary Sean Spicer held a press conference at the White House on Monday at which he discussed his already infamous claims about the size of the crowd at Trump's inaugural. Here's what Spicer said about the inaugural crowd on Saturday:
This was the first time in our nation's history that floor coverings have been used to protect the grass on the Mall. That had the effect of highlighting any areas where people were not standing, while in years past the grass eliminated this visual. This was also the first time that fencing and magnetometers went as far back on the Mall, preventing hundreds of thousands of people from being able to access the Mall as quickly as they had in inaugurations past. …
We know that 420,000 people used the D.C. Metro public transit yesterday, which actually compares to 317,000 that used it for President Obama's last inaugural. This was the largest audience to ever witness an inauguration—period—both in person and around the globe.
With a number of Spicer's Saturday claims about in-person attendance—including those about Metro ridership, tarps on the Mall, and "magnetometers"—having been contradicted by official sources, he turned instead today to the "and around the globe" part of his argument. Spicer now says he never meant to suggest that Trump's in-person inaugural crowd was the largest ever—merely that the inaugural drew the largest total viewership ever when you count in-person, TV, and online audiences.
Since it's been estimated by Nielsen that Trump's TV audience was 30.6 million as compared to Barack Obama's 37.8 million in 2009 and Ronald Reagan's 41.8 million in 1980, Spicer is relying on online numbers to make his claim. Here are his words (the network he's referring to is CNN):
You look at just one network alone got 16.9 million people online. Another couple of the networks, there were tens of millions of people that watched that online. Never mind the audience that was here, 31 million people watched it on television, combine that with the tens of millions of people that watched it online on a device.
It may not surprise you to find out that there is more than one problem with Spicer's argument.
1. CNN.com did report 16.9 million livestream "starts" for the '17 inaugural—as in, 16.9 million instances in which a stream launched on its site. But Nielsen's 30.6 million number refers to the average number of people who were watching inauguration coverage during any given minute it was being broadcast, not to the cumulative number of individuals who watched any part of it at all. If you're being honest and comparing apples to apples, you can't just add 16.9 million to 30.6 million. The more relevant number that CNN released is 2.3 million, which it identified as the number of streams that were served concurrently at the point of peak Inauguration Day streaming. (Of course, that number, being peak streaming viewership, is still higher than the average number of streams that were on at a given time during inaugural coverage, which would be the appropriate figure to add to the Nielsen totals.)
2. Per this estimate, the percentage of households with cable subscriptions only declined from about 84 percent in 2009 to about 80 percent in mid-2015. That's only a 5 percent drop. And Trump's TV ratings were 20 percent lower than Obama's, not 5 percent. Cord-cutting alone doesn't account for the TV ratings difference. Of course, in 2017 there are probably more people than there were in 2009 who pay for cable and online streaming but choose to watch a given event online. But …
3. Nielsen has not released an estimate of total online + TV viewership for the 2017 inaugural, nor has any other independent source. There's just no entity that does that. Spicer is trying to come to his conclusion by eyeballing online numbers—but if he's doing that, he has to account for what we know about Obama '09's online viewership as well. And per the AP, CNN reported more "livestreams served" for Obama's 2009 ceremony—21.3 million—than it did "livestream starts" for Trump's this year. Moreover, as the Washington Post's Philip Bump notes, Trump's supporters are on average older than Obama's were, and thus would seemingly less likely to watch an event online.
Of course, if they did watch online, Trump's supporters probably would have been more likely to use FoxNews.com. (Fox hasn't released streaming info.) Trump also did have a higher peak CNN stream number—2.3 million—than Obama's 1.3 million. And the video streaming company Akamai says it served a peak of 8.7 terabits of data per second during Trump's inaugural as opposed to 1.1 tbps during Obama '09.
But as this TechCrunch piece notes, contemporary HD video streaming involves a higher amount of data per stream than 2009 streams would have involved. CNN also might have hosted more concurrent streams this year because of better technology, not because there were more total viewers trying to watch. So those aren't apples-to-apples numbers either.
The evidence that Trump might have had more online viewers than Obama, in other words, is extremely mixed. And the evidence that he had 8 million more online viewers than Obama—enough to make up for Obama's larger TV and in-person audiences—is nonexistent. There is simply no way to definitively assert, "period," that total viewership was higher for Trump's inauguration than for Obama's or Reagan's.