Donald Trump's immigration ban targeting Muslims is many things: alarming, un-American, inhumane, counterproductive, and likely unconstitutional for starters. But a closer look at the specific countries Trump chose to target raises a secondary concern as well: Did the president intentionally tailor the order to protect his and his family's financial interests abroad?
That's a question without a clear answer—ascribing motivation with certainty is no easy task—but it's a nonetheless fair one to ask given Trump and his family have little to no known financial interests in any of the seven predominantly Muslim countries he selected: Syria, Iraq, Iran, Sudan, Somalia, Yemen, and Libya. Meanwhile, the same can't be said for a number of other predominantly Muslim countries that one might assume would be included on the list given what we know about the stated (and twisted) logic behind Trump's decision-making.
Among those heavily Muslim nations not directly affected by the travel ban: Turkey, where Trump has licensed his name to two luxury towers in Istanbul, as well as to a company that makes home furnishings; the United Arab Emirates, where Trump has his name on a Dubai golf resort and a luxury home development; Saudi Arabia, where the Trump Organization has several LLCs that were likely created as part of a potential hotel deal in Jeddah, the nation's second-largest city; Egypt, where Trump has at least two companies in his portfolio that suggest he had business interests at one time; Azerbaijan, where Trump licensed his name to a hotel-condo tower that is currently under development; and Indonesia, where Trump Hotels have plans to open two properties.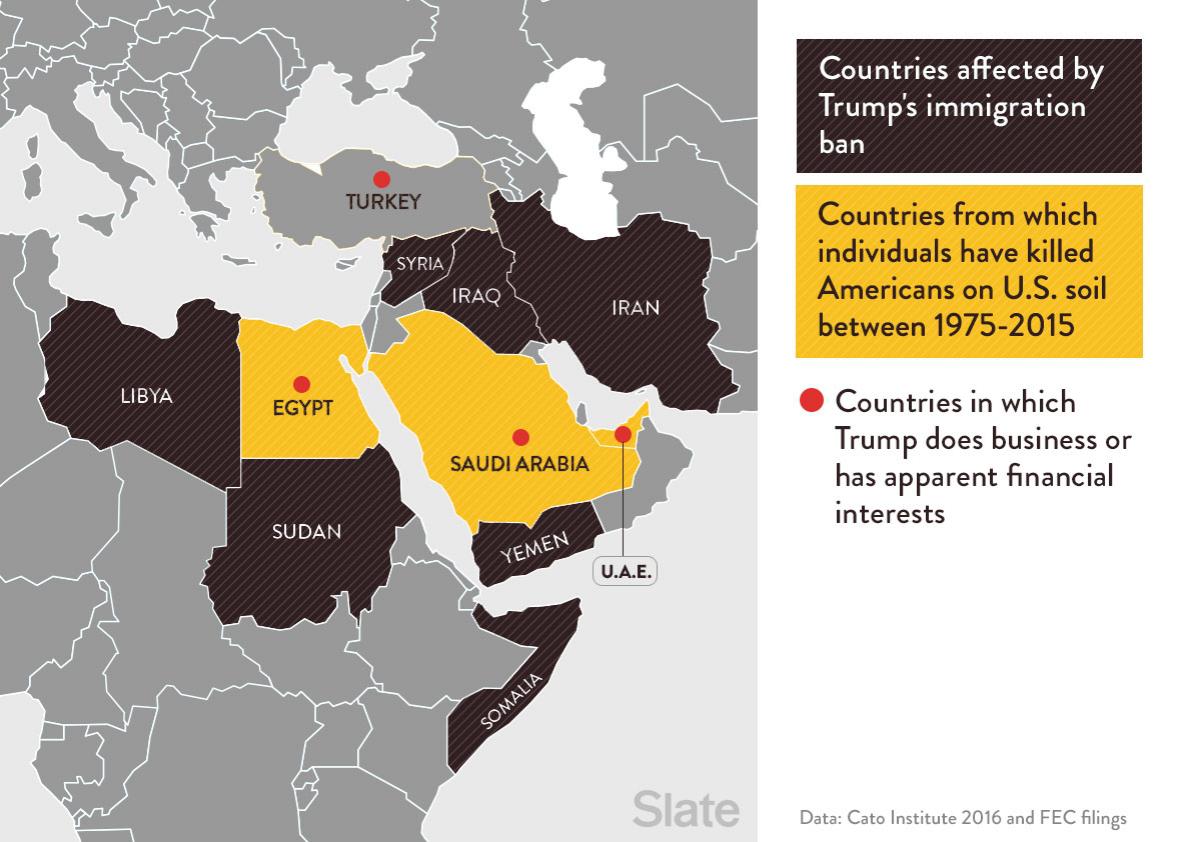 Trump now claims that an executive order that clearly evolved from the Muslim ban he trumpeted on the campaign "is not a Muslim ban." But even if we were to suspend disbelief, his stated goal—to "protect the American people from terrorist attacks by foreign nationals admitted to the United States"—is only a marginally more coherent explanation for his selections. No one from any of the seven countries his ban affects directly is known to have been responsible for a fatal terror attack on U.S. soil in the past two-plus decades. None. Zero. Zilch. And, once again, the same can't be said for those nations that were left off it.
Saudi Arabia, the UAE, and Egypt together accounted for 18 of the 19 hijackers responsible for 9/11, an attack the president specifically cited in his order imposing a travel ban that affects none of those three countries. According to data compiled by the Cato Institute, meanwhile, nationals from the trio have accounted for the overwhelming majority—94.1 percent—of all American deaths in terrorist attacks on U.S. soil committed by foreign-born individuals between 1975 and 2015. Also unaffected by Trump's ban is Turkey, where the State Department last week began warning American visitors about "increased threats from terrorist groups."
Still, it's important to acknowledge that Trump did not pull the names of the seven countries on his banned list out of thin air. His order cites an existing visa law passed by Congress in December 2015 following the terror attack in San Bernardino, California. That legislation, the Visa Waiver Program Improvement and Terrorist Travel Prevention Act, restricted access to an established waiver program that allows citizens of 38 mostly European countries to visit the United States for 90 days or less without needing a visa. The 2015 law, which passed with bipartisan support despite the ACLU and others expressing concerns about it, barred individuals who might otherwise have qualified for the waiver if they had visited Iran, Iraq, Syria, or Sudan in the previous five years. Several months later, the Obama administration then broadened the list of countries to include Libya, Somalia, and Yemen. Put those together, and you get the seven unlucky nations on Trump's list. Trump has now imposed far more draconian measures on those nations, yes, but he also isn't alone in relying on seemingly arbitrary decision-making to single out some Muslim countries over others because of terrorism suspicions.
We simply have no way of knowing if Trump intentionally acted in his own financial interests in selecting some nations over others. But motivation aside, it is clear that Trump's executive order does conveniently align with his own business interests. The president would have been able to avoid the appearance of such conflicts of interest if he had divested himself of his sprawling business empire, as ethics experts demanded. But he did not. And so less than two weeks into his presidency, his personal financial interests have already become intertwined with, and in many ways indistinguishable from, the foreign policy goals of his administration.
Previously in Slate:
***Follow Josh Voorhees on Twitter, or email him at josh.voorhees@slate.com***
Correction, Jan. 30, 2017: An earlier version of the infographic in this post wrongly identified Turkey as one of the countries from which terror suspects have killed Americans on U.S. soil between 1975 and 2015. According to the Cato Institute, a Turkish-born individual was implicated in a U.S. terror plot during that time period, but did not kill an American.