DULLES, Virginia—Mirriam Seddiq sat in the cheerfully resilient bedlam just outside the final customs checkpoint at Dulles airport on Monday, waiting to assist a client she'd never met. An attorney offering to represent anyone targeted by Donald Trump's immigration executive order, Seddiq hoped to help a German national who was born in Iraq but renounced her Iraqi citizenship and was traveling to the U.S. on a B2 visa. The woman was beginning the customs process, and her anxious friend relayed Seddiq's advice via text message.
"Are they asking her any weird questions?" Seddiq said. "Anything about Trump or her religion?"
No, not yet.
"If they tell her she has to go back," Seddiq continued, "she doesn't agree to leave. She has a lawyer waiting for her out here."
The man texted furiously. Soon his friend informed him that she had been pulled aside for "secondary screening"'—and officers had seized her passport and suitcase.
"OK," Seddiq said. "So this is a test. She's a German national but she was born in Iraq. Will they still detain her?"
Officially, Customs and Border Protection officers are not detaining any immigrants at Dulles airport under Donald Trump's illegal executive order. Unless they are. Late Sunday night, CBP told Virginia Democratic Rep. Robert C. "Bobby" Scott that "there are no people in CBP custody at Dulles per the executive order." It's unclear whether that situation continues, though, and it's unclear what exactly that means. Meanwhile, the police officers acting as intermediaries to CBP here refuse to engage with the volunteer attorneys who've gathered here to provide legal aid. Their terse answer to any query is: "We can't discuss that." Are you detaining any immigrants? "We can't discuss that." Can we talk to them? "We can't discuss that." Have you moved any to detention sites elsewhere? "We can't discuss that."
If the rule of law still counts for anything, it's worth noting that CBP officers are operating under a federal court order requiring them to let attorneys speak to any legal permanent residents being held at the airport, and prohibiting the deportation of these individuals. But CBP agents have already directly violated that order, and everyone seems to agree that they may well be doing it again. CBP's official line—that nobody is being "detained" under the order here—leaves an unnerving amount of wiggle room. The CBP may not, for instance, consider lengthy questioning that drags on for hours to be "detention."
Even Virginia Democratic Sen. Tim Kaine, who swung by Monday to praise the protesters and lawyers staked out at Dulles and to criticize Trump's order as "a religious test," questioned CBP's veracity. Kaine noted that nobody, according to CBP, was still being "detained" at Dulles—but added that immigrants might still be getting questioned or held in anticipation of questioning. The problem is that CBP officers simply will not answer the questions that they must answer to prove they are complying with court orders. "When you are not willing to answer questions, I can only conclude that you're violating law and in contempt of court," Virginia Democratic Rep. Gerry Connolly said on Sunday after unsuccessfully attempting to sit down with CBP. "I think it shows a special arrogance that somehow they think they're above the law."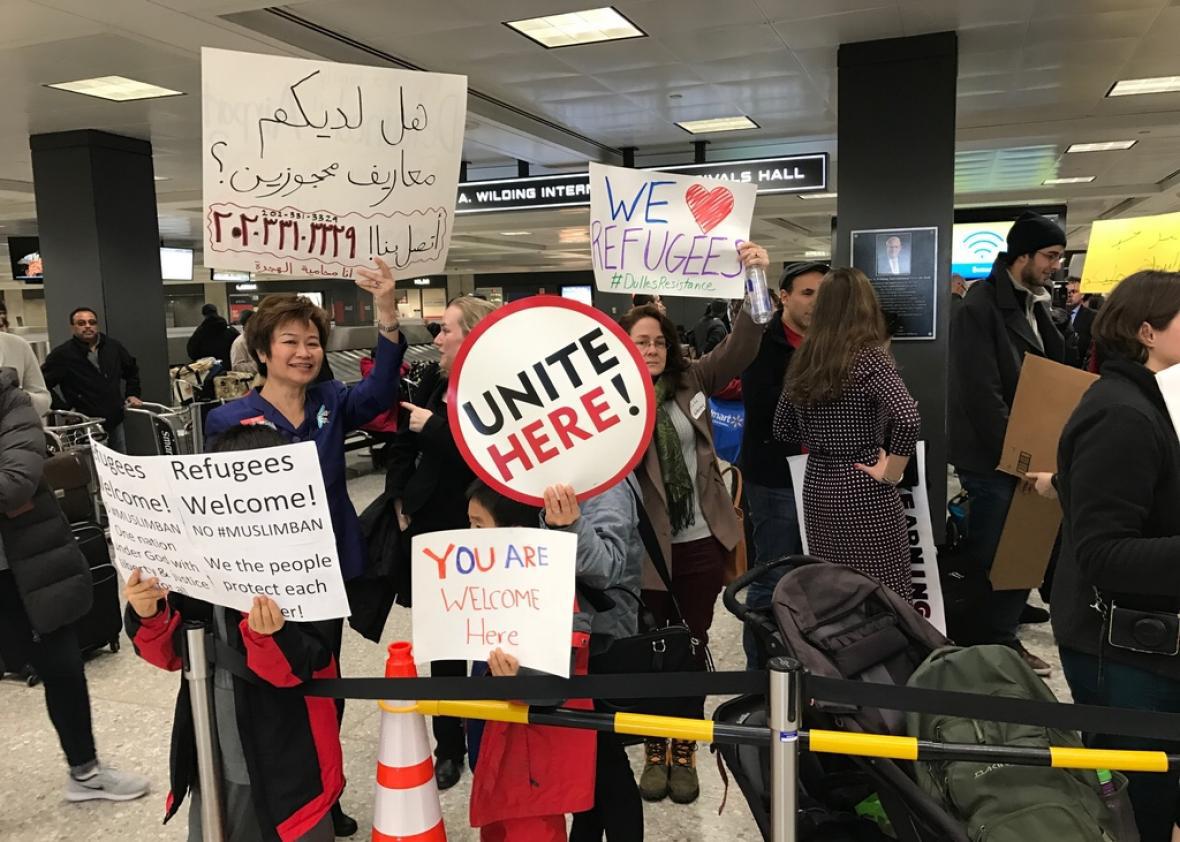 One attorney here, Negar Mortazavi, happened to arrive at Dulles from Colombia on Sunday at around 3 p.m. CBP has successfully prohibited most lawyers from speaking to their would-be clients, because detainees are held in a secure area behind a security checkpoint. But Mortazavi was already in the secure area, and asked agents if she could speak to detainees, pursuant to the court order. They refused to engage with her and demanded that she leave, she told me.
It's unclear how many people were deported from Dulles before attorneys could intervene, or how many green card and visa holders are currently being turned away from flights into the U.S. at foreign airports. Neither CBP nor the Department of Homeland Security will provide that information, although multiple attorneys have heard reports of U.S. visa holders being kicked off flights to America from Amsterdam, Istanbul, and Frankfurt airports because of Trump's order. And we know that, for at least a few lawless hours over the weekend, officers were forcing certain travelers in transit to Dulles to surrender their green cards and leave the country.
To make matters worse, it's unclear if immigrants covered by the order are being properly informed—or even, potentially misinformed—about their legal rights. Lawyers are now advising everyone whose loved ones might be affected by the executive order to declare their desire to see an attorney if they are detained.
More than an hour after Seddiq's German client went silent, she emerged from customs as protesters cheered. Her friend ran toward her and gave her a huge hug while Seddiq looked on, smiling. I asked her what happened, and a man assisting the attorneys volunteered to translate for me. She explained that after checking her (German) passport, CBP officials placed her in a different room, where hundreds of people were waiting to be questioned by a single agent. When her turn finally came, the agent asked her where she came from. When she told him "Amsterdam," he responded, "what about before that?"
"Germany," she said.
The agent continued interrogating her: How long had she lived in Germany? How much money did she have with her? How many children did she have? Did she have an Iraqi passport? Eventually, she asked the agent, "Why are you asking me all these questions?"
He pointed to a nearby television. Trump was on the screen.
When she finished her story, the translator grimaced.
"I am so sorry," he said. "I promise you, that's not supposed to happen here."
Flustered and exhausted, the woman and her friend thanked Seddiq and walked toward the baggage carousels. The translator, looking distraught but determined, shuffled back to the buzzing pack of attorneys. Seddiq sighed, then sat down and opened her laptop. She had more clients to help.