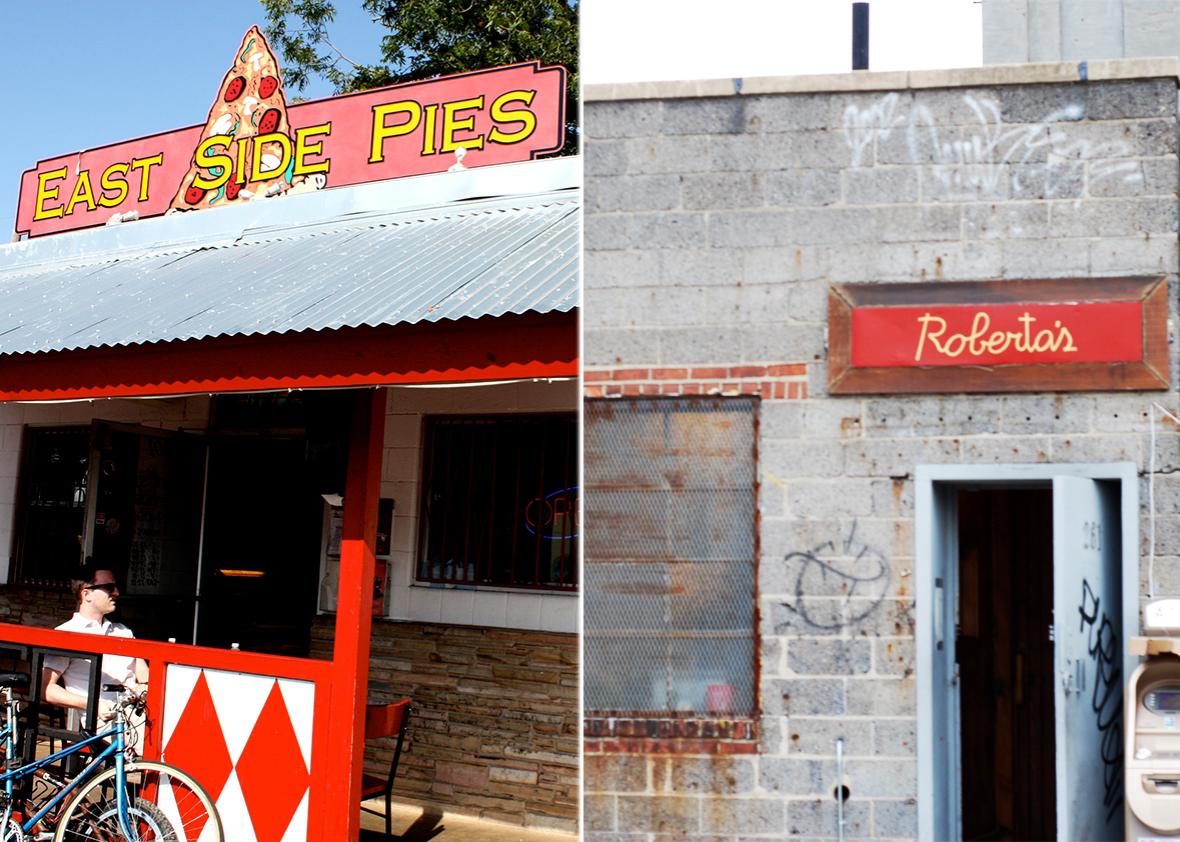 The bizarre "Pizzagate" online hoax theory that Hillary Clinton operates a satanic pedophilia ring out of Comet pizza in Washington, D.C., has now expanded to encompass pizzerias in at least three other cities, local outlets report:
In Austin, Texas, according to the Austin American-Statesman, the East Side Pies mini-chain has been the subject of online and phone harassment (and one incident of IRL vandalism) by individuals who have "interpreted the restaurant's logo as a symbol of the 'illuminati,' questioned the meaning of photos of pizza-eating children on East Side Pies' Facebook account, inferred that a picture of staffers with former Austin Mayor Lee Leffingwell was proof of nefarious political ties and claimed co-owner Michael Freid, an alumnus of the Culinary Institute of America, had 'connections to the CIA.' "
DNAInfo writes that an employee of the Brooklyn pizza restaurant Roberta's received a telephoned death threat after it was identified as a hub of satanic activity in a YouTube video posted by an individual who made similar claims about a restaurant in Amherst, New York, which is near Buffalo.
As Slate's Christina Cauterucci and Jonathan Fischer wrote Tuesday, part of what seems to have made Comet pizza a target of the far-right white nationalist crowd is that it has long been a welcoming environment for "eccentrics, queers, outsiders, and their art," hosting punk shows and art installations. East Side Pies and Roberta's are both also located in predominately liberal areas with thriving music and arts scenes.
Here's a strange fact from the Washington Post's comprehensive and disturbing report about the Comet pizza affair, which culminated on Sunday when a man from North Carolina entered the restaurant and fired at least one shot from a rifle:
An oddly disproportionate share of the tweets about Pizzagate appear to have come from, of all places, the Czech Republic, Cyprus and Vietnam, said Jonathan Albright, an assistant professor of media analytics at Elon University in North Carolina. In some cases, the most avid retweeters appeared to be bots, programs designed to amplify certain news and information.
Michael G. Flynn, the son of Donald Trump's soon-to-be national security adviser, was reportedly removed from Trump's transition team Tuesday for having circulated Pizzagate tweets. But Flynn's father—Michael T. Flynn—has also promoted fake Hillary Clinton sex-abuse stories:
The elder Flynn nonetheless continues to retain his position in Trump's inner circle.