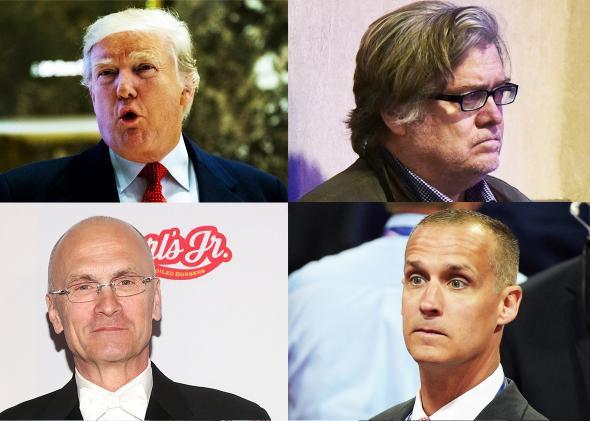 Shortly after Thursday's announcement that Donald Trump would nominate Carl's Jr./Hardee's CEO Andy Puzder to lead the Labor Department, St. Louis' Riverfront Times noted that Puzder's now-ex-wife Lisa Henning had accused him, in a 1980s divorce filing, of physically abusing her on two occasions. Puzder, Lisa Henning alleged, punched her when they were in a car together in 1985 and struck and choked her in their home in 1986.
Puzder denied the accusations of abuse in a 1989 Riverfront Times article, and Henning—now known as Lisa Fierstein—has disavowed them publicly in a new statement:
"Andy is one of the finest men I have ever known. Many years ago I impulsively filed for divorce and was counseled to file allegations that I regretted and subsequently withdrew over thirty years ago. Andy is a wonderful father, a great person, and was a good husband."
Fierstein also avowed in a Nov. 30 email to Puzder that he provided to the Riverfront Times that he was "not abusive."
The public record, however, does not seem to entirely square with Fierstein's statement that her allegations against Puzder were contrived and filed strategically at the advice of others. The Riverfront Times wrote in 1989—and Puzder confirmed—that police responded to the couple's home during the 1986 incident and that, during the incident, Puzder's wife fell to the ground after some sort of physical contact:
Henning (formerly Lisa Puzder) alleged ​​that Puzder hit her and threw her to the kitchen floor and unplugged the phone after she tried to call police for help during an altercation in 1986 in their Clayton home. Puzder, in a deposition, denied using physical violence and said that his wife was yelling and coming at him, so he "grabbed her by the shoulders and pushed her back" to prevent her from hurting herself. Puzder said that his wife ended up on the floor. "I don't know if her foot caught or what happened, but she went down on her back and stayed down on the ground." Puzder acknowledges that police responded to that altercation.
After that incident, Henning sought a protective order against Puzder in May 1986, alleging that he "attacked me, choked me, threw me to the floor, hit me in the head pushed his knee into my chest twisted my ar​m and dr​agged me​ ​on the floor, threw me against a wall, tried to stop my call to 911 and kicked me in the back." Puzder told The Riverfront Times: "There wa​s​ no physical abuse at any point in time."
This incident did take place, however, in the same year—1986—that divorce proceedings appear to have begun.

Puzder, who at the time of the alleged incidents was a prominent Missouri pro-life activist, is not the only member of Trump's inner circle to have been accused of assaulting one or more women. Adviser and former campaign manager Corey Lewandowski was charged, though not ultimately prosecuted, for grabbing and pulling reporter Michelle Fields' arm after a March press conference. (Lewandowski initially denied that he'd even touched Fields, but the incident turned out to have been recorded on video.) Lewandowski also reportedly called one female co-worker at a previous job a "cunt" and another a "fucking bitch." Top White House adviser Steve Bannon, meanwhile, was charged with misdemeanor domestic violence against his now-ex-wife in 1996 after police responded to an incident in which she alleged that he grabbed her roughly and tried to pull her into a car. An officer wrote at the time that he had observed "red marks on [Bannon's wife's] left wrist and the right side of her neck." The charge was later dropped when the woman declined to testify in court.
And, of course, Donald Trump himself has been accused of sexually assaulting at least 14 women.