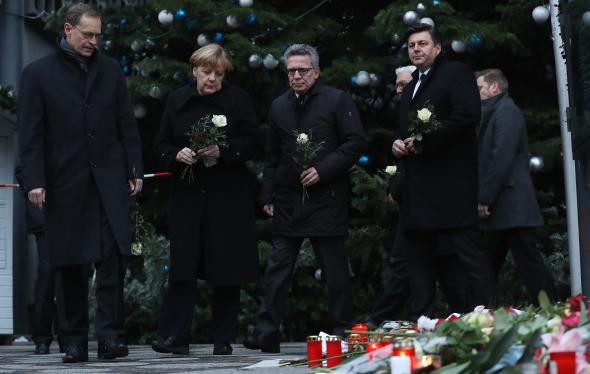 ISIS has claimed responsibility for the attack on a Christmas market in Berlin on Monday that killed a dozen people and injured roughly 50 others, many critically.
The Associated Press reports that the terror group released a statement via its Amaq news agency late Tuesday claiming that the driver of the truck that plowed into the crowd "is a soldier of the Islamic State and carried out the attack in response to calls for targeting citizens of the Crusader coalition." Notably, however, the group offered no other details about the driver, nor did it specify whether it was claiming that he or she had been in direct contact with the group, or was simply sympathetic to it.
The statement came shortly after German officials released the sole suspect it had in connection with the attack, a 23-year-old asylum-seeker from Pakistan who was arrested about a mile-and-a-half from the scene of Monday's carnage. Police announced that they did not have enough evidence to tie him to the attack.

German Chancellor Angela Merkel began the day Tuesday by saying that "we must assume at the current time that it was a terrorist attack," but authorities investigating the incident seemed less certain of that at the end of the day than they did at its start, via the New York Times:
Peter Frank, the country's federal prosecutor, insisted that while the similarities to last summer's Bastille Day attack in Nice, France, led his office to suspect that the Berlin attack was motivated by terrorism, he was unable to produce any hard evidence. "We are investigating in all directions," Mr. Frank said, explaining that he decided to start an investigation given the symbolism of the target and the timing, less than a week before Christmas Eve.
In the meantime, the investigation continues. "We have not limited ourselves to one suspect or one possible perpetrator," Frank added. "But we can't make a final assessment whether it is a terrorism-motivated attack, or whether it was a copycat act."
---