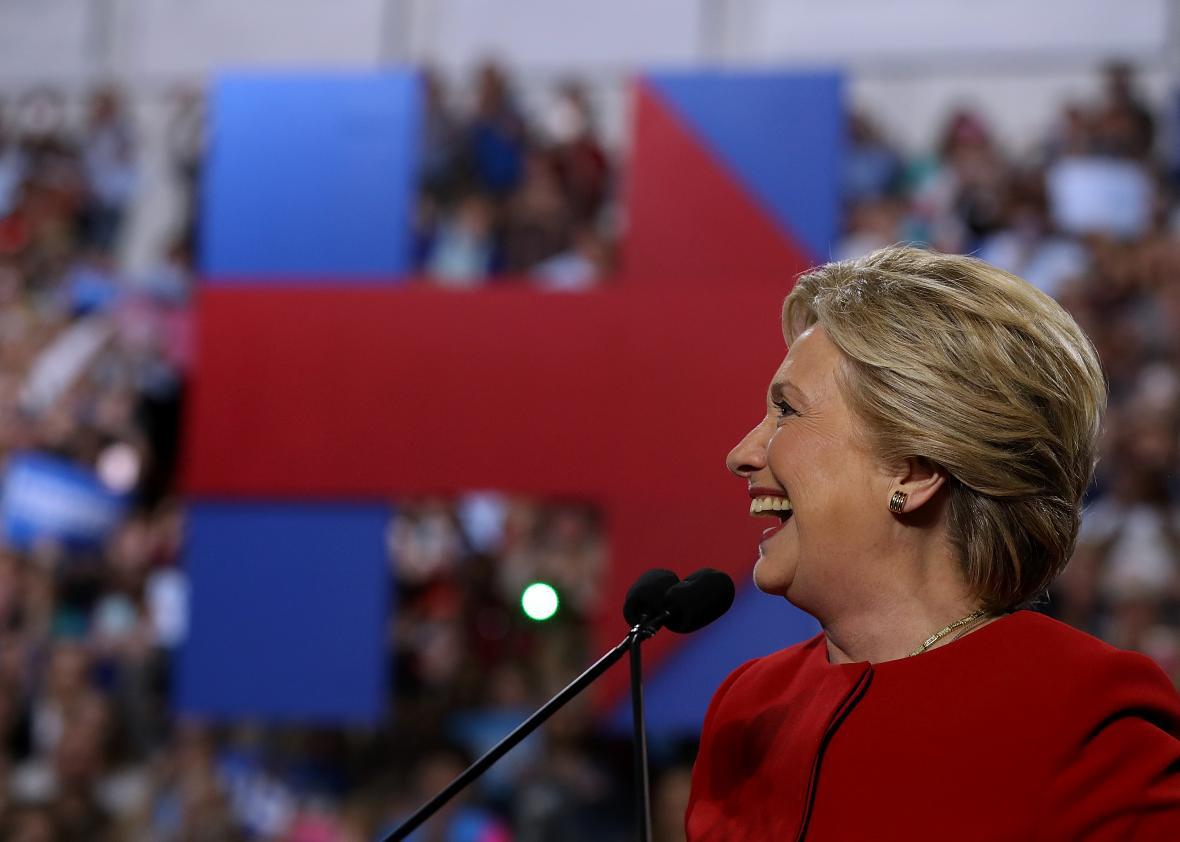 Good. Morning. In less than 24 hours, we will (hopefully) know whether Hillary Clinton or Donald Trump is president-elect of the United States. We will also know the results of other elections. A few percentage points here, a few percentage points there, and we will be able to draw broad overgeneralizations about "what the American public wants," after two years of hourly recognition that there is nothing anywhere close to a broad consensus about anything in this country.
Some things to keep an eye on.
The Presidential Race
The what race with the who now? Oh. Right. Yes.
The bottom line is that Hillary Clinton will be elected president if polling averages hold or come close to it. The probabilities are constantly moving a percentage point or so, but all of the main forecasters—FiveThirtyEight, the New York Times' Upshot blog, the Huffington Post, PredictWise, the Princeton Election Consortium, and on and on and on—point to a Clinton win with varying degrees of certainty. Some, like the Huffington Post, pin the probability of a Clinton win in the high-90s; Nate Silver's FiveThirtyEight gives Clinton about a 2-in-3 shot. (Because anxiety is high and forecasters are touchy and everyone's weird all the time, these methodological differences have caused regrettable, expletive-laden Twitter fights to break out in recent days.)
There is no Slate editorial position on which forecaster is more "right" or "wrong." But I will give you my view, which is that forecasters giving Clinton a 98 or 99 percent chance of winning are nuts. Maybe Nate Silver is playing overly cautious, but his point that there's a lot of uncertainty in this map is wise to listen to, even if it's not the most comforting thing to hear.
So if Clinton were to lose, what could that look like?
The states to watch here are New Hampshire, Pennsylvania, and Michigan. These states have either limited or no early voting, which is why the Clinton campaign and its surrogates have stacked so many events there in the closing days after a flood of events in Florida and North Carolina last week. These are states that, unlike Nevada, Arizona, North Carolina, Georgia, or Florida, have relatively stagnant demographics. New Hampshire is nearly all-white; Michigan and Pennsylvania rely on high black turnout in the cities to carry the state. All of them have a lot of noncollege white voters, and all of them—by recognition of both campaigns—have tightened in the past week.
If Clinton can win Florida (29 electoral votes)—and we'll have a good idea of how her chances look once the state's substantial early voting figures are posted as polls close at 7 p.m.—she needn't worry about Michigan (16) or New Hampshire (4). If she wins Pennsylvania (20) on top of Florida, we can all go to bed. If she wins North Carolina to boot, we can somehow travel back in time and never watch election returns in the first place, such a rout we will all know it to be.
If Clinton doesn't win Florida or North Carolina, though, or they're far too close to call, that's where things could get "exciting." All eyes will turn north as that firewall of Pennsylvania, New Hampshire, and now Michigan will be asked to perform their firewall-ian functions. This is why the northern tightening, evidenced by the sudden addition of Michigan to the Clinton campaign's schedule and the relentless activity in Philadelphia, has blossomed as the late-stage cause for concern for Democrats, or at least the last base to cover. The Trump campaign's best bet for winning this election rests in a noncollege white voter surge that, combined with would-be stagnant turnout from blacks, could turn much of the Great Lakes red.
The Senate
Democrats need a net pickup of four seats to control the Senate in the event of a Clinton win, and five seats if Trump wins.
There's only one truly competitive pickup opportunity for Republicans: retiring minority leader Sen. Harry Reid's seat in Nevada, which is being contested between former attorney general and Democrat Catherine Cortez Masto and Republican Rep. Joe Heck. That race is a dead heat, though the early voting turnout figures in Clark County (Las Vegas) have to be heartening for Cortez Masto.
Nevada is hardly the only dead heat. There's little separation in Pennsylvania between Democrat Katie McGinty and Republican Sen. Pat Toomey (in the most expensive Senate race in history); the races between Democrat Jason Kander and Sen. Roy Blunt in Missouri, Democratic Gov. Maggie Hassan and Sen. Kelly Ayotte in New Hampshire, and Democrat Deborah Ross and Sen. Richard Burr in North Carolina are just as close. In Indiana, former Democratic Sen. Evan Bayh's lead against Rep. Todd Young in Indiana has dwindled.
Things are looking more assured for Democrats in Illinois, where Rep. Tammy Duckworth will unseat Illinois Sen. Mark Kirk., and also in Wisconsin, where former Wisconsin Sen. Russ Feingold, in a rematch against Sen. Ron Johnson, is expected to win a closer race. Sen. Marco Rubio could still lose his re-election in Florida, but don't bet on it.
If Democrats win the Illinois and Wisconsin seats, Cortez Masto pulls through in Nevada, and Hillary Clinton is elected president, they'll need to win two of out of those five tight races listed above (Pennsylvania, New Hampshire, Missouri, North Carolina, Indiana), or some other surprise, to take the Senate. As of this writing on Monday afternoon, FiveThirtyEight's Senate forecast gives Republicans a 54 percent chance of retaining control of the chamber. It's a toss-up.
The House of Representatives
The Democrats will not win the House of Representatives, c'mon.
Governors!
There are some gubernatorial races this year—good ones, to boot! Democrats enter the night in control of 18 governorships while Republicans hold 31, and Democrats don't want to see that horrendous ratio get worse as they try to rebuild the state-level ruination that's befallen the party.
The Missouri governor's race between Republican Eric Greitens and conservative Democrat Chris Koster will be decided by like five total votes. As will Republican Gov. Pat McCrory's re-election effort in North Carolina against Roy Cooper, and conservative Democrat Jim Justice's race in West Virginia against Bill Cole. Republican Chris Sununu, in keeping in the grand tradition of all successful male Republican politicians in New Hampshire having the last name "Sununu," has a small edge against Democrat Colin van Ostern. Indiana Lt. Gov. Eric Holcomb, who replaced Gov. Mike Pence when Donald Trump put him on the presidential ticket, is trailing against Democrat John Gregg. It's also a distinct possibility that Vermont will soon have a GOP governor. Republican Phil Scott is in strong shape against Democrat Sue Minter to replace outgoing Gov. Peter Shumlin, who chose not to run for re-election after his plan for single-payer health care fell apart.
Other Things
Speaking of single-payer health care, it's on the ballot in Colorado. Voters are expected to reject it. Legalizing recreational marijuana is on the ballot in five states, though, and medical marijuana in four. Those measures are expected to do well across the board. There are four death penalty ballot initiatives, including an interesting two-parter in California. Various minimum wage increases are also up for votes. They tend to do well.
You should vote if you care about stuff.
I'm not scolding. If you don't care about stuff, then you don't care about stuff. But most people do care about stuff, so voting in that case is an excellent idea.
---