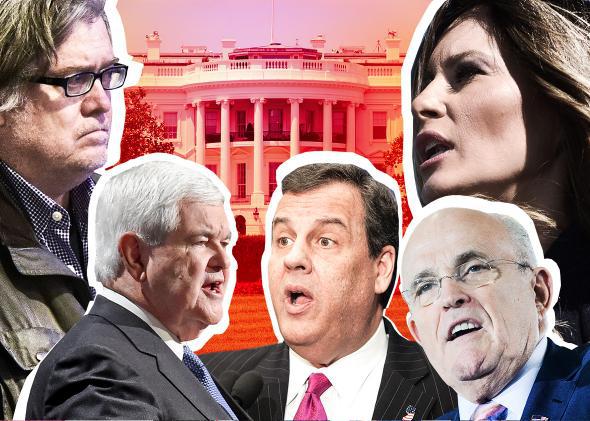 Those of us who Remember the '90s™ all had a good laugh this morning when NBC reported some potential Trump Cabinet picks:
Newt Gingrich as secretary of state! It's a highly ironic choice that's emblematic of Trump's entire campaign, which has basically been an 18-month-long complaint about the kinds of political and business sleaze that Trump and his closest associates have been engaging in for years.
Let's review some of the major themes of Trump's campaign rhetoric:
Immigration fraud is a big problem, he says.
Voter fraud is a big problem, he says.
"Global elites" who make money at the expense of American workers are a big problem, he says.
Corruption is a big problem, he says—particularly the corruption that Hillary Clinton allegedly engaged in while secretary of state.
And let's review the connections that various potential members of a Trump White House/Trump administration, including Gingrich, have to those issues.
Immigration fraud. Trump's potential first lady, Melania, appears to have committed immigration fraud by working without a visa in 1996.
Voter fraud. Trump's campaign chairman Steve Bannon appears to have committed voter fraud by registering to vote at an unoccupied house in Florida.
Global elites. Trump's daughter and top adviser Ivanka Trump runs a lifestyle brand whose products are mostly made overseas. (FWIW, the Trumps have given conflicting statements about whether Ivanka would be involved in her father's administration.) Trump himself, of course, is an outsourcing-happy crony capitalist who's made various windfalls throughout his life by ripping off American taxpayers, small businesses, and working-class customers.
Corruption. Newt Gingrich was the first speaker of the House in the history of the U.S. to be reprimanded for ethical violations. (Namely misusing tax-exempt funds for political purposes and lying to investigators.) According to both prosecution and defense attorneys involved in a recent trial, Chris Christie—who is in charge of Trump's White House transition team—was complicit in a New Jersey public-corruption scheme for which two of his former aides were just convicted of felonies. And Rudy Giuliani, Trump's potential attorney general, has bragged publicly in recent months about getting details of internal FBI deliberations from active agents—which would be a violation of those agents' code of conduct.
As it happens, Giuliani has a long association with Bernard Kerik, the former NYPD commissioner and would-be secretary of homeland security who went to jail in 2010 for a variety of public-corruption crimes. Kerik, who is no longer in the slammer, complained Sunday night on Twitter that James Comey was too quick to clear Hillary Clinton in her email case. Bernard Kerik for FBI director?