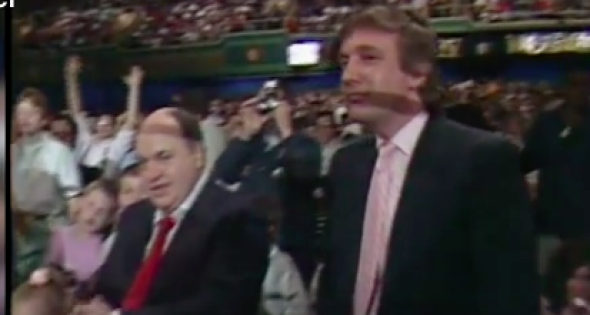 Earlier this year, Yahoo News' Michael Isikoff wrote about Donald Trump's 1980s relationship with Robert LiButti, a frequent customer at Trump's Atlantic City casinos who was later imprisoned and identified by New Jersey regulators as an "associate" of Mob boss John Gotti. The Trump Plaza casino was actually fined $200,000 for telling black employees to stay away from LiButti, who was apparently known for making belligerent racist and sexist remarks when he lost money. LiButti's daughter says her father had a long-standing personal relationship with Trump, but Trump denied knowing him in 1991 and said this year he doesn't remember him:
"If he was standing here in front of me, I wouldn't know what he looked like," Trump told the Philadelphia Inquirer when he was first questioned by Johnston about LiButti, in 1991.
Earlier this year, when questioned again about LiButti by Yahoo News, Trump emailed a reporter: "During the years, I very successfully ran the casino business, I knew many high rollers. I assume Mr. LiButti was one of them, but I don't recognize the name."
The idea that Trump wouldn't have recognized LiButti in 1991 and simply can't remember him now was never particularly plausible given the testimony of LiButti's daughter, a 1991 book written by a Trump casino manager that describes Trump and LiButti agreeing on the sale of a race horse, and a 1990 state police wiretap in which LiButti mentions a conversation he had with Trump aboard a helicopter. (LiButti died in 2014.) But it's now even less plausible, since Isikoff has uncovered video of LiButti attending a WrestleMania event in Atlantic City in 1988 with Trump and his then-wife Ivana:
In the video, LiButti can be seen alongside Trump as the real estate mogul greets the ring announcer, sportscaster Bob Uecker, and later as Trump kisses on the cheek special guest Vanna White. LiButti can also be seen sitting during the match in a front-row seat alongside Trump and his then wife, Ivana.
Trump's spokeswoman, in response, seemed to imply that it's somehow a coincidence that Trump and his wife were seated at an Atlantic City event next to a Trump casino client who other individuals have said was personally close to Trump at the time:
This was obviously a massive event, which took place decades ago. Mr. Trump attended many similar events with thousands of people during this time period.
LiButti is only one of the many individuals with personal histories of criminal activity and fraud with whom Trump has been closely associated over the years:
Maybe they can all have a reunion in the White House.