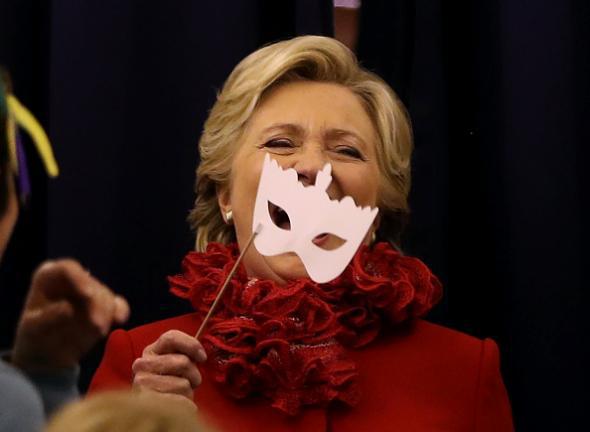 You woke up this morning and your head was throbbing and your hands were shaking. "Maybe just a splash of polling in my coffee to get me through to lunch," you thought. "Just a splash won't hurt anyone."
You make me sick.
Here are your polls, in order from worst to best for Clinton.
WaPo/ABC:
Unrounded data now give Hillary Clinton a 44.6%-43.7% lead over Trump in a four-way matchup, or less than 1%. Johnson stands at 4.2% and Stein at 2.1%.
Democrat Hillary Clinton held a five percentage point lead over Republican rival Donald Trump, according to a Reuters/Ipsos opinion poll released on Monday, down only slightly since the FBI said last week it was reviewing new emails in its investigation of the former secretary of state.
Some 44 percent of likely voters said they would support Clinton, while 39 percent said they would support Trump, according to the Oct. 26-30 survey.
The NBC News|SurveyMonkey Weekly Election Tracking Poll showed Clinton with a 6-point lead over Trump in the days prior to the Comey news. When looking at the data for Saturday and Sunday only, her lead remained the same — 47 percent to Trump's 41 percent. The poll was conducted online from October 24 through October 30. Questions about Comey's announcement were included on October 29 and October 30.
A bonus from Virginia:
And Pennsylvania:
A new Franklin & Marshall College poll suggests that Pennsylvania is slipping from Republican Donald Trump's grasp in the last week of the presidential campaign, with Democrat Hillary Clinton opening up an 11-point lead among likely voters.
FiveThirtyEight gives Hillary Clinton a 76 percent chance of winning. The Upshot says it's 88 percent. (And here's the Upshot's Nate Cohn writing about what he thinks might be behind all this year's poll volatility.)
One more week to go.