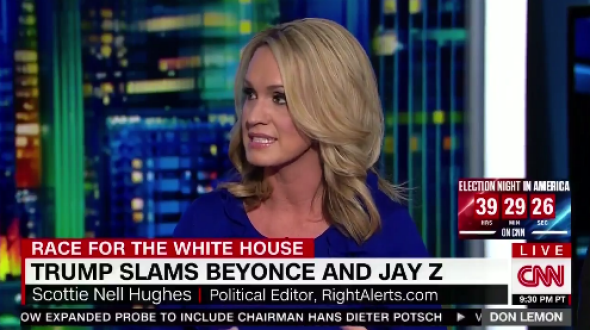 Scottie Nell Hughes is an Eva Braun-tastic Donald Trump campaign spokeswoman who, because of the strange way cable news works, technically works for CNN. The Trump campaign is currently trying to make a deal out of the fact that Hillary Clinton made a campaign appearance with Jay Z, a rapper who has some risqué and violent material in his back catalog.
Here's Scottie Nell Hughes' inept attempt to emit a version of that talking point early this morning on CNN:
"One of his main videos starts off with a crowd throwing Mazel Tov cocktails at the police." Hughes was likely referring to Jay Z and Kanye West's "No Church In the Wild" video, which depicts an apocalyptic riot in Prague. (American police officers are notoriously sensitive to fictional depictions of attacks on their European peers.) And she was referring to Molotov cocktails.
This is a funny mistake, because what are Mazel Tov cocktails, LOL! It's also a face-clawingly despair-inducing symptom of what happens when your presidential campaign/major national political party celebrates illiteracy and stupidity. The "Molotov" in "Molotov cocktail" isn't just an arbitrary collection of syllables that anyone might forget; it's a reference to Stalin-era Soviet foreign minister Vyacheslav Molotov, and it's a word that you'll come across often while reading about 20th century history. But hey, why would someone like Scottie Nell Hughes, who's paid to discuss subjects like the United States' relationship with Russia on CNN, need to have ever read anything about the Cold War? Why would anyone ever make any attempt to learn about anything at all? Make America great again! I'll see you all in the goo log.