SANFORD, North Carolina—Democrats here have a problem. To win the state for Hillary Clinton and their statewide candidates—Roy Cooper for governor and Deborah Ross for Senate, in particular—they need high turnout from black voters, on par with what Barack Obama managed in 2008. Almost every black American who comes to the polls in North Carolina is a vote for the Democratic ticket. When you add black turnout to Clinton's performance among college-educated whites, you take the state off the board for Donald Trump, which puts the White House out of reach, too.
But black voters aren't turning out the way they did in 2008—at least, they're not in early voting. They aren't even turning out the way they did in 2012, when Obama fell short of a majority in the state. Clinton still leads North Carolina, edging out Trump by an average of 3 points, but that's a little too close for comfort for her and the campaign. Which is why, for this final week before Election Day proper, her most prominent surrogates are making stops in the state, rallying supporters and urging them to vote early.
On Monday, the surrogate was Virginia Sen. Tim Kaine, Clinton's pick for vice president. The place was Sanford, a small city of nearly 30,000 people near the center of the state in Lee County. There's no particular draw for Sanford. The landscape of the South is dotted with places that look just like it, quiet settlements with historic downtowns, old cemeteries, and a cluster of big-box stores, fast-food joints, and auto-body shops.
Why send Kaine to Sanford when Raleigh and Greensboro—two major metropolitan areas—are in the vicinity? Two things stand out. First, Sanford is around 30 percent black, and at the community college where Team Clinton held its event, those black residents were first in line to see the prospective vice president and rally with the campaign.
"I voted early for Hillary because I know she will be strong. She will bring us together," said Barbara Heck, who was among the first to arrive for Kaine's event. A lifelong resident of Sanford, she's enthusiastic for Clinton and she wants to stand against Trump. "We already have racism and racists, but I think Trump will make things worse," she explained. Likewise, said Wanda Bronson, another longtime resident of Sanford, "She's trying to unify the country, to better everyone. I don't understand why there is such hatred for her. It's sad."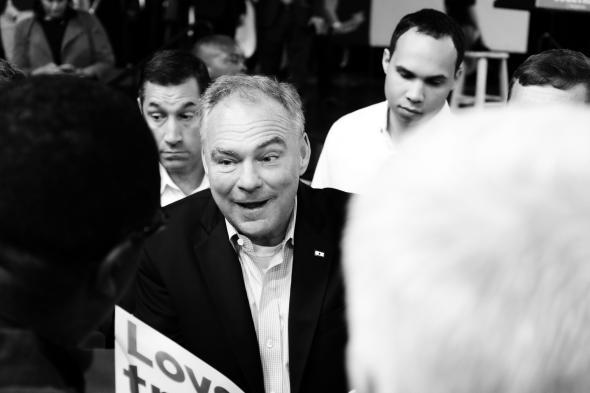 That Sanford is substantially black leads to the second reason to send Kaine here: Lee County's early vote total lags behind where it was in 2012. Four years ago, the county cast more than 16,000 votes before Election Day. As of Monday, that number stands at just under 12,000. Kaine's visit, then, ties in to the larger problem: Democrats need more early voters than they have, and more black ones in particular. And in fact, Kaine's stump speech was tailored to a black audience, with a lengthy riff comparing Donald Trump's birtherism with the Supreme Court's infamous ruling in Dred Scott v. Sandford. "We had to do it to show that African Americans are just as much citizens as everyone else," said Kaine, linking Dred Scott with the eventual Civil War over slavery. "So when Donald Trump insists that Obama is not a citizen, you have to ask yourself why he wants to go back to that time." With this line, Kaine was channeling the feelings of many in attendance, folks who see Trump bringing hate into the mainstream. "Watching Trump is an experience," said Wayne Hooker, a retiree who moved back to Sanford after spending 20 years as a police officer in Washington. "It makes you wonder, 'Can anyone really feel this way? Can anyone really say these things and get away with it?' "
Most of the people attending the rally in Sanford had already voted early—they wore stickers to that effect. It's unclear whether Kaine's appearance will make a meaningful difference. I suppose it could, if attendees are energized enough to push their friends and family to vote.
But there's really only so much these efforts can accomplish. Step back from this activity on the ground, and it's clear that the single largest obstacle to increasing the Democratic early vote—especially among black voters—is the relentless push by Republicans to restrict and limit voting. North Carolina isn't the only place where black turnout is down; we see a similar pattern in Florida. In both states, Republicans made an aggressive effort to reduce early voting and raise new barriers to the polls. So far, it seems, it's working.
Hillary Clinton is swimming upstream against Republican officials who have tried to tilt the playing field as far against her campaign as they can manage. Which is to say that this is what a "rigged" election looks like. Not unfavorable polls or criticism from the media, but an active effort to exclude one group of voters for narrow partisan gain.