It was an immediate viral video. Secret Service agents rushed Donald Trump off the stage at a rally in Reno, Nevada on Saturday night. Shortly thereafter, rumors started going around that someone was holding a gun, that the Secret Service had prevented an assassination attempt on Trump. The truth was much less interesting. Turns out someone pulled out an anti-Trump sign, someone yelled "gun," and in swept law enforcement. No gun was found and the "suspect" was allowed to go on his way.
Austyn Crites is the man whose apparent protest sparked the commotion and he insists all he was doing was holding up a sign that read "Republicans against Trump" when people around him got very angry. "I just went with sign that said 'Republicans Against Trump,' " Crites tells the Reno Gazette-Journal. "It's a sign that you can find online. I held up the sign and initially people around me were just booing me telling me to get out of there. Then a couple of these guys tried grabbing the sign out of my hands."
Crites says that's when the crowd around him started punching, kicking, and even choking him. At one point he feared for his life. "Multiple people just tackled me down, kicking me choking me and just beating me up," he said. "That's when things even got crazier. I was on the ground and people were holding my arms, legs and I kept saying I can barely breathe. I was turning my neck just to get a little bit of air to keep from passing out." The 33-year-old registered Republican tells the Guardian it was actually a relief when the police arrived and handcuffed him because it meant they suddenly were the ones fending off the Trump supporters. Crites, and witnesses, all agree that someone yelled out that he had a gun when he was already on the ground.  
"All of a sudden, because they couldn't grab the sign, or whatever happened, bam, I get tackled by all these people who were just, like, kicking me and grabbing me in the crotch and just, just beating the crap out of me," Crites said, according to KTNV. "And somebody yells something about a gun, and so that's when things really got out of hand."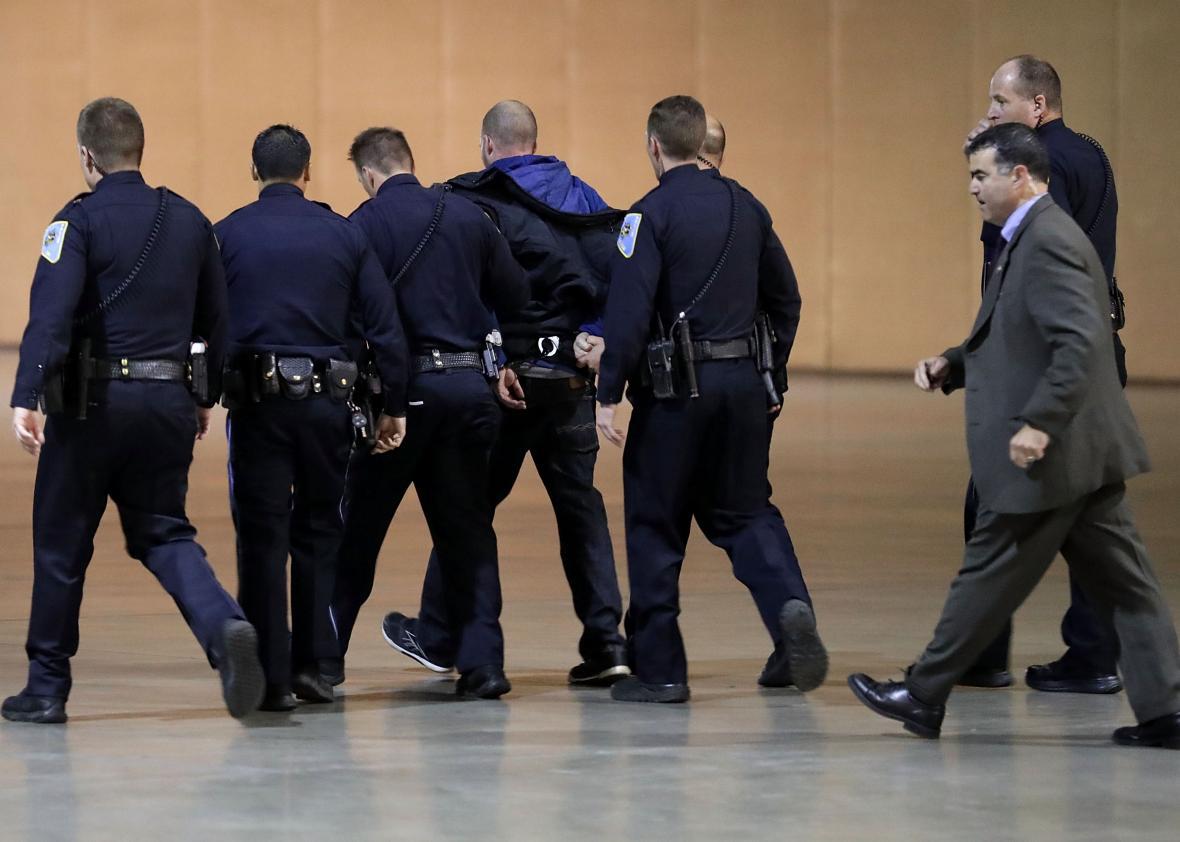 One of the people who apparently mobbed Crites proudly recounted his role in the aggression, and said five people ganged up on the protester. "I was trying to get the Secret Service's attention for them to respond," Michael Newton tells the Gazette-Journal. "They didn't respond. I thought I had to do something. I put my knee on what I think was his head, so I'm not really sure. There were five guys on him and he was moving. I tried to help them immobilize him."
Crites knows who is at fault though, and it isn't the people who were choking him. "The people who attacked me—I'm not blaming them," he said. "I'm blaming Donald Trump's hate rhetoric."