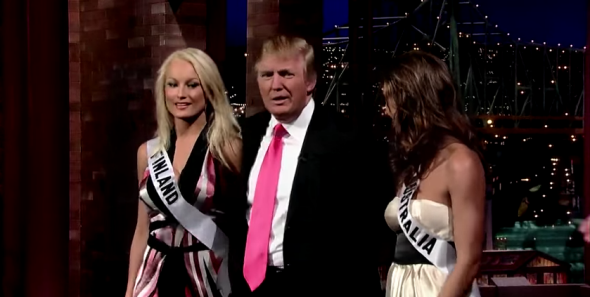 The Trump Apocalypse Watch is a subjective daily estimate, using a scale of one to four horsemen, of how likely it is that Donald Trump will be elected president, thus triggering an apocalypse in which we all die.
Donald Trump's opinion on the double-digit number of women who have accused him of sexual assault is that they are making completely false allegations that they've been put up to by the Clinton campaign. It's not an extremely plausible theory, and it got even less plausible today when a Finnish publication called Ilta-Sanomat reported that a former Miss Finland named Ninni Laaksonen says that Trump groped her before a July 26, 2006, appearance on David Letterman's show.
Obviously I am not an Ilta-Sanomat expert, but Googling confirms that it is a real publication, that Ninni Laaksonen did represent Finland in Trump's Miss Universe pageant, and that the Letterman appearance happened:
A translation via the Telegraph:
Before the show we were photographed outside the building. Trump stood right next to me and suddenly he squeezed my butt. He really grabbed my butt. I don't think anybody saw it but I flinched and thought: "What is happening?"
Ilta-Sanomat writes that Laaksonen shared the allegation only after it contacted her to ask about her interactions with Trump.
What I'm getting from this is that Hillary Clinton planted sleeper agents across the globe who were prepared to come forward with fabricated allegations of sexual assault against Donald Trump if and only if they were contacted by local tabloid newspapers such as Finland's Ilta-Sanomat. The woman is simply diabolical, and she must be stopped.