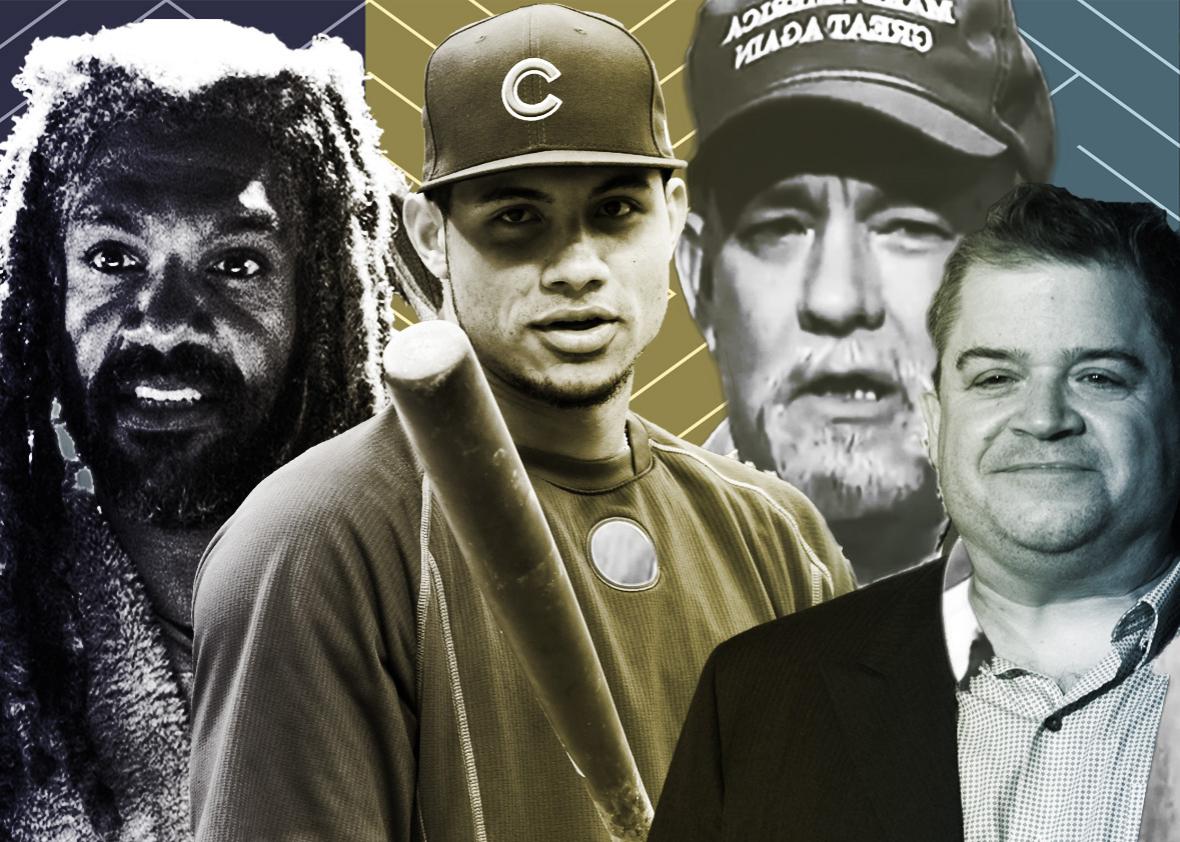 It's been a long and at times seemingly unendurable campaign, but with two weeks to go it feels like things are settling, and now all we have to do is keep our heads down and then show up to the polls and we can finally put this whole business to OH FOR CHRIST'S SAKE.
From Slate
Planet Trump: Conservative women aren't having it. A surprisingly strong analysis of racial politics from Saturday Night Live, of all places. Who the hell is undecided at this point?
Culturopolis: "It's only network TV" is no excuse for a show as bad as Pure Genius. "It's The Walking Dead" is no excuse for a show as brutal as the season premiere of The Walking Dead. Nell Zink is "a feral version of something—a novelist—now customarily nurtured only in captivity." Outsider cartoonist Jack T. Chick is dead, and so is the atavistic strain of anti-Catholicism he preached.
The World of Baseball: How Theo Epstein rescued the Chicago Cubs. (Bonus: If you, like me, have been singing "And the Chicago Cubs/ Will beat every team in the league" for the past several months, this link's for you.)
The Universe of Technology (Yes, Hatchets Are Technology): Your next toothbrush could bring down the internet. Reports of the death of the PC were greatly exaggerated. "Located in an industrial park in Eatontown, New Jersey, Stumpy's bills itself as the first indoor hatchet-throwing facility in the United States."
Not From Slate
From the Archives
A while ago, we asked you to name Slate pieces that stuck in your memory. Grace Wang wrote, "Meghan O'Rourke's series on grieving was powerful, passionate, and absolutely readable."
O'Rourke's series, "The Long Goodbye," began in February of 2009, two months after her mother died of colorectal cancer. Acutely observed and written with startling control, it's a powerfully affecting memoir and an insightful essay on how we grieve. (O'Rourke later expanded it into a book.)
Is there a Slate story—or podcast, or video, or flavored snack—that stands out for you? Let us know what and why, and we might feature it in a future newsletter. (Hint: Use this handy high-tech gizmo to search the archives.) And thanks for your Slate Plus membership, which makes our journalism possible. See you next week!
Gabriel Roth
Editorial director, Slate Plus
---