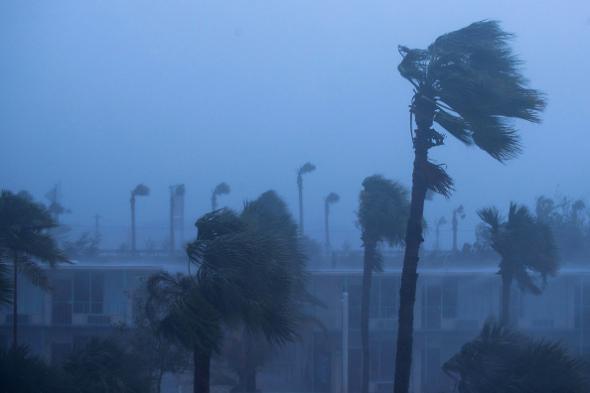 Update, 3:55 p.m.: The storm's eye, currently south of Jacksonville, Florida, has not yet made landfall but could still do so in northern Florida, Georgia, or the Carolinas. One million customers in Florida have lost power. Two videos of flooding via CNN:
And:
The death toll in Haiti has now reached past 800. There have been reports of at least two hurricane-related deaths thus far in the U.S.—a Florida woman who had a heart attack and could not be reached by emergency responders and an individual in Florida killed by a falling tree.
Update, 11:30 a.m.: The hurricane's eye is "brushing portions of the northeast coast of Florida," the National Hurricane Center says. Florida Gov. Rick Scott says he's not aware of any deaths having been caused by the storm while the state's utility commission says 593,875 customers have lost power.
Original post, 8:51 a.m.: Hurricane Matthew is battering Florida with high winds and rain but has not yet made landfall. The latest:
The storm's eye is about 40 miles off of Cape Canaveral—in layperson's terms, about half the way up Florida's Atlantic coast.
It was downgraded overnight from Category 4 to Category 3, which means winds of 111 to 129 mph.
Some 300,000 Florida residents have already lost power.
Forecasts currently predict up to 15 inches of rain over an area ranging from Florida to North Carolina as well as storm surges of up to 11 feet.
The storm is already believed to have killed more than 300 people in Haiti.
We'll keep updating this post throughout the day. For now, here's your obligatory shot of a cable correspondent standing outside in super high winds.