Each week, Roads & Kingdoms and Slate publish a new dispatch from around the globe. For more foreign correspondence mixed with food, war, travel, and photography, visit its online magazine or follow @roadskingdoms on Twitter.
Prasanna Prashad is  watching a dance performance inside the New Jersey Exposition and Convention Center on Saturday while eating a plate of pav bhaji, a Mumbai street snack. Two couples dancing onstage abruptly come to a stop. Two men wearing thobes, a traditional Arab garment, suddenly burst in carrying laser-beam guns and begin spraying imaginary bullets. A troop of prancing men in SWAT vests emerges, cartwheeling, shooting, and pummeling until the "terrorists" fall. Then, the soldiers and their freed hostages line up, hands on their hearts, and adopt solemn expressions as "The Star-Spangled Banner" begins to play.
Prashad, who grew up in Hyderabad, a south Indian city, is growing anxious. She's been waiting three hours to see Ram Charan, an actor from "Tollywood," a film industry based in the south Indian states of Telangana and Andhra Pradesh. She did not particularly care that the event she was attending, the Hindus United Against Terror Charity Concert, was actually a Tollywood-Bollywood spectacle to promote Donald Trump.
"We came for the entertainment," she says. Her 10-year-old son, in a brocade Nehru jacket, is curled up in the seat next to hers. "We don't have evening plans so maybe we will have dinner here." In one corner of the room, Bollywood Flavors caterers are preparing a spread of Indian food interspersed with tumblers of mango lassi.
The proceeds of this concert, at which Trump will appear as the keynote speaker, will go toward the Hindu victims of Islamic terror in Kashmir and Bangladesh. "See, there is an elephant—uh, I should correct myself—there is a camel in the room, which everybody is ignoring," Shalabh Kumar, the founding chairman of the Republican Hindu Coalition, which sponsored the Trump event, said at a press conference in India, apparently drawing on clichés about Arab culture and camels. "And Donald Trump is the first guy—nonpolitician, a businessman—who could be very comfortable just in his business, but he decided to serve the world by jumping into this. And he has pointed out the camel in the room, and that monster is terrorism."
Kumar, an electronics business tycoon from Chicago who goes by the nickname Shalli and likes to wear suits embroidered with his own initials, is one of Trump's leading financial backers, having contributed roughly $900,000 to the Republican presidential nominee's campaign.
Kumar's plan, says A.D. Amar, president of Indian Americans for Trump, a local group that joined forces with the Republican Hindu Coalition, is to introduce Trump between Bollywood dances, "such that people start the event with a happy mood and end with a happy mood."
Indian Americans are the second-largest and fastest-growing immigrant group in the country but have traditionally not been viewed as an influential voting bloc. Typically, both Hindu Americans and Indian Americans are seen as reliable Democratic voters. The 2012 National Asian American Survey showed Asian Indians as among the top Asian American subgroups most likely to identify with the Democratic Party. This year's survey shows their party lines remain about the same, although alignment with the Republican Party has inched up slightly—from 3 percent to 7 percent.
"I grew up admiring JFK. His pictures used to be plastered all over town as the most handsome president of the United States ever," Kumar says at the event. He says he began to move toward the right after a chance meeting with Ronald Reagan in 1979. "He convinced me that my values were conservative, and I became perhaps the first Republican Indian American in the country," Kumar says.
Meghna Verma, who arrived in New York six months ago, wonders about the recent sexual assault allegations against Trump. "It's very bad, very sad and all," she says. But everything about America and its political system is bewildering and amusing to her. "The thing is, I don't know about anything right now. Because I just came from India," she says. Her husband, Naveen Bachan, voted Democrat for the past two elections but for the night, his agenda is clear. "We are here to see the show," he says.  "Plus, we will see, Trump is coming."
Gary Weightman, a retired bar owner from New Jersey, was sitting up front wearing a T-shirt that declared Clinton a liar whose pants were on fire. "I love Donald Trump. And I'm sorry I'm taking a seat away from an Indian. But it is the third-biggest event in my life," he says. Marriage and a trip to Israel were the first two, he says. After watching Trump on TV and on YouTube, he's been waiting for a chance to finally see him in person. "There's no greater joy I've ever had than to come and watch this man."
Weightman identifies with Trump, he says, because he is a strong father figure. His own father died in a car accident when he was young. "I had to take charge," he says. "That's what I see in this man. I see my father in Donald Trump. I see Archie Bunker," he says.
Trump finally strides on stage four hours into the event, grinning and waving to Lee Greenwood's 1984 classic "God Bless the USA."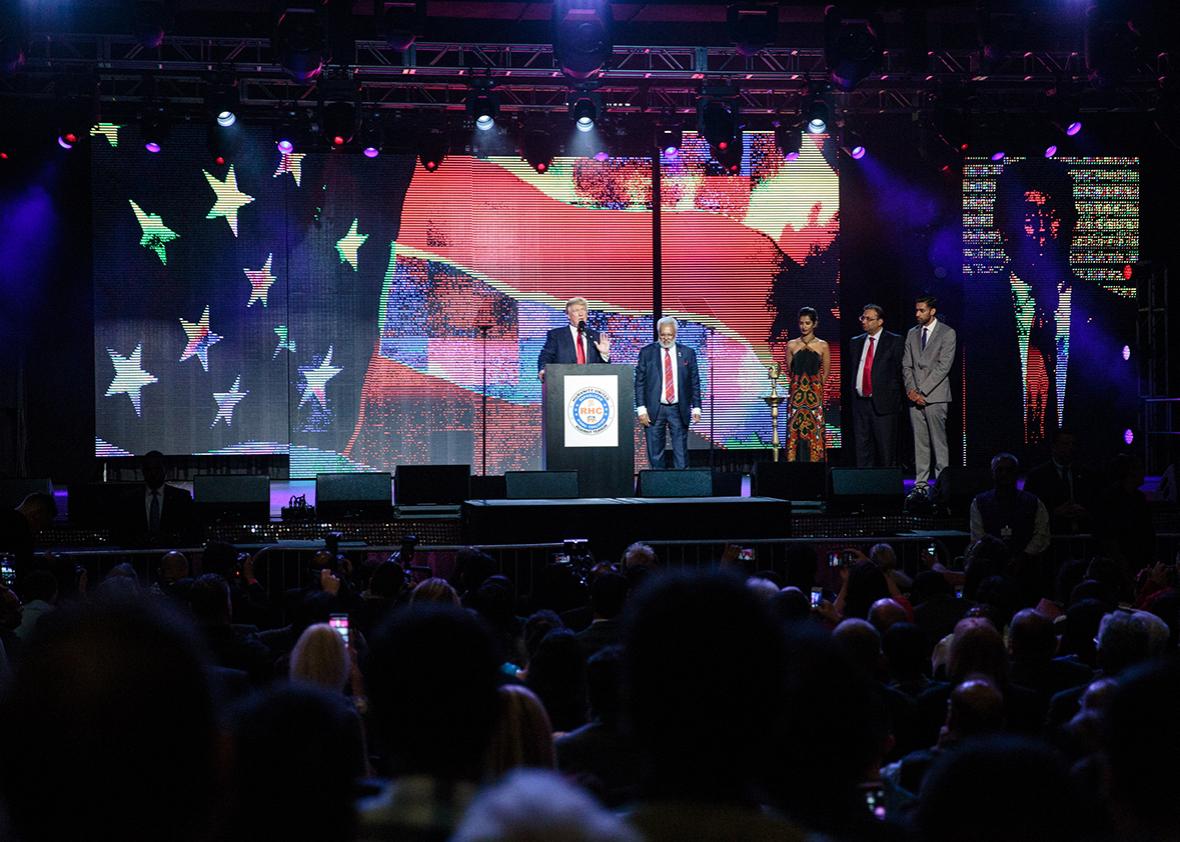 "I am a big fan of Hindu," he says, presumably referring to Hinduism. "And I am a big fan of India. Big, big fan."
He promises to help lower taxes for small businesses and to repeal and replace "job-killing" Obamacare. Cellphone cameras are whipped out, and little children are hoisted on shoulders. One Indian aunty is using a poster that reads "Trump Great for Hindu Americans" to protect her feet from frenzied selfie-takers.
"Indians see firsthand the brutality of terrorism and cross-border violence, including the attacks in Bombay—and I mean, look, Mumbai is a place that I love," Trump declares. "It's a place that I understand. So, for all of the people in Mumbai, the attack on Indian parliament—absolutely outrageous and terrible," he says, apparently conflating the 2008 terror attacks in Mumbai with a 2001 terrorist attack on Parliament that actually took place in New Delhi, India's capital.
The terror threat was the night's theme. Earlier that evening, Raju Bhatija, who owns a travel agency in Manhattan, was holding a poster that depicted Hillary Clinton with horns growing out of her head, angrily pointing at Indian Prime Minister Narendra Modi, wearing blood-soaked clothes and looking genuinely scared.
"They say Trump is racist but if you go to see, all of America's racist," Bhatija explains. "What we have to see is who can stop Pakistan." She then launches into an elaborate tirade about Clinton's agenda against Modi and her own hostile views on Muslims. She eventually ends with her exasperation that Hindu actors from Bollywood are marrying Muslim actors. "Muslims don't want to listen to what they have done to Hindus," she says. "They only want to talk about what has happened to them."
Rishi Bhutada, a member of the board of directors of the Hindu American Foundation, a nonprofit advocacy group, says that calling the event an "anti-terror" charity concert was not the way other Hindus understood those atrocities. "Because it's not terrorism as such," he says of Hindu refugees in Bangladesh and Pakistan. "They are subject to more of a general persecution."
On a thoroughfare leading up to the convention center, a group of Indian Americans is protesting the anti-terror charity concert. "Those Hindus who support Donald Trump are actually a tiny percentage of all Hindus, but they have a loud and despicable message," Sunita Viswanath, a board member of Sadhana, a coalition of progressive Hindus, says from a podium erected by a sidewalk. "To the Republican Hindu Coalition we say—not in our name."
Reporting for this story was supported by the South Asian Journalists Association.