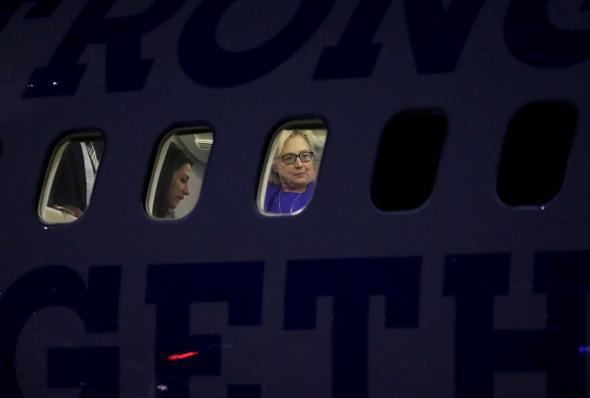 The most common initial reaction to the news that the FBI would be searching emails belonging to Hillary Clinton aide Huma Abedin to see if they contained evidence that classified information had been stored on Clinton's private server was confusion. After the details of the situation became more clear, though, one consensus understanding that began to emerge was that the new revelations were unlikely to affect the presidential race. There's no indication that Clinton had tried to hide the new emails, and it's very possible that nothing of interest will be found in them once they're searched; it's a story, in other words, that's not shocking enough to change the minds of our highly polarized electorate.
New polls seem to bear out this analysis. From Politico:
Hillary Clinton has a slim three-point lead over Donald Trump one week before Election Day, according to a new POLITICO/Morning Consult poll conducted entirely after FBI Director James Comey announced the discovery of new emails that might pertain to the former secretary of state's private server …
In a separate poll conducted before Comey's disclosure, Clinton was leading by three points in the four-way race, and five points in the two-way race. Put simply, there is not yet evidence that the revelations have drastically altered the contours of the election.
And from the Washington Post, describing a Post-ABC poll:
The tracking poll, conducted Wednesday through Saturday, found little immediate impact in presidential support after FBI director James Comey's Friday announcement that the agency will review additional emails from Clinton's time as Secretary of State. In combined results from Friday night and Saturday, voters split 45 percent for Clinton and 46 percent for Trump, statistically unchanged from Clinton's 47-44 margin on Wednesday and Thursday.
Clinton has a 79 percent chance of winning the race per FiveThirtyEight's "polls-only" forecast, a number that is not down significantly from last week.