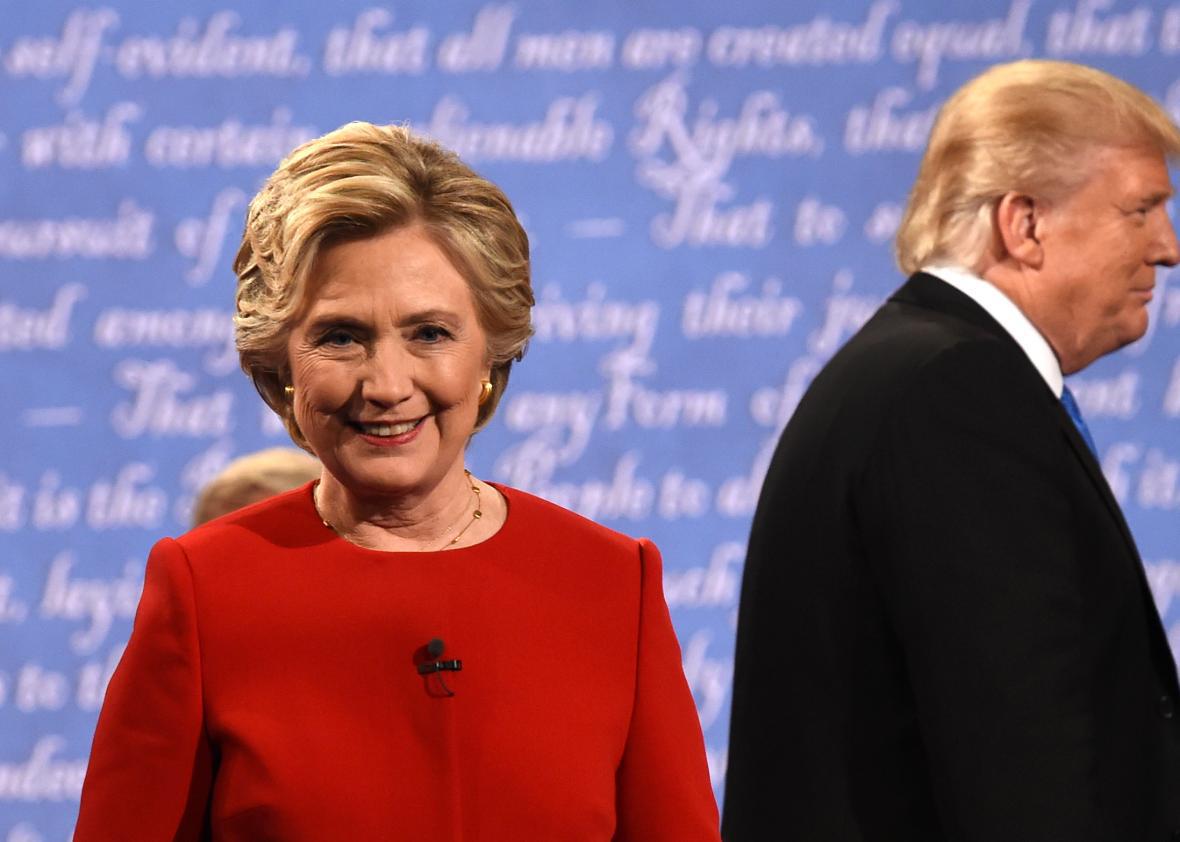 There seems to be little question that Hillary Clinton is on top, but two new polls out Sunday have very different numbers about how big her advantage is in the final weeks of the presidential campaign. The latest Washington Post/ABC News poll says that while enthusiasm for Donald Trump has waned among his supporters, Clinton only holds a four-point lead among likely voters, a small increase from the two-point lead she enjoyed before the first presidential debate. A new NBC News/Wall Street Journal poll meanwhile tells a different story as it puts Clinton's lead at 11 points among likely voters with 48 percent support compared with 37 percent for Trump.
The NBC/WSJ poll makes clear that Clinton has been able to extend her lead by winning over women and swing voters. In a two-way horse race, Clinton has a whopping 20-point lead among women voters—55 percent to 35 percent—while Trump's lead among men has narrowed to only three points. Clinton also has a clear lead among black Americans, 86 percent to 9 percent, while Trump continues to lead among white voters, 51 percent to 40 percent.
Even as the ABC/WP poll showed Clinton's lead increasing only slightly, it did detect some changes in how the race has been shaping up. Most importantly, enthusiasm for Trump among his supporters has decreased to 79 percent, down from 91 percent last month. Enthusiasm for Clinton, meanwhile, has increased slightly to 83 percent, up two points from the last poll. And a mere 34 percent of likely voters say Trump has the personality and temperament to serve effectively as president.
Shockingly, almost 70 percent of voters believe Trump likely made unwanted sexual advances on women, while only 14 percent think he probably hasn't. Even those who support him seem to believe that, although in smaller numbers. Almost half of Republicans think Trump likely made unwanted sexual advances on women, with 22 percent saying he has not and the rest don't have an opinion on the matter.
In the key battleground states, it is women who are also helping Clinton widen her lead to six points overall, according to a CBS News poll. Although Clinton already held a five-point lead among women in the key states, that has now grown to 15 points.
---