WILKES-BARRE, Pennsylvania—After a dismal weekend marked by leaked audio about vagina grabbing, a deluge of defections from Republican officials, a snorting and incoherent debate performance, and some deflating poll numbers, Donald Trump went to Pennsylvania as planned for a rally in Wilkes-Barre on Monday night. So I followed him, thinking I might find his core supporters feeling weak in the knees. Instead I discovered an arena full of deplorables—unbowed, undiscouraged, standing by their ogre of a candidate.
Very little had changed since the last time I visited a Trump rally, back in the primaries. Outside the venue, a woman dressed as Trump led a woman dressed as Hillary around by a metal chain attached to a neck shackle. Inside, a man wore a T-shirt that read, "She's a cunt. Vote for Trump." The crowd began to chant "CNN sucks!" all on its own, before anyone had even prompted it to. A solemn recitation of the Pledge of Allegiance bled into "USA! USA!," which morphed into that old standby: "Lock her up! Lock her up!"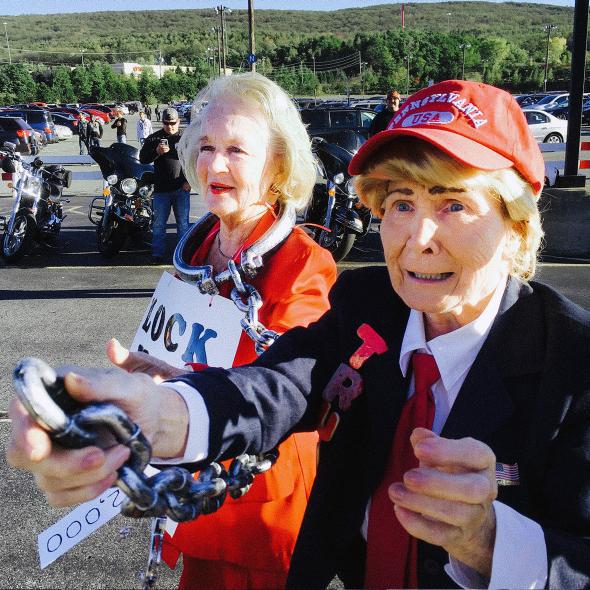 Scanning the mob of several thousand as best I could, I counted fewer than 10 nonwhite people. (I'd seen nearly as many nonwhite folks at the gas station a few blocks away when I filled up my tank.) Every speaker up on stage was white. Chris Cox, the 48-year-old founder of Bikers for Trump, began his remarks by crowing, "You might remember us from Cleveland, at the RNC, where we stood toe to toe against Black Lives Matter." He later added a pun that delighted the gathering: "At least we're not a basket of deportables."
When Cox rejoined the crowd, I asked him how he felt about the elected Republicans who'd distanced themselves from Trump in the past day or two. "They will be weeded out," he said. "When Donald Trump is elected, they'll be the first to go. The people are taking over the Republican Party."
Up in the stands, a 65-year-old woman in full Trump gear who'd driven two hours from central New Jersey told me that GOPers who disavowed Donald were "not true Republicans." Even Paul Ryan? "I don't care for him," said the woman. "He's a conservative Democrat. Trump is a real Republican, born and bred." But Trump used to be an actual Democrat, I pointed out. "Just for a short time," the woman insisted.
I asked her if the leaked footage of Trump yukking it up about genital assault had given her pause. "What he said is really vulgar," she began, before telling me that she'd been crassly propositioned by multiple men at her workplace over the years. "I was demoted three times for saying no," she said. And then, in a flurry of words that made little sense to me, she transformed her experiences with sexual harassment into a pro-Trump argument, concluding, very confusingly (and inaccurately): "That soap actress, she said no and he accepted it."
Pennsylvania state Rep. Tarah Toohil was on hand, holding the book Clinton Cash in her hand and recommending it to all who'd listen. She told me she'd been holding back from endorsing Trump for a while but had finally decided she needed to do it. When, I asked? Sunday, after the Billy Bush brouhaha.
"You're like a reverse commuter," I said. "A lot of other elected Republicans went the other way this weekend."
"They're just doing it to be popular, to get elected" she replied. "I felt morally compelled."
Did Trump's comments not give her pause? "I'm a woman in a world where men are in power," the 37-year-old Toohil said. "I've heard trash talk. It's unacceptable, but he made a sincere apology. I don't think he did those things. He was just an arrogant man boasting about women. You hear that stuff from the entertainment industry, and back then he was an entertainment guy."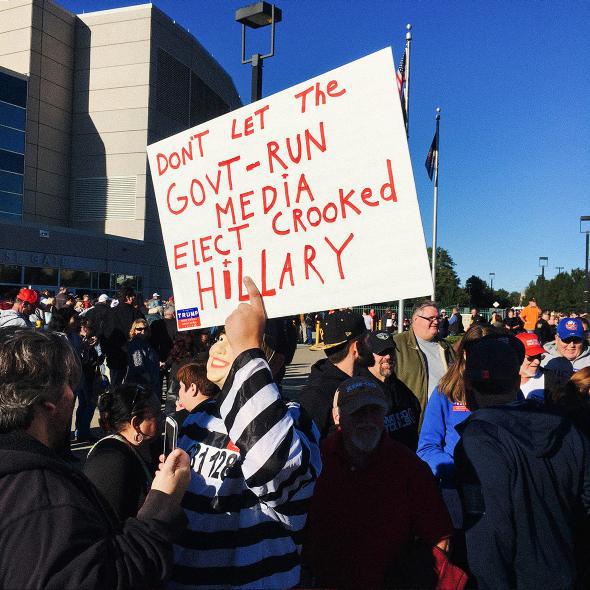 When Trump at last took the stage, it was as though his wretched weekend had never happened. He didn't mention the Access Hollywood disaster at all. Instead, he played his old hits: "The Snake." We're gonna build that wall. Look at those dishonest reporters, they're so dishonest, I have to tell you, such disgusting people. He read out poll numbers he liked (ones from idiotic online insta-polls) and said the ones he didn't like must be "crooked" and "rigged" (ones from legit, scientific polls).
There were, however, a few new wrinkles since last I'd boarded the Trump train. Lately, Trump's been urging his supporters to be freelance election observers in "certain communities"—even soliciting them to sign up for such duty on his website. He made further leering insinuations along these lines. "I hear such reports about Philadelphia," he said. "I hear these horror shows, and we have to make sure we're protected. We have to make sure this election isn't stolen from us and isn't taken from us. And everyone knows what I'm talking about."
Trump also reprised a version of his debate breakout moment, when he threatened to toss Hillary in jail. It was back in July, at a rally in Colorado, that Trump first went from dismissing the "lock her up" chants to indulging them: "I've been saying let's just beat her on Nov. 8. But you know what, I'm starting to agree with you," he said then. By Monday night in Pennsylvania, the concordance was complete. "Lock her up is right," he barked when the chants began, to the rabid glee of the crowd.
There was even a new nickname. Longtime Hillary confidante Sidney Blumenthal has become "Sleazy Sid." Not bad! Not even wrong! But the target of the epithet is telling. This is no "Low-Energy Jeb" or "Lyin' Ted." The average voter has no clue, and doesn't care, who Blumenthal is. It's Trump's dead-enders—the ones still trudging out to rallies to cheer on a confirmed cretin and then trudging home to wallow in the latest on Breitbart—who thrill to this stuff in their shrinking bubble, in their hate-filled arenas, in the grimy dusk of a dying campaign.