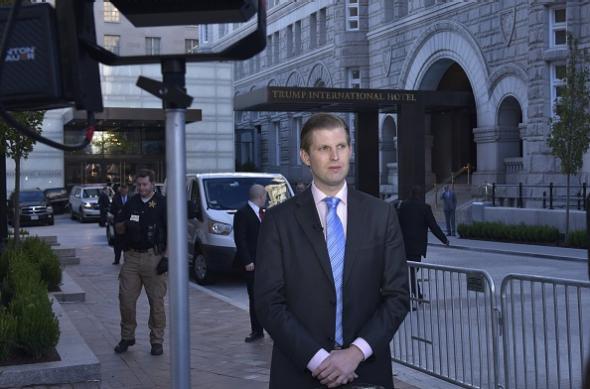 Last year, in a more innocent time, there were many who believed Donald Trump wasn't serious about becoming president—that his nascent campaign was just a publicity stunt that would benefit his business interests. And while his campaign has become all too serious—particularly to, say, undocumented immigrants and Muslim Americans—there's also a part of it that really is a ruse. For one, there's all the donor money that Trump 2016 is paying to Trump businesses. For another, there are the repeated infomercial-esque appearances at Trump resorts and hotels, the latest of which is Wednesday at the ceremonial opening of Trump's hotel in Washington, D.C.'s Old Post Office building. At least it's on-brand with the theme of the campaign (incompetence):
(The hotel's Sept. 26 debate-night special menu misspelled the word America.)
Just Tuesday, Trump flew to the key swing state of Florida … to appear at the Trump National Doral Miami resort for a photo op with his employees.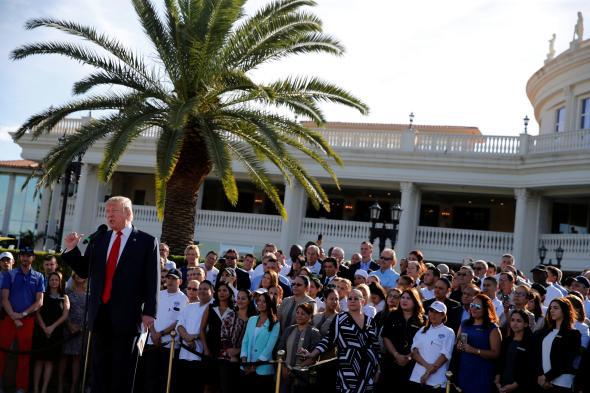 You may also remember the tour of the aforementioned D.C. hotel that Trump gave after his birtherism press conference as well as the press conference he held at a golf resort in Scotland during which he mused that the Brexit-driven fall of the British pound would be good for business.
The irony, as multiple outlets have reported, is that the close association between Trump 2016 and the Trump Organization is actually hurting the latter more than helping it. Hotel bookings are down; residents of Trump apartments are asking for his name to be removed from them. A new line of Trump-related properties will use the brand name "Scion" rather than "Trump." Scion 2020!