Shortly after the video surfaced of Donald Trump bragging about how he likes to sexually assault women, Access Hollywood revealed one of the women the now-presidential candidate was talking about was Nancy O'Dell. O'Dell was Billy Bush's co-host on Access Hollywood and now works at Entertainment Tonight. "I moved on her and I failed. I'll admit it. I did try and fuck her. She was married," Trump said. "I moved on her very heavily. In fact, I took her out furniture shopping. … I moved on her like a bitch."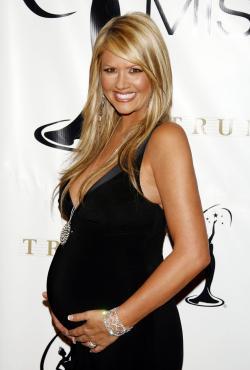 In the recording, Trump disparagingly talked of O'Dell's "big phony tits" and how she had "totally changed her look." Two years after that recording, there was something else that bothered Trump about O'Dell besides her "big phony tits"—her pregnancy. Trump tried to get O'Dell replaced as host of the 2007 Miss USA Pageant because he didn't want a visibly pregnant woman doing the job, according to a TMZ story at the time, which Trump didn't deny. Regardless, NBC refused to do away with O'Dell's contract, and she ended up co-hosting the pageant with Access Hollywood correspondent Tim Vincent.
"What was particularly troubling to O'Dell, our source says, is that the Miss USA Pageant is supposed to embody more than just how a woman looks in a bikini," TMZ wrote at the time.