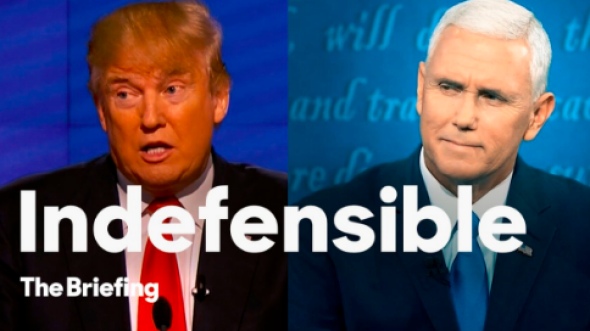 Just before the end of the first presidential debate on Sept. 26, Hillary Clinton shoehorned an anecdote about Venezuelan beauty queen-turned-U.S. citizen Alicia Machado into a discussion of whether Clinton had enough stamina to be president. It turned out, of course, that Clinton's campaign was ready to release an ad that featured Machado discussing the degrading things that Donald Trump allegedly said to her after she won his Miss Universe pageant*; the Machado story went on to dominate headlines for days.
At Tuesday night's vice-presidential debate, Tim Kaine did a little shoehorning of his own, repeatedly asking Mike Pence to address Trump's various egregious/outrageous positions even after it became clear that Pence's strategy was to indignantly act as if Trump has never said anything unreasonable about anything. As a result, Kaine came off in the moment as perhaps a bit strident. But, again, Clinton's camp was ready to use the material he generated, turning Pence's answers into an attack on the Trump campaign's credibility overnight:
The title of the ad, "Indefensible," is not an accident. Here's the headline of an article in the Hill published several hours before Tuesday's debate:

By my count, Kaine would go on to use the word "defend" in the context of Trump's positions 17 times during the debate. The Clinton campaign hasn't played either debate perfectly—Clinton struggled to make a convincing case for her economic plan, and neither she nor Kaine has quite landed a punch related to their opponent's affinity for scams like Trump University and the Trump Foundation. But Team Clinton has certainly been more prepared than Team Trump to try to win the debate that comes after the debate.
*Correction, Oct. 5: This post originally stated that Trump allegedly made demeaning remarks to Machado during the Miss Universe competition. She in fact alleges the verbal abuse took place while she was its reigning champion.