LAS VEGAS—It's minutes before midnight the day before the final presidential debate, and Ken Bone just wants to go back to his hotel to be with his wife. "Is this the best night of your life, Ken?" one fan asks Bone for at least the second time tonight.
"This is number three," Bone responds. "I got married, and my wife is the best human being who has ever lived. So that's number one. My son was born, that's a very, very close second—I love my son more than life. This is number three."
Bone, wearing his world-famous mustache and casual-dad red sweater, is the special guest at a pre-debate party thrown by FamousDC at the Venetian hotel's TAO Beach pool club. TAO Beach is basically just a rooftop pool overlooking the Vegas strip, and Tuesday night it's occupied by Washington, D.C., media, lobbying, and political-aide types drinking and doing D.C. media, lobbying, and political-aide types of things. Which is to say that, no, this is not really the third-best night of Ken Bone's life.
"I'm kind of drunk so it might not be that great, I'm not going to lie," he says when I press him a little. "I'm not going to put it way down the list. I'll wake up hungover and assign it a real spot."
These are the waning moments of Ken Bone's 15 minutes of fame. To see him here Tuesday night, posing for photos in front of a photo screen with FamousDC's logo and that of one of its lobbying sponsors, maintaining against all odds a friendly equanimity with everyone who approaches him, is to see a guy trying to claw as much out of those 15 minutes as those 15 minutes are trying to claw out of him. Bone is in town to cover the debate for Jimmy Kimmel, and for the night he is the star of the party. Boris Epshteyn, perhaps the toadiest of all of Donald Trump's toadies, just came up to him and said, "Hi, Ken, I'm Boris." There was no pitch on Trump's behalf, though Bone still professes to be an undecided voter. Epshteyn just wanted a photo.
Why is Bone still undecided when the options seem so clear?
"I've always felt that Mr. Trump is better for me personally, economically, because I work in the coal industry, so his policies on coal energy are going to give me better career opportunities in the future," Bone says.
Multiple people at this party have told me that they went up to have a picture taken with Ken Bone, and he immediately broke into an impassioned pitch for "clean coal" as a transitional fuel as we move toward renewables. It's an important issue for him, but he's still not sure.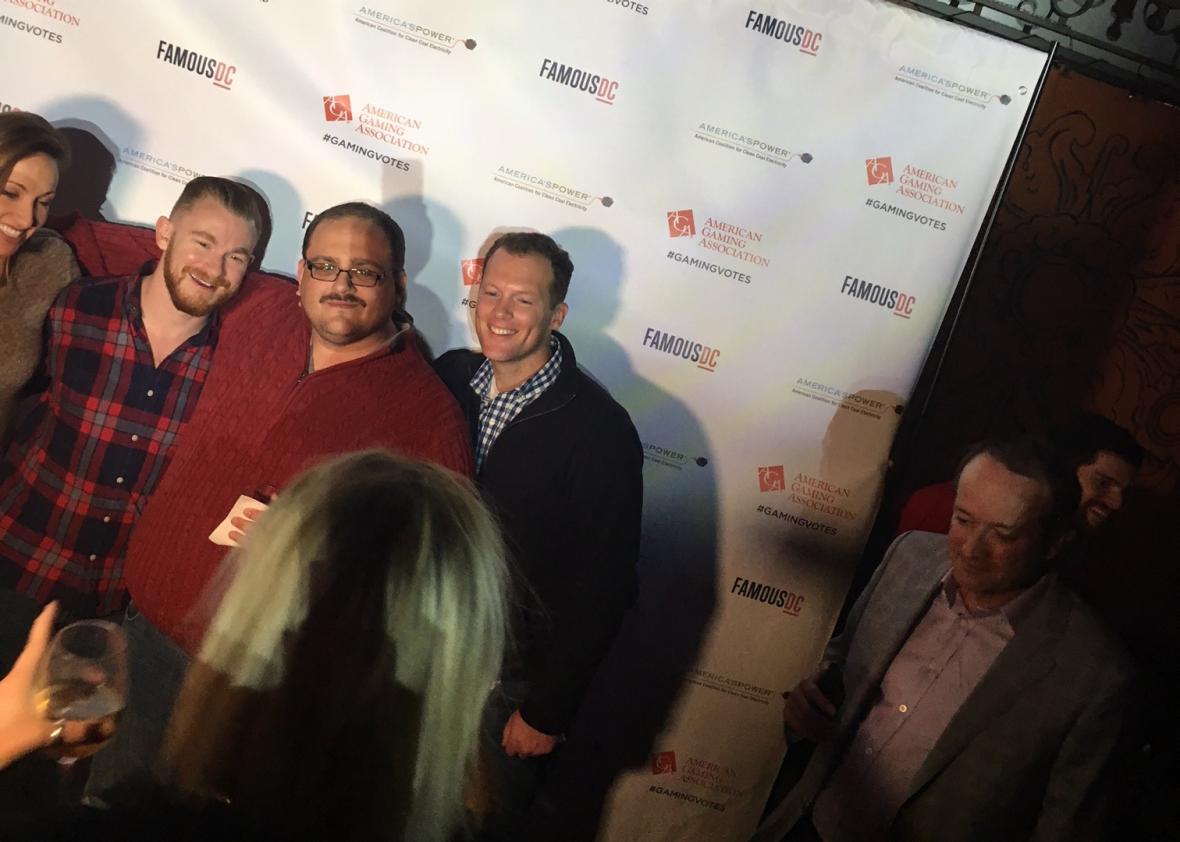 "As far as social issues go, Secretary Clinton is much more in line with me, I'm very socially liberal," Bone says. "Do what you want to do, love who you want to love, why should we get to legislate any of that. You get to be who you want to be, this is America, right?"
Bone knows why he's here, though, and it's not to talk about clean coal or gay marriage. He knows his appeal is entirely superficial.
"I 100 percent acknowledge that this is an internet meme, it's going to go away, and a lot of is that I'm a little funny looking and I'm willing to make fun of myself," he says.
Bone is getting paid to be at this event. He says he's giving 10 percent of everything he makes off his brief fame to charity.
"I have some endorsements, and I have some sponsors, and I have some appearances. But I do my very best not to appear on anything and not to endorse anything that isn't responsibly sourced and is not something that I'd use myself," he says. "Ten percent of that goes to charity. Some people accuse me of selling out. Selling out would be if I said, 'Hashtag Trump' from my Maserati. But I won't change my views for money."
But he will make "a few bucks," because "it's America" after all.
There have been personal costs to bear, however. Bone got in trouble for having posted on Reddit that Trayvon Martin's killing was "legally justified." Of the Jennifer Lawrence stolen nude photos, he wrote: "I saw her butt hole. I liked it."
Bone is perfectly willing to talk about this stuff. He insists that by calling the Martin shooting "justified," he was describing only the jury verdict, that he wishes Martin had not died, that he views his killer George Zimmerman as "a horrible person, so that says a lot about the event."
As far as his comments about Lawrence, he seems genuinely sorry. "That was just when I was a guy and nobody knew who I was," he says. "I did make some comments that I'm not proud of and I really am sorry and if I could apologize to the people affected in person, I would do so. I probably won't have that chance. I am just a regular dude and I make mistakes, I hope that doesn't take away from the positive message."
"Ken, will you say 'happy birthday' to Karen?" a guy interrupts near the end of our conversation. A woman immediately puts an arm around Bone.
Bone obliges, and then launches into a spiel about how Karen is "still young, still gorgeous, you have your whole life ahead of you," and also able to run for president now that she's 35, unlike Ken who laments that he is only 34.
The guy starts to "interview" Bone for what he says is his video podcast. "What do you think the most important issue of the election is?" "What do you expect from the debate tomorrow?"
Bone answers every question earnestly and thoughtfully. "When we focus on the negative [in these campaigns] we've really lost 'why should we vote for you,' instead of 'why should we not vote for the other guy,' " he says. "I am the eternal optimist. So I am predicting a switch to issues-based arguments [for the debate] rather than political bomb throwing. But please don't be surprised if I'm wrong."
The podcaster offers his thoughts. I think we're going to see some issues, he says, his speech slurring into a pundit impression. "She's going to ask him the hard questions that he might not be able to answer, but he's going to hit her hard."* Bone responds: "Both candidates have something to say about the issues and if they would just stay focused on the issues, then maybe we could have a productive election. We still have about 20 days left. We could still have a productive and positive cycle if we turn it around right now." As the show host's friends giggle in the background, the podcaster signs off, "This is the Montanya Factor with Ken Bone, checking out, thank you."
*Correction, Oct. 19, 2016: This post originally misquoted Bone as saying, "She's going to ask him the hard questions that he's going to answer." Bone said that Trump "might not be able to answer" the hard questions.