Listen to Episode 49 of Slate's Amicus:
Subscribe in iTunes ∙ RSS feed ∙ Download ∙ Play in another tab
Slate Plus members: Get your ad-free podcast feed.
We kick off a brand new season of our podcast with an episode devoted to the member of the Supreme Court bench who has garnered by far the most headlines since our last episode. That's right, it's the slavish fangirl edition of Amicus, in which we cave to the pressure of our listeners and fête the woman who had the temerity to call Donald Trump a "faker" this past July.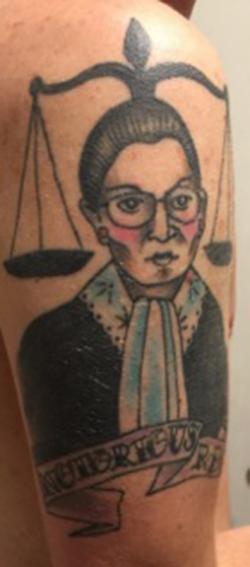 Joining us to discuss the cultural phenomenon that is Justice Ruth Bader Ginsburg is MSNBC national reporter Irin Carmon, co-author of the best-selling biography Notorious RBG: The Life and Times of Ruth Bader Ginsburg. We also hear from Cooper Sirwatka, a New York attorney and proud wearer of a full-color RBG tattoo.
Transcripts of Amicus are available to Slate Plus members. Consider signing up today! Members get bonus segments, exclusive member-only podcasts, and more. Sign up for a free trial here.
Amicus is brought to you by Upstanders, a new podcast from Starbucks CEO Howard Schultz and Rajiv Chandrasekaran. Hear stories of ordinary people doing extraordinary things to create positive change in their communities. Listen and subscribe to Upstanders on iTunes now.
Please let us know what you think of Amicus. Our email is amicus@slate.com.
Podcast production by Tony Field.