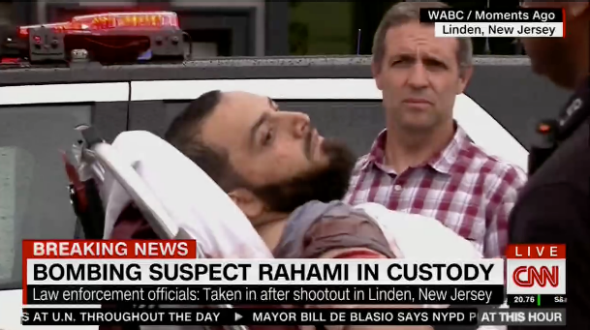 What we know:
A 28-year-old New Jersey man named Ahmad Khan Rahami was arrested Monday morning in Linden, New Jersey. Authorities believe Rahami was involved in distributing the homemade explosive devices left in several locations in and around New York City this weekend.
Update, noon: CNN says that two officers were hit by gunfire while apprehending Rahami. One officer's protective vest was struck and the other was hit in the hand.
Update, 11:28 a.m.: A local NBC station reports that Rahami has been arrested in Linden. The New York Times says the same thing. A police officer was reportedly shot during the course of Rahami's apprehension but is not believed to have sustained life-threatening injuries.
Update, 11:10 a.m.: There are multiple reports on Twitter of shots being fired in Linden, New Jersey, which is directly adjacent to the city of Elizabeth to the south. No official word yet as to whether the shooting is connected to the investigation of this weekend's bombings.
Update, 10 a.m.: New Jersey police have released another set of images. (This post initially stated that New Jersey authorities had released pictures of Rahami and two other men, but it's not yet clear if the other images below are actually of other people. Some outlets are writing that they're all images of Rahami.)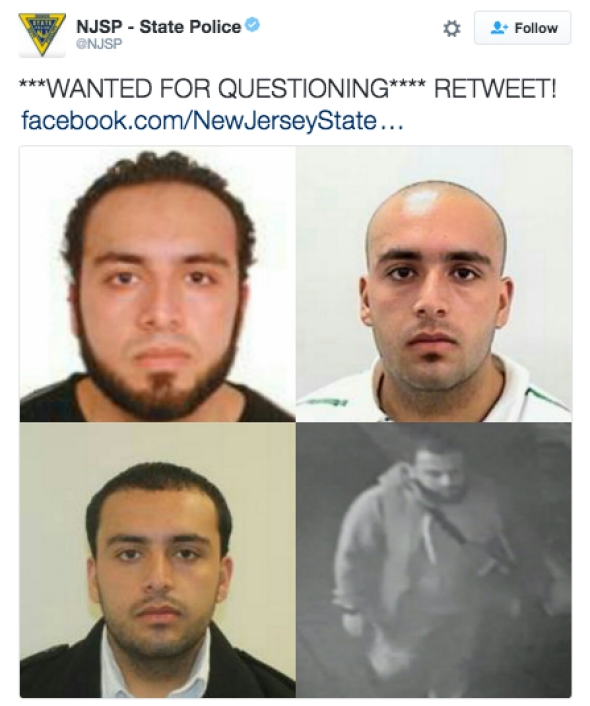 A CBS security analyst reports that two individuals besides Rahami were seen on security footage handling the bomb that was found unexploded in Manhattan on Saturday night. A local Fox affiliate says that Rahami was linked to a cellphone found inside the device.
New Jersey police also say that Rahami may be driving a blue 2003 Honda Civic.
Original post, 8:57 a.m.: A 28-year-old New Jersey man named Ahmad Khan Rahami is wanted in connection with the distribution of several homemade bombs in New York and New Jersey over the weekend, authorities say; an emergency alert sent out over cell phones in the New York City area notified residents of the news just before 8 a.m.
A bomb exploded on 23rd St. in Manhattan on Saturday night, injuring at least 29 people. Others were left in Seaside Park, New Jersey; Elizabeth, New Jersey; and in Manhattan near the site of the explosion. The device in Seaside Park exploded but did not injure anyone. One of the devices in Elizabeth was accidentally detonated by bomb technicians early Monday morning, but no one was injured. The second device in Manhattan was taken away safely by police.
According to police, Rahami is a naturalized U.S. citizen who was born in Afghanistan and whose last known address is in the city of Elizabeth, where an apartment was raided in connection with the case early Monday.
ISIS has claimed responsibility, meanwhile, for a Saturday stabbing attack in St. Cloud, Minnesota during which a man identified in news reports as Dahir Adan injured nine people before being shot and killed by an off-duty police officer.
This post has been updated with additional information.
Correction, 9:40 a.m.: This post originally misspelled Dahir Adan's name.
Read more from Slate on the bombings in Manhattan and New Jersey.