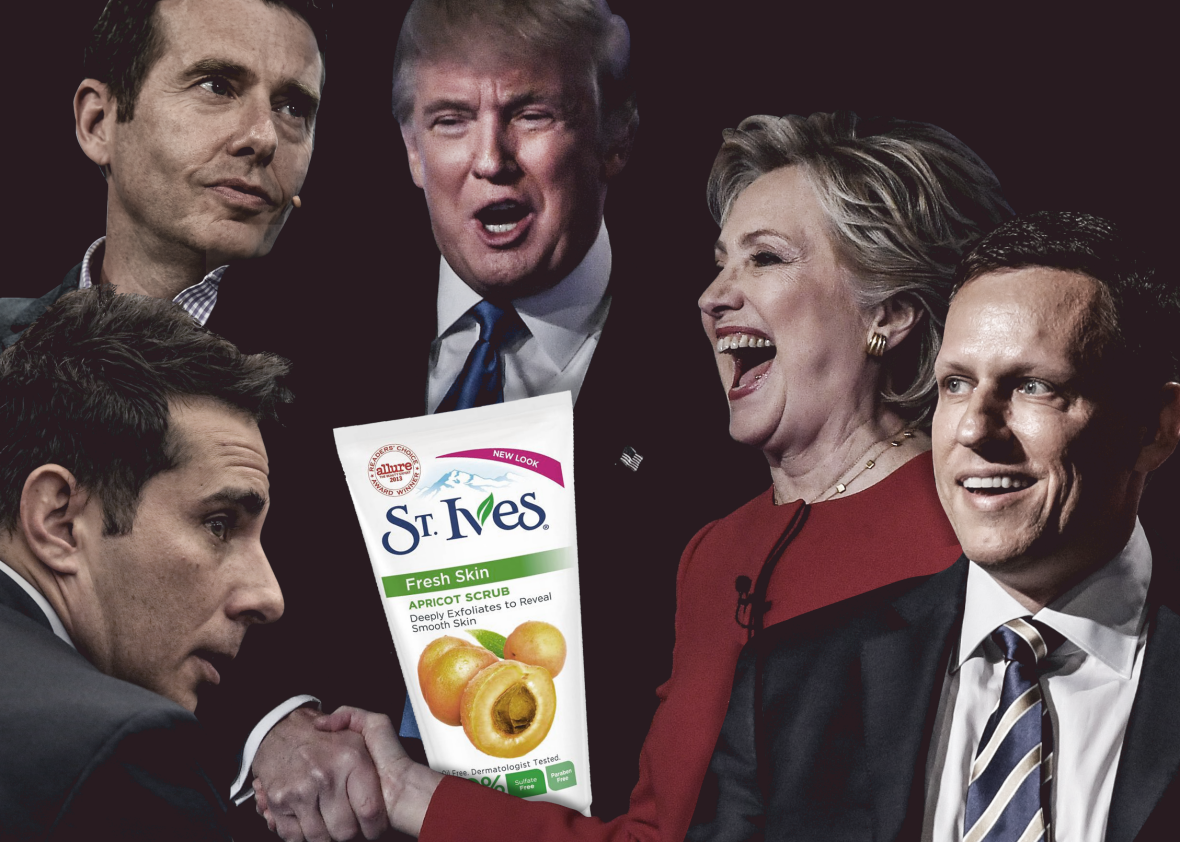 As I write this, the Slate Electoral Forecast Averagifier gives Hillary Clinton a 74 percent chance of victory. On the one hand, that's the best she's done in a while. On the other, that's like having four cards facedown on the table and one of them says "President Donald Trump" on it. Is the forecast averagifier's forecast accurate? It's impossible to say in advance—and, indeed, it will be impossible to say afterward too; such is the ineffable nature of probability. Or, to put it another way, yes, it is totally accurate.
From Slate
That retrospective is one of many thoughtful, funny, slightly askew retrospectives of the past 20 years that Slate published under the banner of the Next 20. Here at Slate Plus, we applied the same spirit to the history of the magazine itself, under the banner of the First 20. For instance: How Slate covered 9/11; how Slate made money; how Slate screwed up; and what our staffers, editors in chief, and podcasters remember about it all. And don't miss Will Oremus' lovely tribute to Jack Shafer, media critic, editor, and mensch.
Not From Slate
Very Short Q-and-A
This week's personal questions are addressed to an important figure from Slate's past: Moira Redmond, former editor of Slate's original commenting forum, the Fray.
Moira! Did you like running the Fray?
It really was the early days of online comments, and no one knew anything about it—we were just feeling our way as we went. But it was magical, and immensely enjoyable. It was really hard for me to explain to people what my job was—I was (with all due modesty) intensely famous amongst the Slate readers and net users, but no one else had the faintest idea what I was doing.
What kinds of people were joining the conversation?
There was really high quality commentary going on—not journalists, but very, very smart people, often very high-powered academics, lawyers, finance people. The Fray was a true outlet for them to comment on current affairs. After the explosion of blogging a year or two later, a lot of my best posters left and started their own blogs.
When I started, there was no registration, so we didn't have very much info about the posters. I had a revelatory evening finding out who was who. I learned that of, say, my 10 best posters, five or six of them were the same person: Glenn Reynolds, who went on to become Instapundit (and who was in the news last week). Glenn used to say, "I owe it all to the Fray."
We were always having contests and competitions. We did some great crowdsourced pieces around the 2000 election—explanations for weird drawings Al Gore had done, naming the recount scandal, etc. They were truly funny and clever. I think the NYT said, at some point, something like: "You only know it's a real scandal when Slate has run a contest to name it." Which was about right.
Thanks, Moira!
And thank you for your Slate Plus membership, which helps reduce our dependence on advertising. See you next week!
Gabriel Roth
Editorial director, Slate Plus
---