Microsoft's contribution to the world isn't entirely positive—the company is responsible for hopelessly bloated software, hideous traffic snarls on the 520 floating bridge, and Clippy—but it's a great place to work if you like logo wear. Every Microsoft team has a generous "morale budget" to spend on things like movie outings, pizza parties, and swag. I started at Slate in June 1997, and in my first few years at the magazine, it seemed I took home a new item of Slate-branded clothing every few months. Slate has spent a good deal less on tchotchkes since saying goodbye to Microsoft in 2005, but I've accumulated enough to tell the story of the magazine through the goodies doled out to employees, contributors, and subscribers over the years.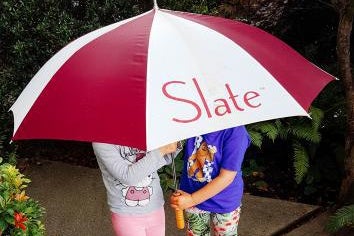 1. The Slate Umbrella, 1998
In March 1998, 21 months after the magazine launched, Slate put up a paywall. As founding editor Michael Kinsley had explained in the very first issue, "We believe that expecting readers to share the cost, as they do in print, is the only way serious journalism on the Web can be self-supporting." A year's subscription cost $19.95, and Slate dangled a lovely gift as an inducement to sign up: "your choice of a Slate logo umbrella (itself a $19.95 value, tested in authentic Seattle rain) or a Microsoft Encarta Virtual Globe (estimated retail value $54.95)." These days, Slate umbrellas are harder to find than copies of Encarta Virtual Globe. They appear to be a staple of Beltway opinion-magazine journalists' umbrella stands, however, and former Slate staffer Timothy Noah knows why. "Most of the surplus umbrellas ended up at my house. I was supposed to give them out at a book party Marjorie [Williams, Noah's late wife] and I hosted for the Slate Diaries anthology, but we got distracted and forgot," he explained. "I ended up giving away Slate umbrellas to friends and acquaintances for about 10 years."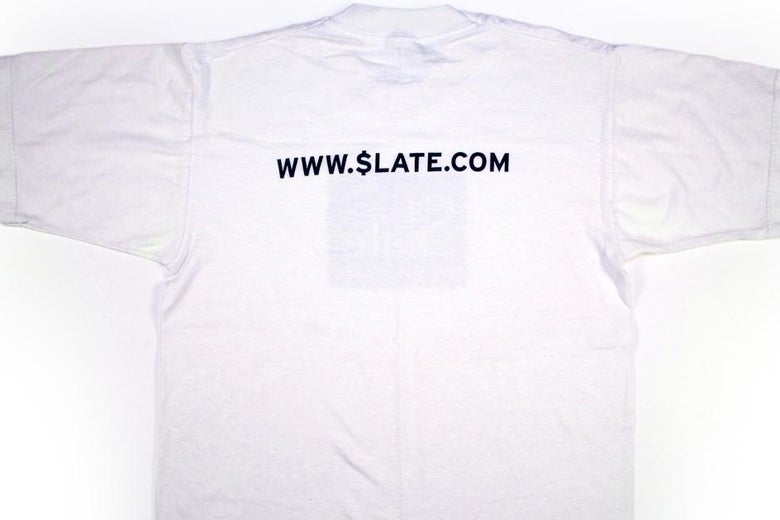 1a Slate: Not Free at Last T-Shirt, 1998
While subscribers enjoyed their new umbrellas, Slate staff celebrated the erection of the paywall with this tasteful T-shirt. The front reads, "Slate: Not free at last."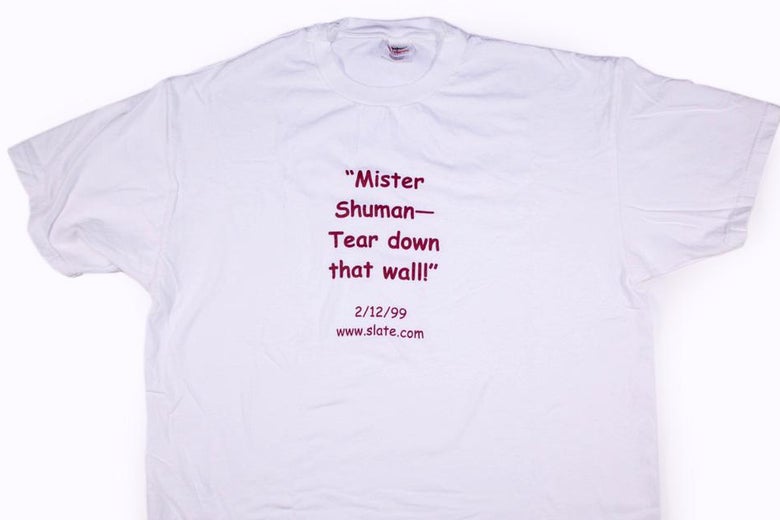 2. The Paywall Falls Souvenir T-Shirt, 1999
On Feb. 12, 1999, the paywall fell. As Kinsley explained, "Ten to 15 people visit our free areas every month for each one paying subscriber. … It's painful to think of turning away so many Slate readers from so much of our content." This may have been a setback for the magazine's subscription plans, but it was a boon to lovers of T-shirts satirically connecting the magazine with geopolitical events of 12 years earlier. "Mister Shuman" is Andrew Shuman, then Slate's group program manager—the man in charge of the team of software developers that built and then demolished that wall.
3. Slate 2.0 Vest, May 1999 (not pictured)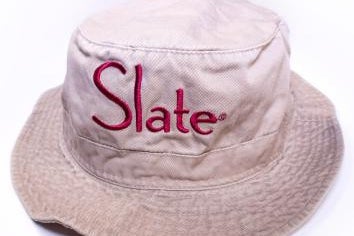 On May 8, 1999, Slate 2.0, the site's first complete redesign since the 1996 launch, debuted. It was an exciting time in web navigation—though design director Kathleen Kincaid warned readers that "you have to have a modern browser such as Internet Explorer 4.0 or 5.0 or the forthcoming Netscape 5.0 browser" to take advantage of the cool new dropdown menus. The redesign was purged from computer caches long ago, but this cool reversible vest—fleece on the outside (we were headquartered in Seattle, after all), 100 percent nylon on the inside—will last forever.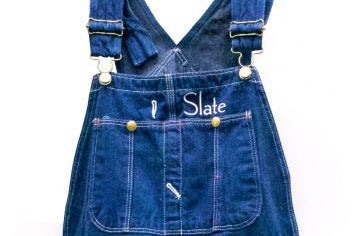 4. Slate Overalls, circa 1999
Slate was incubated and hatched at Microsoft, and those of us who worked on the Microsoft campus got to attend the annual gathering of the software clans known as the Company Meeting, in which thousands of employees would assemble in a large venue to get pumped about business strategy and hear a rousing motivational speech from Steve Ballmer. To emphasize unit cohesion, each team wore a unifying color—Encarta Virtual Globe might sport blue polo shirts, for example, while the folks behind Bob rocked yellow baseball caps and dark glasses. One year, the Slate team—tiny by Microsoft standards—proudly held down a row of seats in Bellevue's Meydenbauer Center in matching Slate dungarees. We really stood out.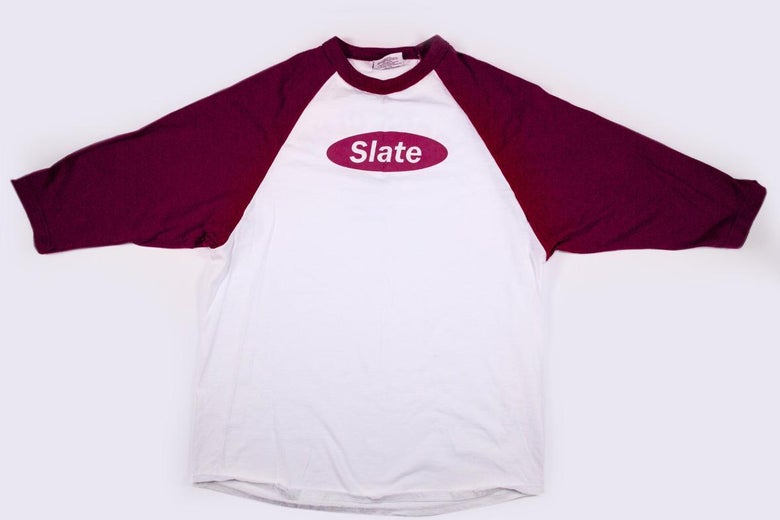 5. Slate Book Club Baseball Shirt, circa 2000
Breezy, witty, and erudite conversational exchanges were always a signature ingredient in the Slate mix. The very first issue featured "Committee of Correspondence," in which a group of policy wonks discussed the issues of the day in a series of emails that were then posted to the site. That feature morphed into the Breakfast Table, in which two people discussed that day's news, and the Book Club, a lively dissection of the latest releases. Somewhere around the turn of the century, the rubric's editor, Jodi Kantor, drafted a dream team of Book Club panelists, and the lineup duly appeared on the back of a baseball shirt that was handed out at the annual Slate retreat.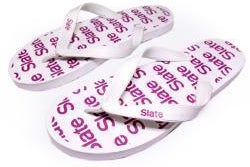 6. Choice Slate Swag of the WaPo/GHC Era, 2006 and after
In June 2006, on the site's 10th anniversary, and 18 months after the magazine was purchased by the Washington Post Co., Slate got a brand new look, including the bigger, bolder logo it uses to this day. In the post-Microsoft days, the swag train makes fewer stops in the Slate offices, but the new items always seem to be exquisitely idiosyncratic: Slate flip-flops, a yoga mat, and of course the ever-practical tote.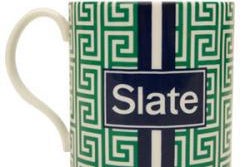 7. The Slate Plus Mug, April 2014
When Slate announced the creation of Slate Plus in April 2014, early subscribers were offered a free gift—a mug designed by Jonathan Adler. Adler told Julia Turner how he came up with a cup as the ne plus ultra of swag: "I'm always drinking tea while perusing Slate, so a Slate mug was really a selfish choice. I wanted a fully coordinated Slate immersive experience. A mug also doubles as a place to corral pens on your desk—a Slate mug lets your co-workers know that you're enlightened and civilized."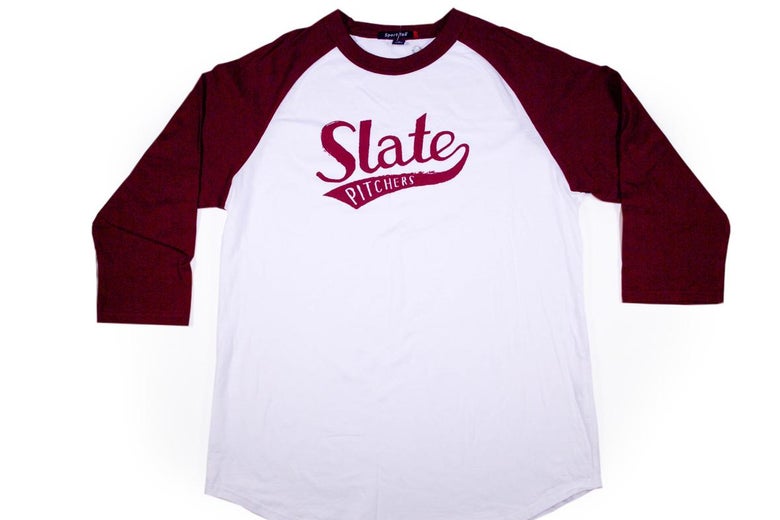 8. Slate Pitchers Baseball Shirt, 2015
Although not technically an item of swag—this is the uniform Slatesters wear while representing the magazine in summer softball games against other New York media outlets—it looks great underneath the overalls. We last wore it in August, when we were defeated 9–7 by The Daily Show With Trevor Noah.