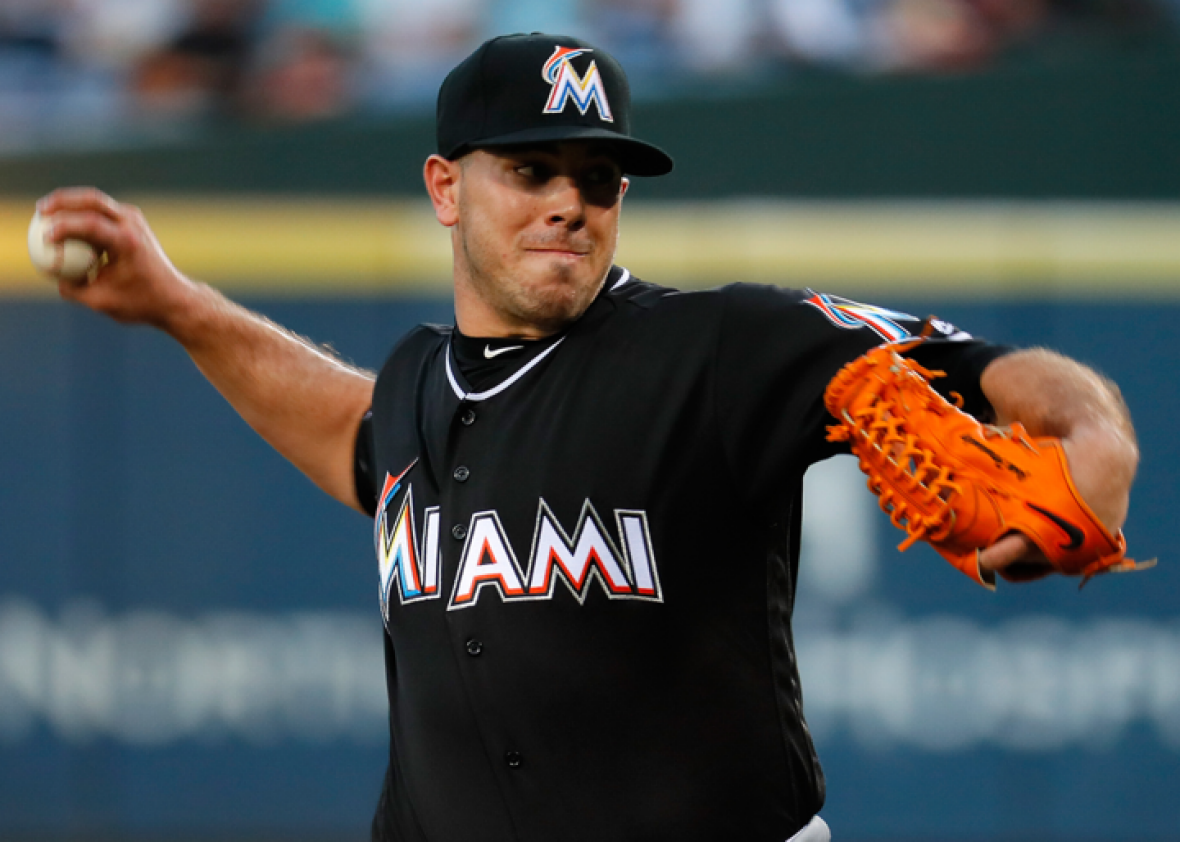 Ace pitcher José Fernández of the Miami Marlins, who had emerged as one of the brightest stars in baseball, was killed early Sunday morning in a boating accident. Fernández, 24, was loved by fans not only for his impressive fastball but also his "vibrant personality," notes USA Today. The Marlins released a statement following news of his death: "The Miami Marlins organization is devastated by the tragic loss of José Fernández. Our thoughts and prayers are with his family at this very difficult time."
The Sunday game between the Marlins and the Atlanta Braves has been canceled. "The death leaves the team in shock," notes the Miami Herald. "Along with outfielder Giancarlo Stanton, he was the best player on the team and one of the top 10 in the league."
Fernández was one of three people killed in a boat crash off Miami Beach early Sunday. Chief Petty Officer Nyxolyno Cangemi told the Associated Press that a Coast Guard patrol boat spotted an overturned boat at 3:30 a.m. on a jetty. The 32-foot vessel that Fernández was on had a "severe impact" with a jetty, according a Florida Fish and Wildlife Conservation commission official.
Fernández was the Marlins' first-round draft pick in 2011 and the National League Rookie of the Year in 2013. Fernández was widely seen as one of the best young pitchers in the history of baseball. He only pitched two full seasons because he lost much of 2014 and 2015 to Tommy John surgery, but his performance this year suggested he was only getting better. "His 16-8 record, 2.86 ERA, and 253 strikeouts (second in baseball) made him one of the candidates for NL Cy Young," notes Yahoo Sports.
Fernández escaped Cuba at age 15. He has tried defecting at least three times, once landing behind bars and another time saving his mother's life after she fell off their boat. After making it to the U.S., Fernández attended high school in Tampa and became a U.S. citizen last year. He was killed just five days after posting a photo on Instagram that made clear his girlfriend, Carla Mendoza, was pregnant.
"All of Baseball is shocked and saddened by the sudden passing of Miami Marlins pitcher José Fernández," Commissioner Robert Manfred said in a statement. "He was one of our game's great young stars who made a dramatic impact on and off the field since his debut in 2013. Our thoughts and prayers are with his family, the Miami Marlins organization and all of the people he touched in his life."
Here are more reactions from around baseball to Fernández's death:
---