After Katrina, my dad says, people helped in the ways they knew how. The poets wrote poetry, the musicians played music, the preachers preached, the politicians made speeches. It makes sense, he says. People contributed what they felt they could best offer. But he remembers thinking, Pick up a hammer. We don't need speeches right now. We don't need music. Pick up a hammer.
In this spirit, my friend Josh, who is in a band called Thou, has been demolishing houses in Baton Rouge, Louisiana, since the floodwaters receded. Josh was in the middle of renovating his own house when the rain started; his house didn't get water, though he had drums and gear stored in a practice space that got 4 feet. Now he's offering the tools he'd been using to renovate his house, plus his labor, to anyone who needs them in the flooded neighborhoods. In the same spirit, I, a DJ who has no idea what to do with a hammer, asked Josh if I could tag along on his next workday, and he said, "What are you doing tomorrow?" So the next evening I drove up an hour from New Orleans to meet him in Baton Rouge, and then we rode together another 30 minutes east to Denham Springs, a town of approximately 10,000 people that I know primarily as the hometown of my high school boyfriend. About 90 percent of the houses in Denham flooded.
The closer Josh and I got to Denham, the more piles we saw on the sides of the road. They were house guts—ruined furniture, ruined books, ruined pictures, ruined carpet. But "pile" is the term of art. I told my friend Lefty, a musician and painter who works at Euclid Records in New Orleans, that I was going up to Denham, and he asked me if I wanted to see pictures of his pile. He meant his Katrina pile. It was an impressive pile, taller than he is, 20 feet across, and in that pile was the better part of his record collection—3,000 records drowned. He couldn't bear to shop for records for a long time after that, because each familiar album cover was a reminder of what he'd lost. Now, he said, he has a false memory: He can't keep track of what records he used to own and what records he has managed to replace.
The building we were working on in Denham is an 800-square-foot midcentury house belonging to Josh's friends Johnny and Julie, who've lived there for eight years. They had flood insurance on the structure but not its contents. The house got 2 feet of water inside; Johnny told me he wished they'd gotten 4 feet instead, so he wouldn't have had to sort through all of his ruined stuff. He wished he could have thrown it all onto the pile without looking.
Johnny and Josh introduced me to the other guys working inside: Stevie, Justin, and Johnny's dad Pops. All the guys (minus Pops) work together at PreSonus Audio Electronics. They asked me how I knew Josh. I explained the music connection, that we attended Louisiana State at the same time and went to the same shows. I also explained that I missed the first family workday on my great-aunt's house—I was DJing a fundraiser for flood relief—and although there would be many more opportunities to help with her house, I still felt as though I needed to do penance for that missed day. "I feel like if you're not helping right now, you're basically a monster," I said. Justin corrected me, deadpan: "Well, I would say you're a piece of shit. But yeah."
The task for the evening was to remove wet Sheetrock. It's a multistep process: First you smash through the wall with a pry bar, then you use your glove-covered hands to tear the Sheetrock out. Now the ground is covered in Sheetrock chunks, so you shovel the Sheetrock into a wheelbarrow and wheel the wheelbarrow out to the yard, where you empty it onto the pile. You use a push broom to sweep up the smaller pieces. Later my uncle explained to me his Katrina-refined process for Sheetrock removal, which is cleaner and more efficient, but on this particular night we did it caveman-style, made a huge mess, and tried to clean it up. When Josh and I arrived, the guys were already into the shovel-and-wheelbarrow stage, but there was some wall left, and Josh told me to smash it, just so I could enjoy the experience of smashing a wall with a pry bar. One wall was totally intact, with a clear water line on it; this was retained for the insurance adjuster's inspection.
Having never demolished a wall before, I'd been anxious that the work would require more physical strength and facility with tools than I would be able to supply. I was anxious that, instead of helping, I'd get in the way of other, more helpful people. I was also anxious about walking into a houseful of strangers. In fact I had spent the hours preceding the first swing of my pry bar in a state of medium panic. I was relieved to discover that a pry bar will knock a hole into a wall, no problem. And once I'd made a hole in the wall, the Sheetrock, which had the consistency of damp sand packed between sheets of paper, tore away in my hands with little effort. I then focused all of my neurotic energy on sweeping up the crumbly Sheetrock chunks, a task for which I felt qualified.
None of the guys were wearing masks, so I didn't put mine on. It was early evening, and they had fans running, so the work was sweaty but not unbearable. I swept as hard as I could, but the chunks were unwieldy. After about eight minutes I started coughing, from the Sheetrock dust and whatever other disgusting things we were kicking up, and the guys all offered me masks. I was baffled as to why they weren't wearing them. I pulled one from my three-pack, regretting that I didn't put it on as soon as I walked in the house, regretting that I would take my respiratory safety cues from a bunch of 30-year-old dudes.
We worked in dogged silence. Occasionally someone would point out a particularly lethal-looking piece of nail-studded wood or suggest that a large and unsweepable wall chunk should be carried by hand to the pile. The house didn't smell too bad—no spectacular mold had appeared, yet—but it did smell damp, which Johnny mitigated by shoving a lit stick of nag champa into the wood slats of an exposed exterior wall.
While the dudes took a beer break, I talked to Julie. Most of their furniture was particleboard, and they'd thrown it all on the pile, except for two older pieces of solid wood furniture that they thought they'd be able to salvage. The insurance adjuster wouldn't be back for another five days, at which point they'd learn whether their house was a total loss. There was work they could start in the meantime, like mold remediation, but it wouldn't be worth their time or money until they got the final word from the adjuster. The pile would be taken away eventually; no one was sure when, least of all the city government running the cleanup operation, which they anticipated would take months to complete.
A couple of Red Cross volunteers drove an emergency response vehicle down the street slowly and in the style of an ice cream truck, announcing "hot meals" over a loudspeaker. Johnny picked up five black to-go boxes, each containing a hot-dog bun, a bratwurst, and a side of baked beans. He offered us Yuengling from an ice chest in the bed of his truck. We ate standing—I gave Josh, who's vegetarian, my baked beans—and discussed the previous day's headlines trashing the Red Cross ("Even Governor Questions Policies"). People down here have a deep suspicion of the Red Cross in terms of its large-scale disaster relief work. It's true that the Red Cross was turning away donations from anyone it didn't have a contract with and any food that didn't come from a certified kitchen. I don't mind the bad optics if the logic is sound; if the Red Cross served contaminated food in a shelter, it would be compounding, with mass food poisoning, the already-difficult task of feeding and sheltering hundreds of displaced people. I understand that large-scale disaster relief efforts do require the skillsets of organizations that know how to operate safely and serve people in quantity.
Still. It had thrown out boxes of doughnuts (not from a certified kitchen). It had turned away medical supplies like wheelchairs and canes (not from a contracted supplier). This was reported by the Baton Rouge Advocate, along with an anecdote from a woman volunteering at one of the shelters in Denham, who said she offered to clean the shelter toilets, and the Red Cross told her no. The Red Cross is doing crucial work in Baton Rouge. The Red Cross also struggles to see the trees for the forest.
Perched on the bed of his truck, Johnny read this update to us from his phone: Republican State Senator Jonathan "J.P." Perry was working on legislation that would require the Cajun Navy to apply for permits and pay a fee. We all laughed in disbelief.
"So much for small government," Josh said.
"The Cajun Navy," I said, "is not an entity. The Cajun Navy is just guys with boats."
Specifically, the Cajun Navy is the regional nickname for what happens down here in a flood, which is that citizens volunteer to pilot their own flat-bottomed vessels through floodwaters to rescue other citizens. The authorities try to dissuade them at first, but inevitably they make an official call for help. This time the call came Sunday, three days into the flood. Volunteers lined their trucks up on the interstates with their boats in tow, waiting to get into the floodwaters. People are selling T-shirts right now with "Cajun Navy" emblazoned on the front. It's a huge point of regional pride. It's also classic smartass Louisiana humor.
The sun had long since set. I'd driven up to Baton Rouge expecting a somber evening of quiet labor, but, standing outside on the lawn with the mosquitoes and this crew, I realized that I should have known better. The work of post-disaster home demolition is tedious and sad, but Louisiana people tend to move fast from despair to self-deprecating wisecracks, and we don't do somber well. The hours of work, as a result, felt a lot like a pleasant evening spent shooting the shit with friends.
Julie told me that she was supposed to fly to Germany the next day, but she canceled her ticket. The friend she was going to visit was now flying in to see her and to help with her house. "Wow," I said. This story was starting to sound weirdly familiar, and I asked her what her friend's name was. "Kristen," she said, and I started laughing, because Kristen is also my good friend, the person who inspired me to start DJing. Johnny added that he's known Kristen for about 30 years; she and his sister took dance classes together. Of course, I thought. There was no way we wouldn't know the same people. In south Louisiana?
I understood Kristen's reaction, the impulse purchase of a transatlantic plane ticket home. It's hard to watch and wait, whether you're watching floodwaters rising from Germany or from a dry house in New Orleans. The first couple of waiting days, before the water goes down, are good for crying. By Day 3 of this flood, though, my social media feed was a frenzy of Louisianans sounding like they were gearing up for a fight. And there was anger in this manic response, to be sure. We knew that this flood, and the long recovery to follow, would not get the national attention it deserves. That what happens in Louisiana, outside of New Orleans, is often deemed of no importance, unless it can be shaped into a story that reinforces a familiar narrative of the retrograde South.
But I also sense excitement, and real pleasure, in the community response. Louisianans are keenly aware that we live in a troubled state. We handle despair so well because we are so well-acquainted with it. And now we have been given, through terrible luck, the opportunity to witness the generosity and fearlessness of our people and to experience our own deep desire to contribute to those in need, whether we know them or not. We will help each other whether or not anyone else is watching. And this work brings with it, I am sure, a kind of healing.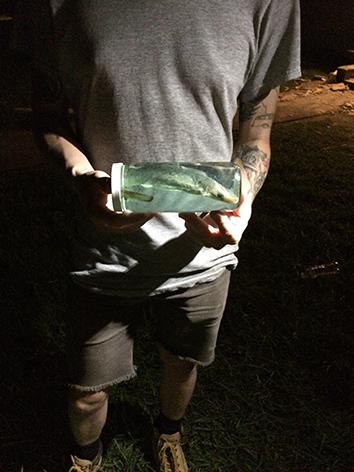 As we wrapped up at Johnny and Julie's house, I took a few quick photos with my phone: the pile, the front walkway lined with debris. I took one with Julie, to show to Kristen. Johnny emerged from his house with a baby shark in a glass bottle. He handed it to Josh, saying it was a gift from a friend, and he'd always been a little weirded out by it, but their co-worker once admired it. Since Johnny was throwing out most of his other possessions, he might as well get rid of the baby shark in a bottle that he didn't even like—but he wouldn't be back to work for another couple days, so could Josh deliver this baby shark to the co-worker for him?
"Are you serious?" Josh said. Yeah, he was serious.
Then Johnny headed out. He was meeting with friends to rehearse for a gig—because in the midst of disaster, it turns out, you need people with hammers, but you do also need music.
The next morning Julie sent me a message. I seemed so familiar, she wrote, that she had to ask: A few years ago, at one of Kristen's DJ gigs, Julie had "fall-out-fainted" while in line for the bathroom, and she recalled that one of Kristen's friends stayed outside with her on the curb until she recovered. Was that me? Yes, I remembered, it was. The house I gutted belonged to a girl I'd actually met years ago. This, for the record, is why everyone in Louisiana knows better than to talk shit in front of strangers. At best you're going to be gossiping to some dude you don't know about his own cousin. There's no such thing as strangers here.