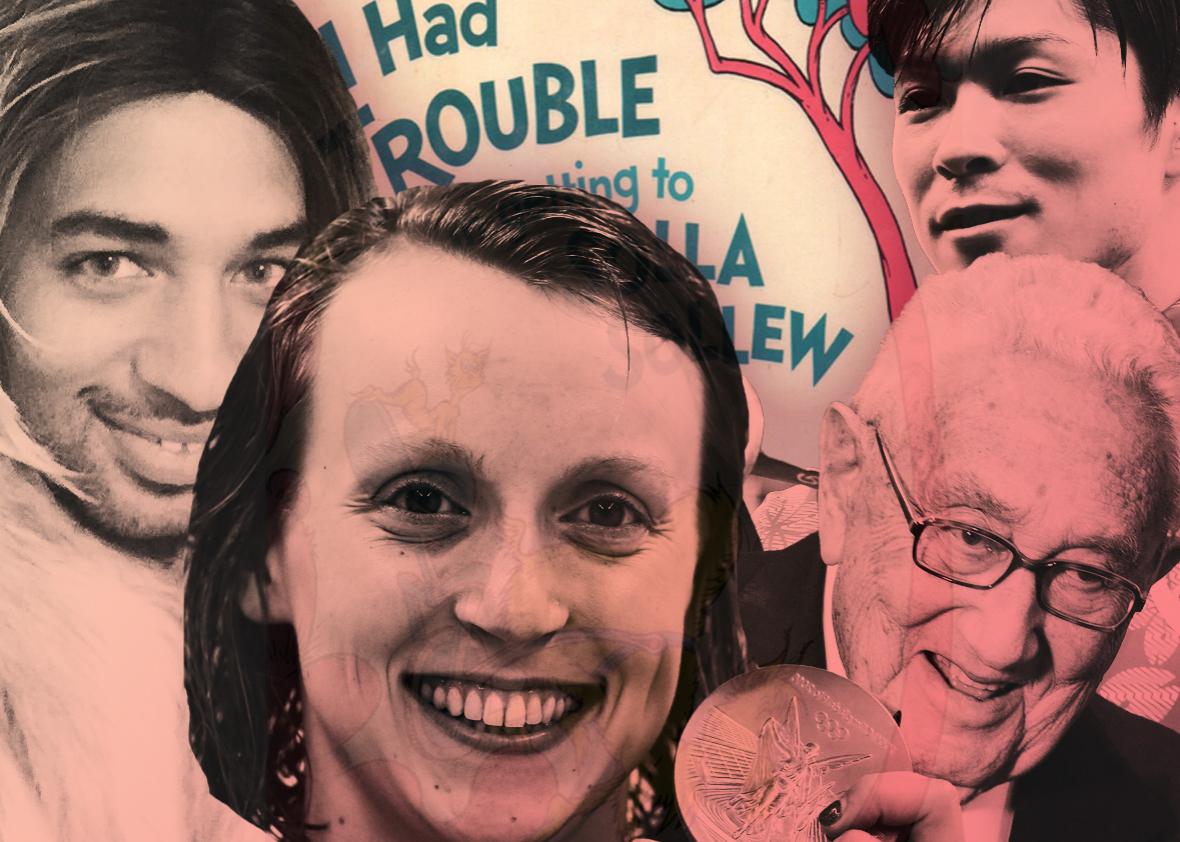 So much going on this week. It's the Olympics, that quadrennial pageant of competitiveness and international relations, and also the presidential election campaign, that other quadrennial etc. All this in the middle of August, when the cities we call home become unpleasantly close and sultry, and sensible editors start shrinking their coverage and leaving early. So we started a pop-up blog about children's books. (A pop-up blog is a blog that runs for a while and then ceases publication but feels OK about it.)
Why do we do this? For you, because we worry that you won't have anything to read. Here.
From Slate
On the Olympics: Is this guy the greatest gymnast of all time? Is this lady the greatest Olympic tweeter of all time? Is Yulia Efimova really history's greatest monster, or was she set up? Why wouldn't NBC call Simone Biles' parents her parents? And why was the Daily Beast's Grindr stunt such a big deal anyway?
On Trump: Why his "Second Amendment people" remark was the logical extension of GOP ideology, and why he's starting to pre-emptively complain about the debates.
On Clinton: Why some Republican women are defecting to vote for her, and why there's one Republican she shouldn't be trying to woo.
And on children's books: What Dr. Seuss book to give grads instead of Oh the Places You'll Go!, and why the best children's books are the ones that aren't quite appropriate for children.
Not From Slate
There are also articles on other websites that are sometimes worth your attention although admittedly not often:
Very Short Q-and-A
This week's personal question is addressed to Slate senior editor Rachael Larimore, who wrote about why her swimmer sons love Katie Ledecky.
Were you competitive as a swimmer? How far did you go?
I swam for the local YMCA team in my hometown for six years, until I was 14, and then I swam for my high school team. We were never very good! But I loved it because I was not very coordinated outside of the pool—I would have been terrible at volleyball, basketball, softball, or (god help me) cheerleading. Swimming was really my best option.
When you watch Olympic swimming as a swimmer, what do you perceive besides speed and exertion? Are there swimmers whose style makes them a favorite?
It's interesting to watch breaststrokers, because it's a stroke that demands technical precision to be successful, but it's also one that has evolved over the years. Swimmers have learned to maximize the glide, and instead of being more straight up-and-down like you'd have seen in the 1970s and '80s, good swimmers lunge forward and then roll through the water, almost like you see in the butterfly. And I love watching the individual medleys because everyone is good at something different. As far as favorites, it's easy to say Michael Phelps, but he really, really does have a beautiful butterfly. And this Olympics I've really enjoyed watching Maya DiRado because she is so well-rounded, and she's a very smooth, fluid swimmer
Why don't more women use "the uneven, loping stroke [Ledecky] employs to such great effect"?
This Washington Post article explains it better than I can. It requires great core strength and out-of-this world hip rotation. What's amusing about this is that there's a famous story, also related in that Post article, about how she got a new coach after the 2012 games, where she shocked the world, and he discovered that she couldn't do a single pull-up or run a nine-minute mile. So maybe she's just a freak of nature.
Thanks, Rachael!
And thank you for your Slate Plus membership, which makes our journalism possible. See you next week!
Gabriel Roth
Editorial director, Slate Plus
P.S. Don't miss the latest episode of our current Slate Academy, the United States of Debt, in which Helaine Olen takes on medical bills.
---