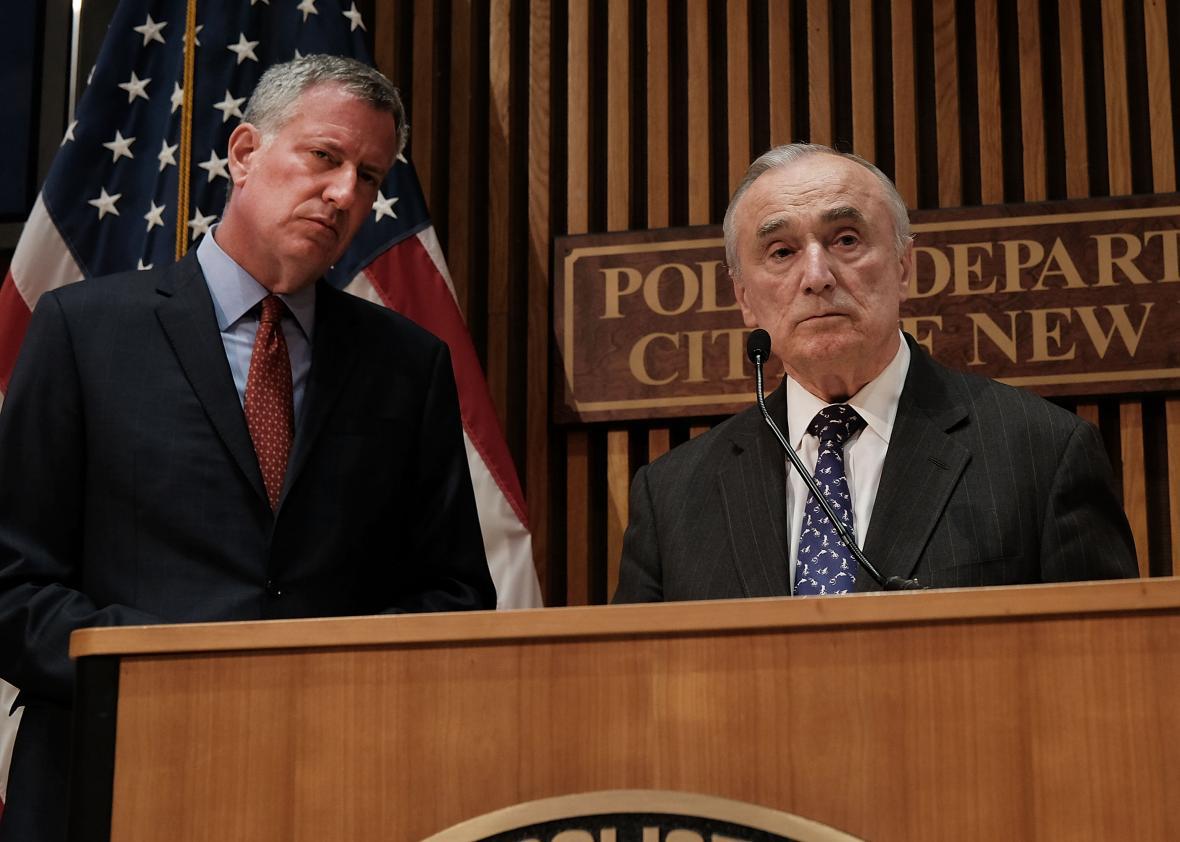 When a federal judge declared the NYPD's stop-and-frisk policy unconstitutional in 2013, the New York Daily News moved quickly to condemn the decision, and to predict that it would make New Yorkers less safe. In an editorial headlined "City at Risk," the paper's editorial board accused Judge Shira Scheindlin of "recklessly playing with fire," called her ruling "dangerously misguided," and warned that doing away with stop-and-frisk—a policy that sowed distrust of law enforcement among minorities, who were disproportionately targeted for searches by police—would "push the city back toward the ravages of lawlessness and bloodshed."
That was three years ago. On Monday, the Daily News took a look around and saw that, despite the end of stop-and-frisk, New York has never been safer—that although police stops have plummeted by 97 percent from their peak of around 685,700 in 2011, the first quarter of 2016 saw the city's lowest murder and shooting rates in history.
Reflecting on these numbers, the editorial board of the Daily News did something admirable: It published a piece headlined "We Were Wrong."
"Explaining crime trends is extraordinarily difficult. There are heated debates, for example, over whether the stop-and-frisk program did, in fact, help drive crime down at any point in which the department employed the tactic," the editorial said. "Regardless … there is no doubt that, heavily grounded in memories of past horrors and too little informed about the potential of smart new strategies, our fears were baseless."
Progressive advocates are applauding the Daily News for the editorial, and the praise is well-deserved. In the wake of a Republican convention during which the GOP nominee for president tried to convince voters that the country is burning down at the hands of violent criminals, it's positively refreshing to see the paper not only decline to fearmonger, but also repudiate its own past attempts to do so.
Of course, the Daily News is hardly the only media outlet that owes its readers an apology. The editors of the New York Post, for instance, might consider publishing an update to their September 2013 piece claiming that a small increase in shootings that was observed four weeks after Judge Scheindlin's ruling was "a sign of dark days to come." (The Post also used the occasion of an uptick in crime last summer to ask, "Just how many New Yorkers must die before Mayor Bill de Blasio lets cops bring back stop-and-frisk?" This was before year-end statistics came out showing that, as the New York Times put it, "fears that New York City was slipping back to a more dangerous time contrasted with reality.")
The fact is that the specter of rising crime will always be a potent rhetorical weapon for pundits and politicians who instinctively support ultra-aggressive policing and have a reflexive preference for security over, say, the civil liberties of minorities. Kudos to the Daily News for being willing to give that weapon up.
---