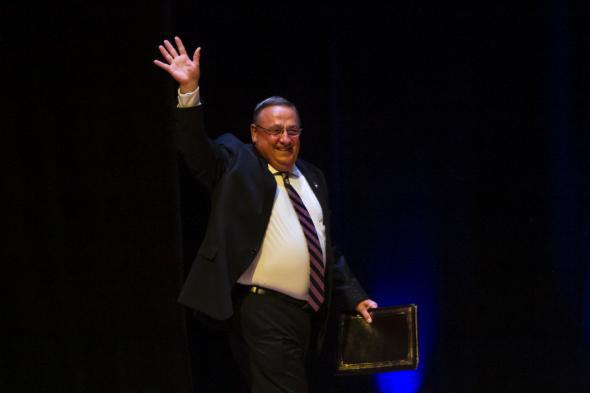 Republican Maine Gov. Paul LePage, who has been manipulating white resentment politics since the border wall was just a twinkle in Donald Trump's eye, has gotten himself in the soup again. First, last week, he declared that 90 percent of the drug dealers arrested in his state are black or Latino, an assertion for which he has provided no evidence and which seems demographically unlikely even when considering that the state's drug pipeline does in fact run through more diverse states to its south such as Connecticut and New York. (Although as the Atlantic points out—and LePage doesn't seem to ever mention—another one of Maine's suppliers is largely white Massachusetts.) Next, after apparently misunderstanding a reporter's words to mean that a Democratic state legislator named Drew Gattine had called him a racist, LePage left a voicemail for Gattine in which he called the representative a "little son of a bitch socialist cocksucker."
Controversy, not surprisingly, ensued. And Tuesday morning, LePage implied during a radio appearance that he'd lost the support of his party and, boo hoo, might just have to take his ball and go home by resigning:
I'm looking at all options. I think some things I've been asked to do are beyond my ability. I'm not going to say that I'm not going to finish it. I'm not saying that I am going to finish it … If I've lost my ability to help Maine people, maybe it's time to move on.
LePage has subsequently denied the wild "rumors"—which he just started himself while speaking in public—that he might not finish his term:
Truly, things haven't been this crazy in Maine politics since the 1948 incident in which state Senate majority leader Humphrey P. Lighthouse left his wife for a lobster*!
*Not a real thing
---